TALLADEGA — Race car driver Lyn St. James first appeared in The Anniston Star sports pages in 1979.
The first paragraph of a story by Marian Uhlman mentioned her brown eyes. It mentioned how her brown hair fell to her shoulders when she took off her white helmet.
It wasn't until the fourth paragraph that the story mentioned St. James was a racer at Talladega Superspeedway, which was known as Alabama International Speedway at the time. "Lovely Lyn St. James" is what she was called in a cringe-worthy headline.
"I still fit in the seat!" Lyn St. James, who broke a closed-course one-lap record in 1988 at Talladega, climbs in her old car one more time. pic.twitter.com/pxKylig8Ex

— Mark Edwards (@MarkSportsStar) October 12, 2018
In 1985, St. James set a women's stock-car record for fastest lap by a woman, and The Star's story by Chuck Williams included this memorable line: "Lyn St. James, a professional race car driver who looks more like somebody's mom, became the fastest woman on wheels Monday afternoon …"
She broke the record again in 1988 with a run of 212.577 mph in a 1989 Ford Thunderbird, and The Star's coverage by Charles Goldberg described it as a "made-for-television closed course speed record for women" because of the network TV coverage. Also, The Star's story credited NASCAR driver Bill Elliott and his brother, Ernie, who built race engines.
"It was their knowledge that put St. James, also a Ford spokeswoman, on track for the record run," the story read.
A lot has changed since then.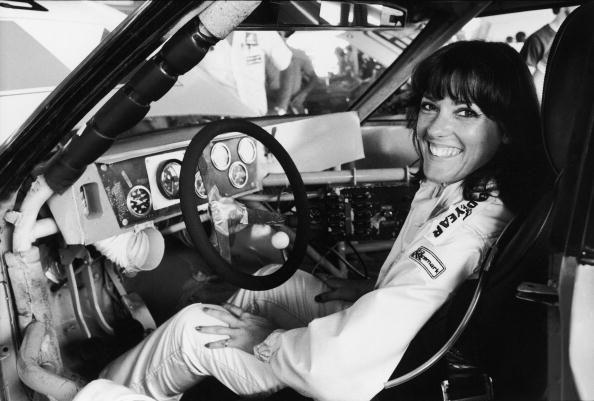 But a lot hasn't. Women in race cars are still something of a curiosity, and even the most recent big female star of the track, Danica Patrick, received press coverage that mentioned her looks as often as St. James endured decades ago.
St. James is keenly aware of how few women have raced on NASCAR's top circuit or in the IndyCar Series. St. James, 71, visited Talladega Superspeedway on Friday afternoon to revisit the site of her record run. It's the 30th anniversary, and in addition to posing for photos with her old car, she took time to visit the media center.
She's smart, savvy, personable and a perfect spokesperson to promote women in the sport. We found that out at lunch when St. James casually came by our table with her plate of food and asked, "Is it OK if I join you?"
NASCAR knows what a diamond she is.
She's part of NASCAR's diversity council: "They don't always like to hear what I have to say, but I've been vocal about things," she said.
The NASCAR Cup Series has no regular female drivers since Patrick retired in 2017. Four women raced in the 2013 Indianapolis 500, but it was down to two last year — the retiring Patrick and Pippa Mann of England.
St. James began a developmental program in 1994 for women drivers, but the lack of success in moving competitors to the top series in various forms of racing was discouraging, even though it produced drivers such as Patrick and IndyCar driver Sarah Fisher. Fisher (nine) and Patrick (eight) are the only women to drive the Indy 500 more than St. James (seven).
About 10 years ago, she changed the program to a scholarship, in which drivers are awarded funding instead of intense in-person coaching.
Back in 1994, she thought her program would produce an influx of women drivers into the sport.
"Back then, they all wanted to be stock car drivers. I'm surprised more haven't made it through the ranks," she said.
Now, she says she was "naive" to think that her program would make a greater impact that in did.
So, why don't more women drive professionally at the highest levels of IndyCar and NASCAR? St. James says "certain things get in the way."
"It isn't just funding," she added.
Perhaps drivers are too young.
"If somebody doesn't have their eyeballs on you when you're 22 or 23, the window is closed," she said. "I think that's wrong."
In fact, two of the biggest up-and-comers in stock car racing (Haley Deegan) and IndyCar (Courtney Crone) are both only 17.
St. James was 27 when she began racing. She did so because her husband at the time raced. She had just turned 32 when she came to Talladega in 1979 to do some testing.
It wasn't until 1990 when she was part of a team that won the 12 Hours of Sebring. She started CART racing in 1992 and IndyCar in 1996 when she was nearly 40.
"There's something wrong with how the whole pipeline doesn't work," she said.
There is a European racing tour set for 2019 that will be for women only. When asked about the new tour, St. James — not as naive now — said she needs to know more about the funding before she crafts a complete response.
Still, after a lifetime of seeing so many cars not have a woman behind the wheel, she said, "I'm for any opportunity to put women in race cars."