The jokes just keep on coming.
So, where will Jalen Hurts transfer?
Will he change positions next season?
Would he be better at running back, receiver or defensive back?
Maybe those aren't jokes.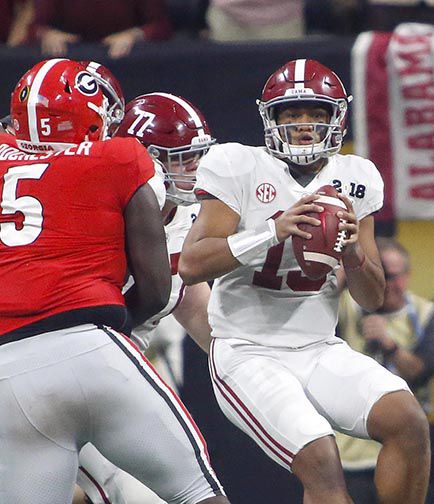 Look, the same qualities that kept Hurts in the starting quarterback job at Alabama for two years are the same ones that will give him a chance this spring and summer against wunderkind Tua Tagovailoa, who jump started the Tide to a 26-23 win over Georgia in Monday's national championship game.
Hurts is best at keeping mistakes to a minimum. Alabama ranked second in the FBS by committing only 10 turnovers in 14 games. Only four happened with Hurts on the field.
With a team built to run and play defense like Alabama, Nick Saban appreciates having a quarterback he can trust not to give up the ball.
Think back about the parts in Tagovailoa's performance Monday that didn't go right. He threw an interception when he got the play wrong — he thought it was a pass play, while the other 10 guys thought a run play had been called. And before the winning 41-yard touchdown pass to Devonta Smith Jr., he took a 16-yard sack.
Hurts wouldn't have made a risky throw when no receiver was running an actual route. He wouldn't have taken that sack, either. (But would he have produced a touchdown? Good question.)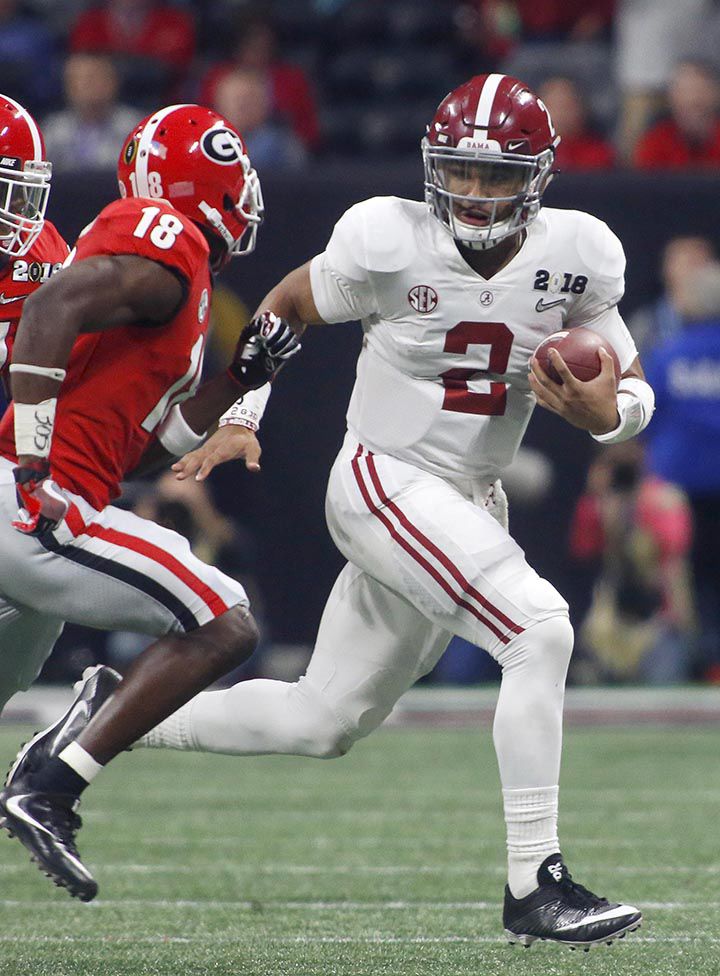 Hurts is best at holding a lead, and Alabama is rarely ever behind. He came out with the Crimson Tide trailing 13-0, and from what I can find, that's only the sixth time in the last seven seasons Alabama has been behind by that much.
The Tide trailed by 21 to Ole Miss (2016), 20 to Ole Miss (2015), 14 to Ohio State (2014), 14 to Oklahoma (2013), and 20 to Texas A&M (2012). On that list, Alabama won once — against Ole Miss in 2016 when Hurts helped the Tide rally from a 24-3 deficit.
Coaches value the trust that Hurts can give them. But Hurts also has a clear issue that hasn't been solved in two years on the job — he's still not good at throwing the ball downfield.
Georgia committed to cutting off Hurts' running lanes, and that helped kill the Alabama offense in the first half. At halftime, Saban had to go to the little-used Tagovailoa, gambling that his pluses would far outweigh his minuses. On this night, they did.
(Saban pointed out that in the 2000 Peach Bowl at LSU, he did the same thing, benching starter Josh Booty at halftime for Rohan Davey, who had played little in three years. LSU trailed Georgia Tech 14-3 but wound up winning 28-14.)
Hurts seems so reluctant to make mistakes, and considering his struggles to throw deep accurately, it's as if his favorite play is to scramble to the right sideline and throw the ball high out of bounds.
You think I'm kidding about that?
After Monday's game, the College Football Playoff media relations folks gave us bundles of information, including this little breakdown of the game's passers: Georgia's Jake Fromm threw 11 passes outside the left hash, six from the center, and 15 outside the right hash. Tagovailoa threw six, five and 13.
Now, here's Hurts' numbers: zero outside left hash, zero from center, eight outside right hash. It's hard to win when your quarterback cuts the field down to one-third.
Perhaps it boils down to this: Are you going to stay with Hurts and keep working to develop his ability to pass? Or are you going to go with Tagovailoa and work to keep him from risking the ball so readily? (Keep in mind that by doing that, you may chip away at the gunslinger quality that made him so electrifying to watch against Georgia.)
For many of you (and me too), the answer is clear: Tagovailoa, who coincidentally the Crimson Tide signed because Fromm switched his commitment from Alabama to Georgia.
But don't be surprised if Saban gives Hurts a chance to keep his job.