AUBURN — The current Auburn players probably don't know how their interim head coach, Carnell "Cadillac" Williams landed with the Tigers more than 20 years ago.
It's an interesting story and worth recalling as Williams serves as the Tigers' interim head coach.
Williams was a star running back out of Etowah High School, and as a high school senior, he was set to visit Auburn … a week after visiting Tennessee.
Unfortunately for Auburn, Williams enjoyed his trip to Knoxville and was so enamored with the Vols that he declared for Tennessee. He told then-Auburn coach Tommy Tuberville that he wouldn't take his recruiting visit to the Plains after all.
In a 2020 interview with Volwire, Tuberville said he practically begged Williams to visit, but when the answer was still "no," he talked him into letting him visit with him in Etowah.
He showed up that Monday, and every assistant coach who was eligible to recruit came with him.
"We flew up to where Carnell was at, and I took every coach," Tuberville recalled. "I actually took a picture of Bo Jackson and put Carnell's face on Bo's picture holding the Heisman Trophy. I think with all of the attention that we gave him and his Mom, that we earned that visit that weekend. They all came, and, fortunately, he flipped and came to our place."
Tuberville may not understand much at his current job as U.S. senator, but as a football coach, he firmly realized that he needed players to win, especially difference-makers like Williams was as an Auburn running back. So, he was all in when he recruited Cadillac.
For what it's worth, in less than a month as Auburn's interim head football coach, Williams has made a difference. The Tigers are 2-1 under Williams, including Saturday's 41-17 home victory over Western Kentucky. He has hardly faced a murderer's row of a schedule, but Williams has delivered a spark. He's all in.
And the Auburn elite should consider him heavily for the full-time position.
We've talked plenty about the emotion Williams shows on the sideline, but he's more than that. Heck, if giving a show was enough to become a head coach, why isn't Trooper Taylor leading his own team by now? (Remember him? The towel-waving Taylor was an assistant coach on Auburn's 2010 national championship squad and is now a Duke assistant.)
Fired head coach Bryan Harsin didn't leave much of a roster behind, but Williams has made the best of it. Again, he's more than big smiles and cheerleading.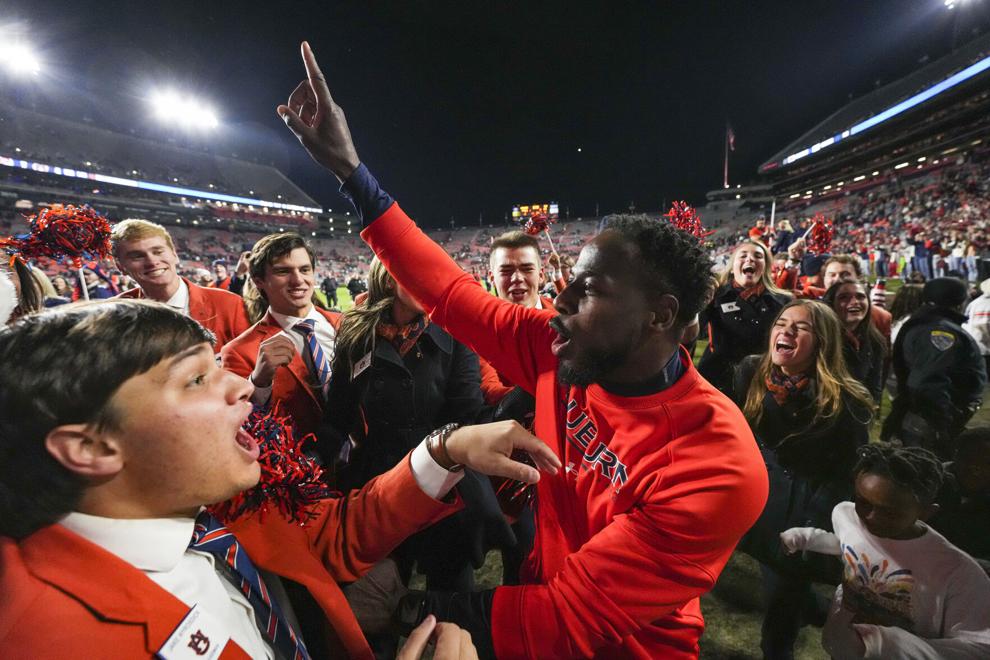 Williams' mark on this Auburn offense is clear. It's nice to see his Auburn team run the ball more often and effectively.
The Tigers picked up 256 yards on the ground against Mississippi State, 270 against Texas A&M and 252 against Western Kentucky. At times, Auburn used a fullback. Williams called it "big boy football," where Auburn is "hitting them in the mouth." He added that Auburn has even run some 2004 plays, from his senior year in blue and orange when the Tigers went undefeated.
Sure, the game these days is decided through the air more often than on the turf, but until these last three games, we rarely saw Auburn impose its will on anybody when it had the ball. Williams' approach to the run game has made an offense.
But the spark matters. Excitedly running off the field as he did Saturday and celebrating with fans matters. Harsin was dry toast with no butter. Williams is anything but that, and the fan base has rallied around that.
"I am honored to part of that Auburn family," Williams said after Saturday's game, and he means it.
He's getting a response. The stands for Saturday's ho-hum non-conference game were more full than expected. It wasn't overflowing, but the upper deck opposite of the press box was only about one-third full. A couple of the corners had some empty spaces.
Consider what it would've been had Harsin still been the coach — probably like Texas A&M's Kyle Field on Saturday. By halftime of the Aggies' 20-3 win over UMass, the stands were near empty. Calling it a sparse crowd would be an insult to the word "sparse."
Certainly, Auburn can chase bigger names as head coach, like the ones we keep hearing: Lane Kiffin, Deion Sanders, etc. Heck, Jimbo Fisher might be available soon, if boosters can come up with $85.95 million to pay the buyout he would be owed if he was fired.
In the past two years, Auburn is obligated to pay more than $36 million combined in buyouts to Gus Malzahn and Bryan Harsin. It's hard to imagine that if you've spent that much to run off coaches you don't like, you wouldn't open the bank account to find a home-run hire.
It boggles my mind how you can pay that much for Malzahn and Harsin to not coach Auburn and then have very much left over for someone who will actually be on the sideline, but college football is an arms race — an expensive one.
Still, why not Cadillac? He has no head coaching experience, but he is in his eighth season as an assistant, including six in college (four at Auburn). In just three games, he has garnered more support than Malzahn or Harsin ever enjoyed.
If nothing else, Williams should understand how having difference-makers would make for Auburn. Harsin was a non-entity as a recruiter, and as for Malzahn, even on his best days, he struggled. At the moment, Auburn's 2023 class is 46th in the nation, according to Rivals.com. Right behind Colorado and Virginia Tech.
Would he be Auburn's version of Mike Shula, who preceded Nick Saban at Alabama? Shula lasted only four years and never looked comfortable in the job.
Maybe Cadillac equals Shula. Even so, consider Alabama hired Shula because it needed some stability. He provided that, and when he was fired, he left a stronger roster than the one he inherited.
But I don't think Cadillac equals Shula. He can be better than that.