ARLINGTON, Texas — Maybe the most famous first paragraph of a sports story in newspaper history was written about Notre Dame football.
After Notre Dame had beaten Army in 1924, Grantland Rice of the New York Herald Tribune typed:
"Outlined against a blue-gray October sky, the Four Horsemen rode again. In dramatic lore they are known as Famine, Pestilence, Destruction and Death. These are only aliases. Their real names are Stuhldreher, Miller, Crowley and Layden. They formed the crest of the South Bend cyclone before which another fighting Army football team was swept over the precipice at the Polo Grounds yesterday afternoon as 55,000 spectators peered down on the bewildering panorama spread on the green plain below."
That first paragraph is so famous, if you search "four horsemen" in Google, "four horsemen Grantland Rice" will pop up as a suggestion before "four horsemen of the apocalypse."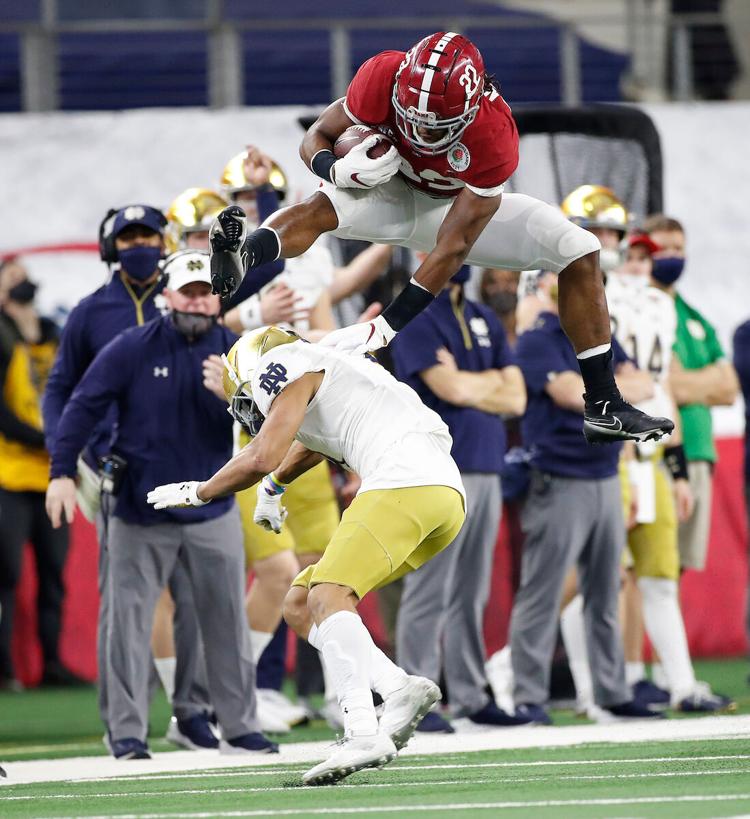 Now, 97 years later, we have another dominating backfield, and this time, it swept away Rice's storied Notre Dame program.
I'm stumped to figure out a more complete college football trio than Alabama's Mac Jones, Najee Harris and DeVonta Smith, who are the first three teammates to finish in the top five of Heisman Trophy voting. They're also the first quarterback, running back and receiver from the same team to make first-team Associated Press first team.
Sure, in this case it's three horsemen instead of four, but they've been so good so consistently, they're only one step away from a national championship.
Friday's 31-14 win in the College Football Playoff semifinals wasn't exactly the trio's greatest showcase, but that says more about what they've done all year than any particular shortcoming in this game.
Jones, Harris and Smith each did something special as Alabama coasted past Notre Dame and into a championship matchup against Ohio State on Jan. 11.
Without Jones, Harris and Smith, Alabama might not have beaten Notre Dame, probably wouldn't have made the playoffs, and definitely wouldn't be undefeated.
Typically, when the games get bigger, you need somebody besides your top three or four guys to do something great. You need more than one running back and more than one receiver. And, as Alabama found out when it won the national title three years ago, sometimes you need more than one quarterback.
Not this Alabama team.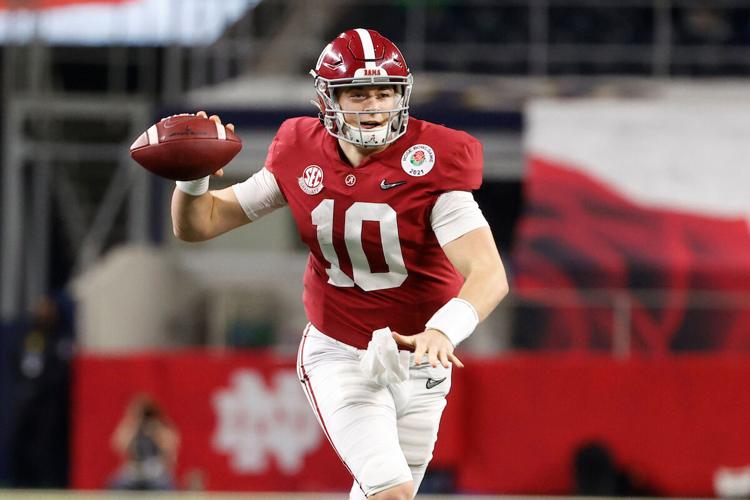 The final stats don't matter as much as the killing plays each of them have made. Notre Dame had a good team. Very good. But they had no answer for Jones, Harris and Smith.
Smith made three touchdown catches, and two in particular were special. On one, he caught a short pass, then zig zagged around Notre Dame defenders who tried fruitlessly to latch onto him. He wound up with a 26-yard touchdown for an early 7-0 lead.
Later, he scored Alabama's final touchdown on a neat tip-toe job in the front corner of the end zone. Pictures show he was inbounds, although barely. It was an NFL catch.
As for Harris, how many times do you see a guy hurdle over a standing player as Harris did Notre Dame's Nick McCloud early in Friday's game?
It wasn't like McCloud was diving at Harris' feet. Instead, Harris jumped over him and ran for 53 yards. Alabama scored a touchdown on the next play for a 14-0 lead.
Jones completed 25 of 30 passes, but maybe his most interesting throw was one that went incomplete. It was a third-down play near the end of the first half, in which he threw behind receiver John Metchie on the sideline. Missed him by a couple of yards.
It seemed like such an odd play because he'd been on target so often all day. That one miss just seemed out of place, like something in a room has been moved and you don't know what, but you're certain something has been moved.
Alabama's 31 total points seem kind of blah, considering the Tide has averaged about 49 a game this year. Still, the Tide already had a 28-7 lead about midway through the third quarter, and because Notre Dame has no gamebreakers like Jones, Harris and Smith, the Tide could play to run the clock. It worked for a 17-point win.
So, to mark the occasion for Alabama's win against Rice's Notre Dame program, how about this:
"Outlined against the cold blue-gray steel of AT&T Stadium, the Three Horsemen road again. In Irish lore, there are four, but Alabama needs only three: Famine, Pestilence and Destruction. (Death is waiting on the sideline, as it always does, for all of us.) These are only aliases that don't have cool corresponding social media emojis. Their real names are Jones, Harris and Smith. They formed the power source of the Crimson wave before which another fighting football team was swept away as 18,000 spectators peered down at the Alabama might on the artificial turf below."