University of Alabama football team marches for social justice from Alabama NewsCenter on Vimeo.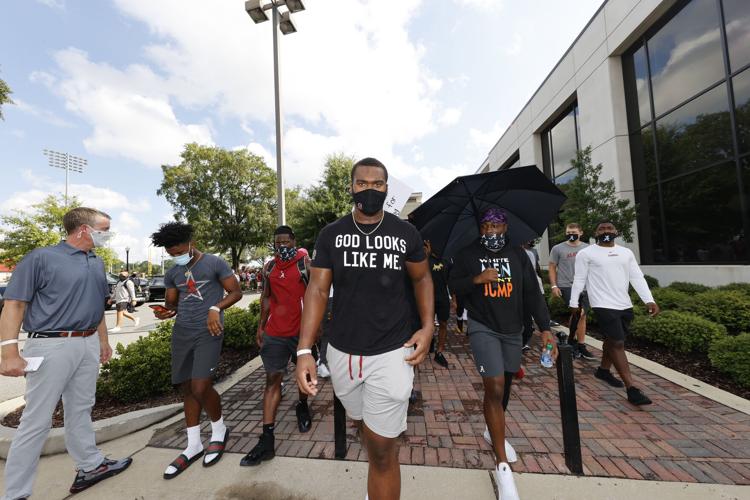 Nick Saban and his University of Alabama teams have rehabilitated the Crimson Tide's football reputation in the past 13 years, and on Monday, they added an important note to the legacy of the school's most notorious building.
Alabama football players, coaches and staff members staged their own march for social justice, starting at the Crimson Tide's athletics building and ending at Foster Auditorium, where Saban and seven others spoke about racial inequity in our country.
It's no accident the march concluded at Foster. 
"This call for change cannot end here today," said Alabama senior football player Najee Harris, who is from an Antioch, Calif. "We walk to this schoolhouse door intentionally because, while much has changed in the last 57 years, too many things have not."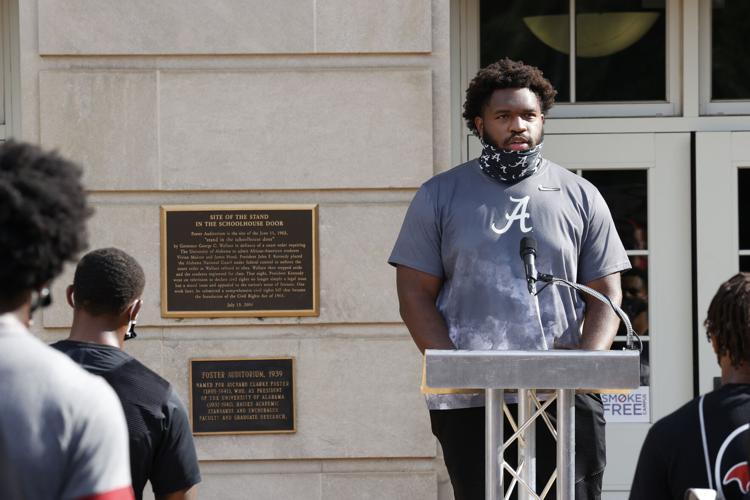 If you grew up in this state, you likely know Foster's history, even if you don't know the building's name. On June 11, 1963, then-Gov. George Wallace stood in front of the entrance, as Black students Vivian Malone and James Hood tried to enter and enroll at the university. Courts had ordered the university to desegregate, and President John Kennedy directed the Alabama National Guard to enforce the order. Wallace unsuccessfully resisted.
Pictures and videos of Wallace's failed "Stand in the Schoolhouse Door" still pop up regularly. They're part of the legacy of the university and our state.
The university will never live it down. The state will never get away from it. It's a permanent stain and an embarrassment to the university's graduates.
Foster Auditorium was built in 1939 and has a history outside of June 11, 1963. Alabama's basketball, gymnastics and volleyball teams have called Foster home at various times. It has hosted lectures and concerts.
During Alabama's league championship basketball season in 1955-56, the Crimson Tide's George Linn made a shot at Foster from 84 feet, 11 inches away. The opposing coach walked onto the floor and marked the spot. For more than two decades, it was the longest basket in college basketball history.
Still, Wallace's Stand was the only history of Foster that mattered.
Until Monday.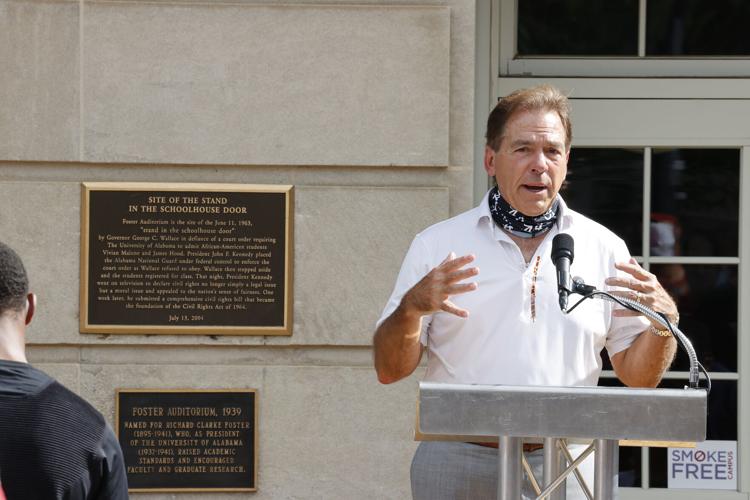 What a powerful image to see Saban stand and speak out in front of the same door that Wallace tried to block 57 years earlier. If you happen across any pictures from Monday, you might notice that a plaque recognizing Wallace's Stand could be seen just a few feet to Saban's right.
That was intentional, certainly.
"Sports has always created a platform for social change," Saban told the crowd. "For each of us involved in sports, I think we have a responsibility and obligation to do that in a responsible way and use our platform in a positive way to try to create social change in positive ways."
What a watershed moment for the University of Alabama.
What a powerful statement the Alabama football team made, with its march in protest of racial inequity in this country.
What a remarkable moment to see Saban at the front of the line. Saban said the march was his players' idea and something they wanted to do, but he still walked in front, the same low-key way as always — with his standard casual wear of loafers with no socks.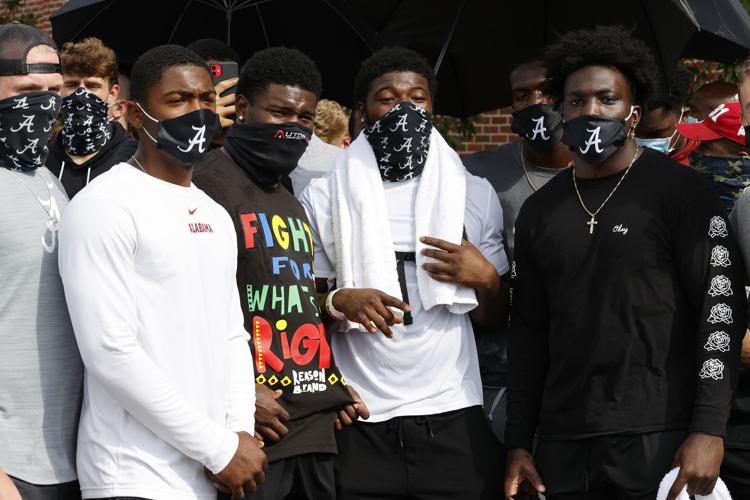 This isn't just some school with a mediocre football team that doesn't matter much nationally. This is the nation's most prominent college football program led by the sport's most prominent current coach.
Meanwhile, the silence from other major college coaches around the country is that much more obvious.
This isn't the first time that Saban's team has stepped up while others were hesitating. This summer, the Alabama football team produced an inspiring video with the simple message that Black lives matter. Crimson Tide football player Alex Leatherwood was the driving force behind the project.
The march wasn't popular with everyone. Some who love Alabama football are blasting the coach and his players for adding their weight to the Black Lives Matter movement.
It's been an uncomfortable unspoken truth for a decidedly right-wing state that its most famous and popular resident's politics lean left, but Monday's march couldn't be ignored, right or left.
Maybe those fans don't realize the hypocrisy of cheering Saban and his players on the football field but not when they peacefully and thoughtfully protest for inclusion.
They aren't alone. Count Wallace as a hypocrite, too, just like them.
In 1972, just nine years after Wallace's Stand, there was a Black high school senior in Leighton named Leon Douglas. He was 6-foot-10, and everyone knew that if he went to Alabama, it would transform the Tide's recently integrated basketball program.
Then-coach C.M. Newton already had built the beginnings of a powerhouse, and all he needed was one tall guy in the middle. It was no secret Douglas was the answer. When Douglas attended an Alabama basketball game as a recruit, fans stood and cheered his name.
Douglas has told reporters about an interesting letter he received that year. Wallace, an Alabama graduate, wrote to Douglas, telling him he was a state resource and it was important to keep a state resource at a state school.
Imagine what Douglas felt, reading that at his mother's kitchen table. Douglas eventually went to Alabama and helped win three conference championships, but he nearly attended school out of state because of that letter.
Douglas didn't need to hear from a hypocrite to thrive. Neither does Saban and his Alabama football team. They made that clear Monday.