Snow is expected between midnight and noon Tuesday, according to the forecasters, leading local schools to cancel classes, government offices to close and the governor to declare an emergency.
Gov. Kay Ivey at 3 p.m. announced the emergency declaration in an emailed statement. Much of the northern half of the state is under a winter storm warning for 2-3 inches of expected snowfall, including Calhoun County.
"This winter storm has the potential to affect a large portion of our state," Ivey was quoted as saying in the announcement. "Citizens in the northern half of the state should be especially mindful of the changing weather conditions."
The National Weather Service announced at 3:30 p.m. that Calhoun, Talladega and Cleburne counties had been placed under a winter weather warning. The warning system ranges from advisory to warning and watch; the rating declares the service's confidence in snow, ice or other risk factors arriving in warning areas.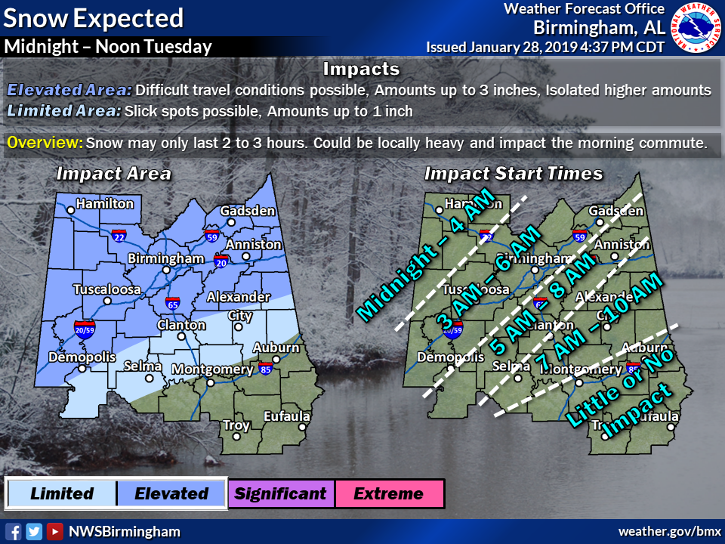 Jason Holmes, meteorologist at the National Weather Service's Calera station, said rain may turn to snow overnight, but ground temperatures will still be above freezing when it falls, allowing it to melt. When the incoming arctic front arrives and temperatures plummet toward the 19-degree mark in Anniston, water on the roads will be a serious concern, he said.
"We're going to get a flash freeze, basically," Holmes said.
Temperatures will fall through Tuesday as the front rolls down from the northwest, he explained, even through the afternoon and evening.
"Whatever falls, rain or snow, it's going to stick around once it gets to freezing," he said.
Brian Rosenbalm, Calhoun County engineer, said Monday morning that several trucks were being equipped with spreader boxes to pour sand on roadways that are prone to icing over. Two of the trucks will have snow plows mounted to their fronts, and another truck will spread salt brine.
He said roads with long bridges, like Bynum Leatherwood Road and Lenlock Lane in Anniston, and Mudd Street, north of Eastaboga, will receive attention, and high-elevation roads like Cottaquilla Road and Whites Gap Road.
"Whites Gap and Cottaquilla, those are absolutely the two in our county that stand out; they have higher elevation, they're shaded, they have some horizontal and vertical curves to them," he said. "They seem to always give us the most treachery when winter events happen."
Cleburne County Emergency Manager Crystal Cavender met with county officials, law enforcement, first responders and Heflin Mayor Rudy Rooks on Monday morning to review which department would be responsible for what.
Cavender said that the Alabama Department of Transportation was going to spread salt brine on state roads, bridges and Interstate 20 on Monday.  
Ice and snow events like the one forecasted for Tuesday leave Cleburne County at a disadvantage according to Cavender.
"We do have minimal salt and things we can put on bridges, nothing that completely clears a road," said Cavender.
Cleburne County Engineer Lee Estes said that the road department has a "little bit of salt" that they will put out if needed.
Estes said a tailgate spreader, which distributes salt, and a sand truck are available if needed for slick spots on the county's roads and bridges.  
"By no means are we going to be able to handle everything in the county, my best advice is no unnecessary travel and stay home if you can," Estes said.
Cleburne County EMS director Tracy Lambert said said unlike last year the agency has new ambulances which are better equipped to handle the ice and snow.
"Our ambulances are four-wheel-drive and they do have the automatic snow chains on them — we're going to prioritize, triage our calls," Lambert said.
Heflin police Chief A.J. Benefield said his department was gearing up for the wintery weather. Benefield instructed officers to bring an overnight bag if travel becomes an issue. He said the department has a four-wheel-drive truck to assist with calls if needed. Last year Benefield used the truck to take nursing home employees to and from work at shift change.
"We're going to flow on usual, our routine is not going to change," Benefield said.
"Some of our great citizens have already brought us some Dunkin Donuts," Benefield said.
Holmes said Saturday that major icing, which would affect power lines, isn't expected Tuesday.
Temperatures should start climbing back above freezing Wednesday. Holmes recommended handling shopping and other errands Monday, or waiting until later in the week. Temperatures should keep rising through the weekend, he said.
"We will get out of this, but we'll have to deal with it for a few days," he said.
Local schools this morning announced their campuses will be closed on Tuesday. County Superintendent Jon Paul Campbell said he expected to confer with the county's other school system leaders on closure plans later today.
The Calhoun County EMA announced that Anniston's Carver Community Center as a warming center Tuesday at 7 a.m., and will remain open through 7 a.m. Friday. In Oxford, the Civic Center will be open from 6 a.m. Tuesday through noon on Wednesday.
Calhoun County Administrator Mark Tyner said that county offices will be closed Tuesday, and the Anniston Police Department announced that the county courthouse will be closed.
Staff Writer Bill Wilson contributed reporting on Cleburne County.