JACKSONVILLE — Faith Sims is a year older, a year wiser and a year tougher.
The Jacksonville State junior pitched only 19 innings last season as Jacksonville State's softball team had a pair of All-Ohio Valley Conference pitchers anchoring the circle. But Whitney Gillespie and Taylor West are gone, and it's Sims' turn now.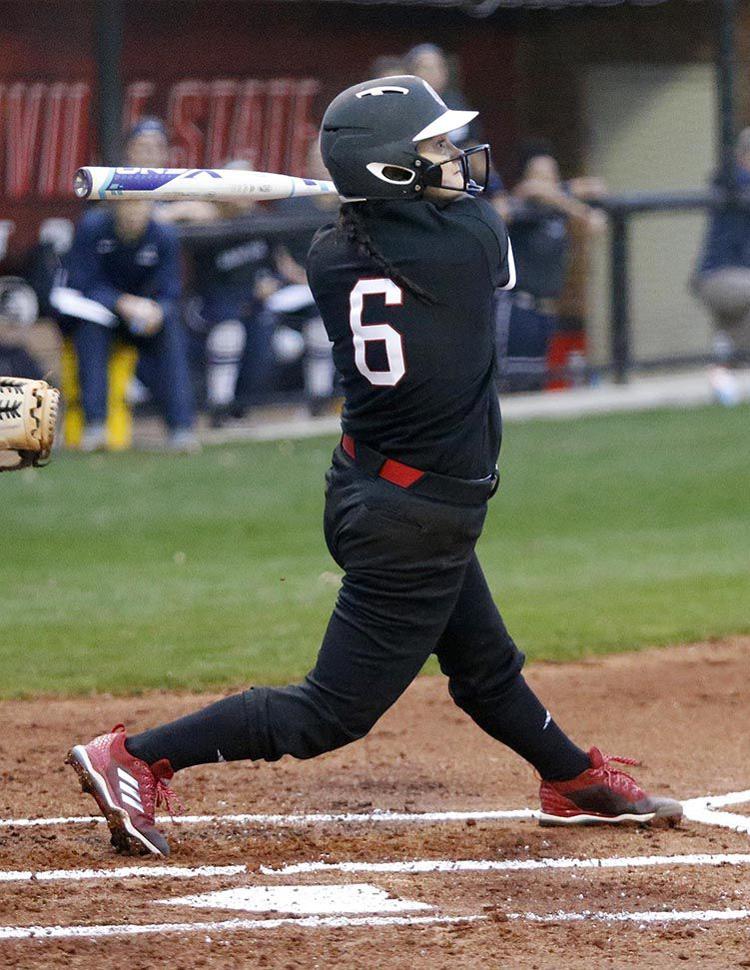 She no longer has the safety net her former teammates could provide, but on Tuesday night in the Gamecocks' home opener, Sims didn't it. She hurled a two-hitter to beat Samford 3-2.
Through six games, JSU is 4-2 overall, and Sims is 3-0 and already has worked 25⅓ innings.
"I'm a junior," she said. "I'm supposed to be a leader."
Her teammates provided enough offense as second baseman Anna Chisolm ripped a solo home run to dead center field in the fourth, tying the game 2-2. In the bottom of the fifth, hot-hitting shortstop Taylor Beshears launched a shot to right field and it just made it over the fence for a one-run homer. Beshears, a transfer from Wallace State-Hanceville, went 2-for-3 with two RBIs, and she is 12-for-22 for the season.
On the home run, the right-handed Beshears took an inside pitch and managed to drive it to the opposite field.
She also accounted for the Gamecocks' first run when she singled home Hannah Weaver in the first inning.
"She's one of the best hitters at taking any pitch and hitting it solid," JSU coach Jana McGinnis said. "And the thing I keep saying is that she's got much better in her. She's thinking a lot. She's trying to be too perfect."
But the shining light was Sims, who didn't appear to let a troublesome fourth inning bother her.
JSU entered the top half of the inning ahead 1-0, but Samford got two runs off Sims without a hit. She walked three, hit a batter and allowed a sacrifice fly.
But after that Sims didn't allow a base runner. She retired the last 10 batters she faced without anyone reaching base.
"I'm so proud of Faith," senior third baseman Caitlyn Sapp said. "She's come out and dominated. She's not letting anything stand in her way."
Sims has struggled with walks. She gave up six to Samford while striking out five, and she acknowledges that her defense can provide support.
"We've got a great defense, and I don't need to strike everybody out," she said. "If I throw strikes, they'll make plays."
Sapp was especially solid at third base. Her most critical play came in the third inning when she charged a grounder as Samford speedster Shelby Maze steamed home. Sapp rifled a shot home, and catcher Lex Hull tagged Maze just in time for the out.
"I saw the runner going," Sapp said. "Shelby Maze has some of the best speed, and I knew I needed a good, quick throw. And Lex Hull made a great tag."
After committing nine errors in five games this past weekend, the Gamecocks spent Tuesday's practice working on the basics of defense, and it appeared to pay off. JSU made only one error when Beshears and Chisolm chased after a high pop-up, and neither could come up with it. Otherwise, Sapp handled four groundouts, Beshears had three and Chisolm had two — all without incident.
"We came out hard in practice with defense," Sapp said. "We broke it down into the little details and worked on everything. It helped us."
For Samford (0-5), shortstop Lexie Higgins of Oxford was 0-for-2 with a walk and a run. She also made a running catch of foul ball.