State officials Thursday certified Doug Jones as the winner of Alabama's special election for U.S. Senate, despite a last-ditch lawsuit by former Republican candidate Roy Moore.
Moore had filed suit Wednesday to block certification of the election he lost to Jones, the Democrat, on Dec. 12, but a judge declined his request.
In an anticlimactic procedure broadcast live nationwide from the secretary of state's office, Gov. Kay Ivey, state Attorney General Steve Marshall and John Merrill, the secretary of state signed three copies of a document certifying the election result.
Jones' margin in the official account was 21,924 votes, or 1.63 percent of the ballots cast.
In a statement emailed immediately after the certification, Jones said he was looking forward to going to work.
"I will be an independent voice and work to find common ground with my colleagues on both sides of the aisle to get Washington back on track and fight to make our country a better place for all," Jones' statement read.
In his 80-page complaint, Moore claims it's statistically unlikely he would have lost certain precincts in Jefferson County, precincts that apparently went to Jones.
"The reported results were contrary to most of the impartial, independent polls conducted prior to the special election, and in contrast to exit polls," Moore's complaint reads. The suit was filed in Montgomery County Circuit Court.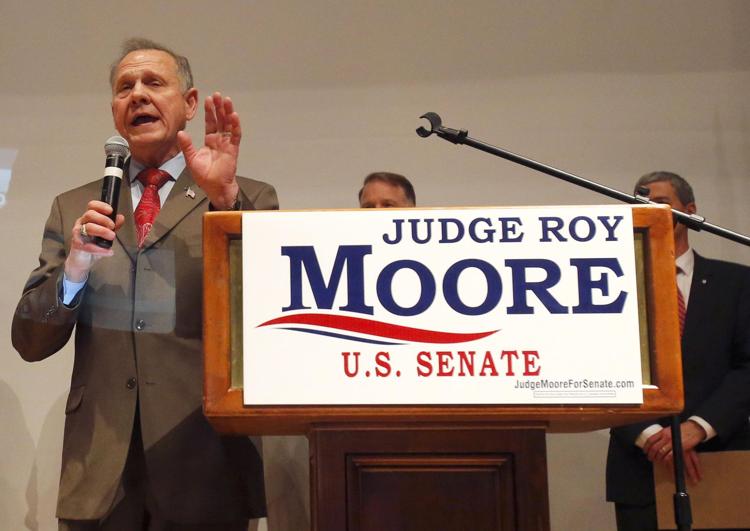 At 12:35 p.m., Circuit Court Judge Johnny Hardwick denied Moore's motion for a restraining order in the case, clearing the way for Jones to be certified as the election victor at 1 p.m.
Asked if there's merit to Moore's claims, Alabama's top state election official, earlier Thursday said only that Jones is the winner of the election.
"I know that we're going to certify Doug Jones as the winner of the election at 1 p.m. today," said Secretary of State John Merrill.
Jones, a former federal prosecutor, beat Moore by about 22,000 votes in the Dec. 12 election to fill the Senate seat once held by Jeff Sessions, who left Congress to become U.S. attorney general earlier this year.
Jones is the first Democrat elected to the Senate from Alabama in 25 years. His victory might have seemed unlikely just a year ago, though Moore's missteps likely helped it along.
A former Alabama Supreme Court chief justice, Moore was twice disciplined by the court for defying higher court's orders, first on display of the Ten Commandments in the Supreme Court building and later on same-sex marriage. Moore has a strong following among religious conservatives but has struggled to expand the vote beyond his religious base. In two runs for governor, he failed to win the GOP nomination.
The 2017 Senate race proved still tougher for Moore, largely because The Washington Post in November published accounts by four women who claimed he pursued them romantically when Moore was in his 30s and they were in their teens. An Anniston resident later accused Moore of sexually assaulting her when she was 16. Moore denied the claims.
Moore has never accepted the results of the election, claiming initially that absentee and provisional ballots could tip the election for him. It became clear, as those votes were counted, that there weren't enough votes to change the result.
In his suit, Moore says he took, and passed, a polygraph test on the allegations of sexual misconduct unearthed by the Post. Moore only rarely responded to questions about those allegations on the campaign trail.
Moore mentions the polygraph in an affidavit in the case, but didn't include a transcript or polygraph examiner's report. Sam Fisher, a political science professor at the University of Alabama, said it's not clear how the polygraph would affect Moore's case even if the results were in Moore's favor.
"His attorneys seem to be throwing everything at the wall to see what sticks," Fisher said.
Much of Moore's case is devoted to the argument that the election result is statistically unlikely because of unexpectedly high turnout in "anomalous precincts" in Jefferson County. Moore also argues that the Election Day result doesn't match pre-election polls — a sign, according to Moore's attorney, that fraud must have been committed.
Moore's filing included affidavits from two engineers, Phil Evans and Richard Charnin, who claim the Jones victory is statistically unlikely, based on their analysis of the numbers. Charnin, a Florida resident, runs a blog devoted to "JFK conspiracy and election fraud analysis."
Pollsters in the days before the election largely said the vote was too close to call.
"With any poll, you always have to take in the margin of error," said Fisher, who specializes in polling. Many of the polls in the weeks before the election showed one candidate or the other in the lead, within the margin of error.
Fisher said turnout, particularly in Jefferson County, was indeed higher than predicted.
"That's not an anomaly," he said. "There was a lot of media coverage. There's nothing bizarre about this."
Attempts to reach Moore's spokeswoman, Janet Porter, weren't immediately successful.
Shortly before noon, Jones filed a motion to dismiss, saying Moore's cases had "no basis in law."
"The election is over," said Jones spokesman Sam Coleman. "It's time to move on."