Jessica Johnson has more than training to do before traveling to France for the Union Cycliste Internationale Gran Fondo World Championship later this month.
Well, let's just say her training involves more than riding her bike up and down the challenging Appalachian foothills in areas surrounding her native Anniston.
"I don't even know how to change a tire yet," she said.
No doubt Johnson will have that detail nailed down before taking to the rolling hills of southern France on her bike Aug. 27.
The 40-year-old nurse, wife and mother of four was among 15 local cyclists to qualify for the UCI event with their finishes in May's Cheaha Challenge.
This year marked the first for the Cheaha Challenge to serve as a qualifier for the UCI event, and the Challenge is the lone U.S. qualifier. The first 25 percent of athletes of each age group were awarded guaranteed entry to the UCI Gran Fondo World Championship and the chance to ride for the World Champion title. The first three finishers in each age group category automatically received entry eligibility.
Only Cheaha Challenge century (100-mile) riders were eligible.
Of the 15 local qualifiers, Johnson and Anniston's Darin Sims and Brad Cox have confirmed to The Star their intent to make the trip to France. Renea Dorroh said she made plans to go, "but circumstances have arisen that I may not be able to."
Dorroh is the lone qualifier in Calhoun County that got a first place and a "Rainbow Jersey."
Calvin O'Dell, Jamey Waugh, Jamie Dorroh, Jeffrey Brooks, Matthew Johnson, Randy Kerr, Sloan Bryan, Ty Rochester and Tony Esposito have said they won't go this year, but some hope to qualify at next year's Cheaha Challenge and make the trip.
The local UCI qualifiers range in age and level, and the ones making the trip to France started out humbly enough.
Cox, the most advanced of the bunch, finished eighth overall in the Cheaha Challenge with the only four-hour time among the local qualifiers (4:46:19.5). The 32-year-old Anniston native and minister/administrator at Cornerstone Church on Choccolocco Road finished second in his age group.
Still, he's not that long into cycling. He did his first Cheaha Challenge in 2009, a few months after he started riding. A friend who was into cycling moved from Florida and became his roommate.
"He did a lot of cycling where he was at," Cox said. "It was how he commuted back and forth to work and kind of just enjoyed that lifestyle of being able to ride his bike a lot."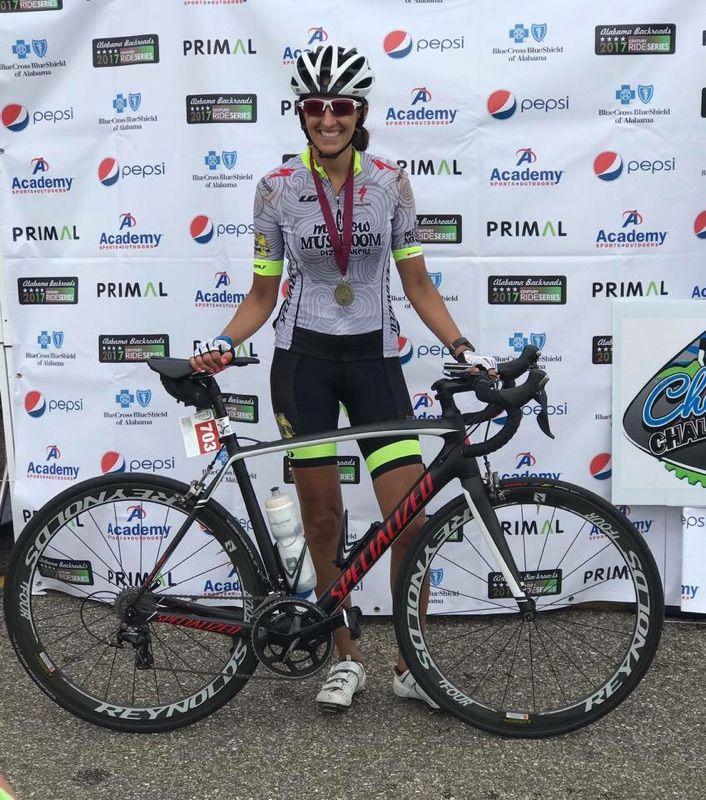 Cox started racing seriously a couple of years later. He stopped riding in the Cheaha Challenge and took up the more competitive Foothills Road Race, which ran the same day as the Cheaha Challenge at the time.
The Foothills became the McClellan Road Race, moving dates and courses and allowing Cox to do both. He returned to the Cheaha Challenge last year, finishing fifth in the new "ultra" 124-mile division.
Cox moved up from a Category 2 rider to Category 1 this year and trained for the Sunny King Criterium, which was in April. He and wife Linda married April 21, and he took some time off the bike.
Still, his fitness carried into the Cheaha Challenge, and time off the bike made him "super fresh" for the UCI qualifying run in the Cheaha Challenge, he said.
"I've just continued to really enjoy it," he said. "As I get more into it, skill improves, work ethic improves, training improves, and you just get higher up.
"It's definitely a focused effort. It doesn't happen by accident, but it's all just for the love of getting to ride my bike."
Going to France will be just another adventure for Cox, who took time off from cycling to hike the Appalachian Trail in 2015. After riding in the Alabama championships Aug. 19, he'll fly the next day to France.
"I really have no idea what to expect when I go there," he said. "My goal is to give my absolute best performance and to see where I end up on the board."
Others go looking for the experience.
Sims, 52, grew up outside of Atlanta in Jonesboro, Ga., and moved to Anniston 20 years ago to start his business. Pinnacle Research Group in Anniston does clinical drug studies.
The Anniston area's robust cycling community appealed to him.
"It's sort of a strong influence in the community, and I wanted to just get outdoors and just enjoy being outside and, also, take on an activity that's not high impact," he said. "It's something you can do without hurting your knees and back."
He started doing morning rides through DeArmanville and Iron City with a group that met near his home in Golden Springs. The group included Esposito, Matt Johnson, Mike Poe, Bo Nolen and Terry Phillis.
"We would meet three times a week and just, like, beat the hell out of each other," Sims said. "Just being competitive, just trying to make it harder on all of the other guys. The harder the better. Typical boy stuff."
Sims got more competitive in recent years, after his two sons grew and moved out on their own. He's worked up to 150 to 220 miles a week.
He's ridden in 10 Cheaha Challenge rides, going the full century ride seven times. He aimed for the UCI qualifier this year, hiring a coach. Christopher Borden, based in Florence, emails him workouts.
"I was sort of a slave to a schedule starting around November of last year," he said. "Once we got the designation of being a qualifier, I started working for it last year."
Jessica Johnson, who works at Alabama Specialty Products in Munford and whose four children range in age from 4 to 20, adding riding to running three years ago. She and husband Tim saw it as "something to do."
She'd been a runner, but "I'd never ridden a bike," she said. "I knew how to ride a bike, but never, like, a real bike that costs money."
She said she had to learn how to change gears at first. She started at 10 to 15 miles, and she and her husband "still are newbies."
This year's Cheaha Challenge was her first century ride. When she first heard about this year's ride being designated as a UCI qualifier, she said she didn't think it was possible.
"Then I thought, 'Well, maybe if I trained,'" she said.
She turned 40 and ran her first marathon in February. After that, she transitioned into training for the Cheaha Challenge.
"I just thought I'd do the best I can," she said. "It wouldn't be the end of the world, if I didn't qualify, but I was going to give it my best."
She said she fought through nerves, cramping and a bike malfunction and was "very surprised" to qualify.
She'll travel to France with her oldest child, son Tyler. UCI road race circuits start in Episcopal City and run along the River Tam before exploring the vineyards of Gaillacois.
Jessica Johnson has training to do first … and learning how to change a tire.
"That's been my thing," she said. "I'm like, 'Honey, you're going to have to help me do that, just in case, because I'll be stuck on the side of the road.'"