THE HELPERS
Good Samaritans swarmed city in the hours after tornado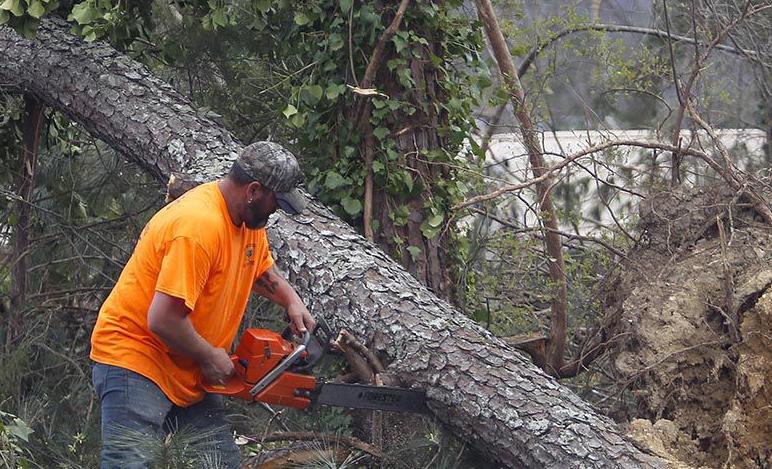 In the hours that followed, even as we stumbled in the dark, there was the inevitable debate about whether it sounded like a freight train.
It didn't to me. I knelt in a closet, wearing my grandfather's old pipe-shop hardhat, petting my cats and trying furiously to refresh Twitter or call friends and family. Everything was down.
Then came the wind. I'd heard it once before. Like a waterfall rushing up to you, with some higher notes like wind in a haunted house from some Halloween novelty LP. A loud boom and another, and a sound like someone stomping through the house slamming doors.
Before I left the house, the smell alone convinced me that this was a full-blown tornado. It was the same smell I remembered from covering other storms, in other folks' neighborhoods. Pine-Sol. That turpentine odor was suddenly, pervasively, everywhere.
"MY HOUSE IS BADLY DAMAGED. WE'RE OK," my boss and neighbor Ben Cunningham texted me. "YOU OK?"
Not really. I was unhurt, and the cats, too. My wife and son were away for spring break. But I was frustrated. I was a reporter in the middle of the biggest story in the state, but I had no idea what was going on. I wasn't entirely sure that I even had a roof over my head.
I decided to go out, find Ben, and report the story. There were two massive trees across the yard, and two more, at least, on my house. Black and silver power and cable lines on the ground everywhere, like snakes in an Indiana Jones movie. In the rain, my tiny flashlight seemed about as useful as a single paper match. As I climbed over the trees and into the street, I saw … more trees. A neighbor's house with a giant hole in the roof.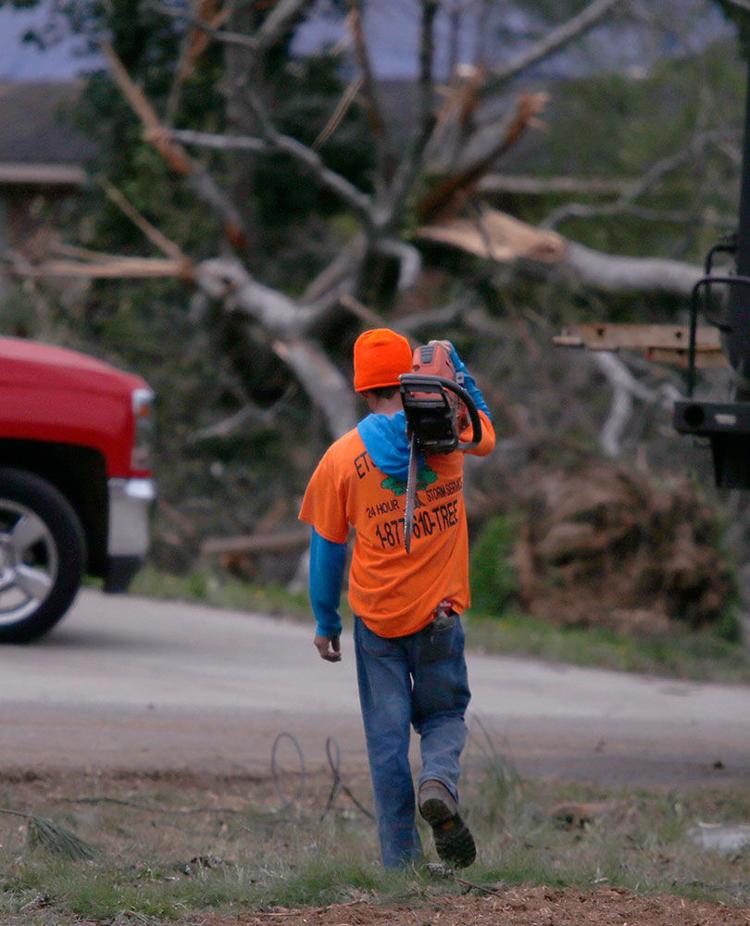 Something metal, maybe a boat, crushed. I got up my courage and clambered into the mass of trees, planning to pick my way through. Then came one of those too-close bolts of lightning, the kind you can feel as well as see. In the flash, I saw power lines laced through the branches I was climbing through.
I'm an idiot, I realized. The guy who makes it tougher for rescuers. The Darwin Award winner.
I crawled back to the house and sat as the rain and wind died down. Unable to act. Depressed.
And then I saw flashlights across the street.
—
You may know Derek Raulerson as the former city councilman. I know him as the only band booster who's actually glad to be there. You may know Rufus Kinney as the teacher and activist whose voice sounds vaguely like Charlie Daniels and whose politics sound exactly opposite. That's how I know him, too.
I didn't recognize them at first. They were peeking into one of our neighbors' windows, knocking on her door to make sure she was OK. None of us knew whether our neighbors were dead.
Raulerson was in the freight-train camp.
"I heard the big roar and I yelled, 'Get downstairs now,'" Raulerson told me.
That night, everyone would share their experiences of the storm's passing — descriptions of the sound or lack of it, a rush of cold air popping in the ears. I rarely had to ask.
Tiny lights were coming out everywhere, as people emerged to find their neighbors and assess their own damage. The rest of the world was flipping through Twitter photos of wreckage at the bottom of the hill. We were in the dark, and knew only the news that neighbors brought on foot. To move more than a block, we would have had to pick through downed trees and dance around power lines — walking as a kind of meticulous agricultural labor.
A couple of blocks down, Deborah Machen stood near one of the few intersections that was clear of debris. Some teenagers had shown up with chainsaws, she said, and started cutting branches.
"I don't think they were an organized group," she told me a few days later. "Just people who came out to help."
Islands of light began to appear in the darkness, as first responders, or just guys with big trucks and bright headlights, arrived.
Time was flowing differently for us than it was outside the storm zone. In the time it took me to clamber a few blocks down the mountain, Jeff Wesson was able to drive down from Sand Mountain and up onto the hillside in Jacksonville to check on his parents. I couldn't believe him when he told me.
"Highway 204 is clear," he said. "But after you hit campus, it's a s--tstorm."
—
When I could get Twitter to work, I'd spot stories of people trapped in their houses, complete with street addresses. Inevitably, when I'd arrive, the rescue would be already done, or a false alarm. What I did find, everywhere, was a stunning array of place names on rain-slickers and T-shirts of first responders.
Oxford Public Works was too busy to talk, their backs to me as they tried to clear an impassable road with a house at the end. Ball Play, a community on the map only because of its fire department, seemed to have every one of its firefighters on hand. Some guys in shirts with a logo I'd never seen — not Alagasco, not Spire — were here to shut off the gas that everyone smelled and everyone worried about.
March 20, 2018
The whole time, I was tweeting out what I knew, or trying to. With the cell system clogged up, many of those tweets never got out. I know now that I was just blocks away from some of the night's most heroic stories.
There was Paul Lindsay, a young war veteran known to neighbors as "that guy with the Star Trek emblem on his car." For some reason — friends say he might have been out checking on friends — he was in the parking lot of First Baptist when the storm hit. A flying pipe or pole severed his arm.
Friends said Lindsay was spotted by another storm victim who was out looking for his own vehicle. Lindsay is at UAB Hospital now.
A block down the road from me, Mary Jane Peters lived in a ranch house near a lovely mountain stream. When the National Weather Service plotted the path of the storm, the center line went right over her house. Days later, she stood on her porch and pointed through the remains of her house to the home of neighbor Rodney Shirey, who helped her down the hill that night.
It was well after midnight when I reached the parking lot of First Baptist, an island of light where fire trucks and police cars were lined up side by side. Somebody here surely knew the big picture, but most were too busy to talk.
I approached one man in uniform who was talking to a pair of women on the lawn of a damaged house. Waiting my turn, I realized he was talking to his own wife and mother, working out where mom should go for the night.
I marched back up the mountain with a bunch of firefighters who'd heard a report of someone supposedly trapped in their bathroom in the 900 block of 13th Avenue — not far from where I'd started. By this time, we were all just stepping right on the downed power lines, batting them away.
"I don't even care anymore," one of them said. "Power isn't coming back up here for a while."
I lost them in the dark, taking a detour through a space where half of someone's workshed used to be. When I got to the rescue site, it was illuminated by the lights of Derek Raulerson's minivan. He was ferrying firefighters up and down the hill, and had been for much of the night, I suppose.
Another false alarm. It was about 2 a.m., five hours since the storm passed, and not far off, a pair of chainsaws sang like a long Metallica electric guitar duet.
The firefighters climbed into Raulerson's car and left. The night wasn't over yet. There was plenty left to do.
Capitol & statewide reporter Tim Lockette: 256-294-4193. On Twitter @TLockette_Star.