Forecasters today are urging locals to sleep lightly tonight as the possibility of flooding and severe storms approaches.
The National Weather Service issued a flash flood watch early Wednesday morning for Northeast Alabama between 4 p.m. Wednesday and 6 a.m. Thursday. 
Calhoun County Schools just before noon began notifying parents of a two-hour delay Thursday morning due to inclement weather. Emergency Management officials announced just before 1 p.m. that Jacksonville City Schools, Jacksonville Christian Academy and Sacred Heart in Anniston will also be on a 2-hour delay Thursday. The Donoho School and public schools in Oxford and Piedmont later were added to the list.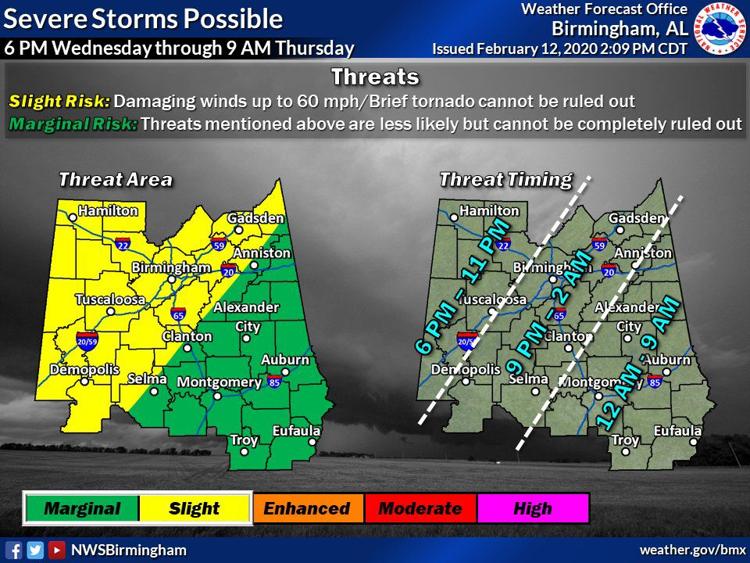 Gary Goggans, a meteorologist at the weather service's office in Calera, said Northeast Alabama is expected to see between 1 and 1½ inch of rain.
"It doesn't seem like a lot, but the ground is so saturated," Goggans said. "There's nowhere for the water to go, so we could see rapid runoff."
According to Goggans, the storm is coming from the west, and should meet with moisture coming from the Gulf of Mexico.
Parts of Northeast Alabama saw up to 3.5 inches of rain Monday, causing some road closures and school delays. Goggans said the flooding from Monday, combined with any flooding from tonight's storm, should recede within the next few days.
Goggans said a severe thunderstorm could also pass through the area, posing risks for damaging winds and a brief tornado.
Myles Chamblee, an officer with the Calhoun County Emergency Management Agency, said he's concerned that any gusty winds could uproot trees in the area.
"It won't take as much wind to blow over trees because the ground is so wet," Chamblee said. 
Photos: Heavy rain in Northeast Alabama
Photos of the rain and cold in North East Alabama Monday.
Chamblee encouraged locals to closely monitor the weather throughout Wednesday.
"The closer we are to the system coming through, the more information we have," Chamblee said.
Goggans urged residents to have at least two ways of receiving weather updates; because the storm is expected overnight, Goggans said, at least one of those ways should be able to wake them in case of an emergency.
Goggans said the storm could leave standing water on roads, and warned against driving over those roads.