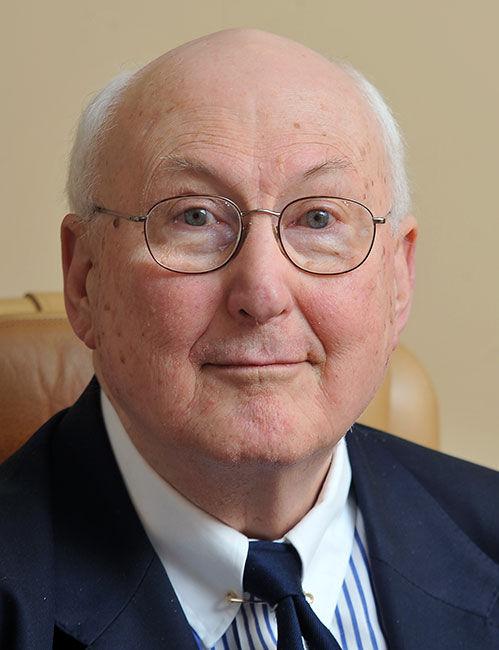 When former Anniston Star publisher H. Brandt Ayers acknowledged an assault on a former reporter earlier this week, the newspaper announced that a new sexual harassment policy was in the works in response to allegations against Ayers.
Scholars who study sexual harassment say the new policy alone likely is isn't enough.
"It's by no means the last step an organization should take, but it's usually the first step. It's the easiest step," said Debbie Dougherty, a University of Missouri professor who studies communication within organizations.
Brandt Ayers is the former publisher and third-generation owner of Consolidated Publishing, which owns The Anniston Star. He's now the chairman of Consolidated's board of directors and a regular contributor to the Star's editorial page.
After a former reporter, Veronica Pike Kennedy, came forward with a claim that Ayers forcibly spanked her in the 1970s — an account supported by an eyewitness — Ayers on Tuesday acknowledged that he spanked another reporter, Wendy Sigal, in her own home in 1973 or 1974. Two other women have told The Star of similar incidents they experienced, though both declined to speak on the record out of concern for the effect the exposure would have on their careers and families.
Asked Tuesday about The Star's response to Ayers' admission, Star publisher Bob Davis said the newspaper has already begun work on a new sexual harassment policy that will offer a clear path for reporting sexual harassment. He said the policy has been under development since November, when The Star first began looking into allegations about Ayers.
"There will be a clear path to reporting allegations of misconduct, and a path for investigating those allegations," Davis said Wednesday.
Ninety-eight percent of organizations in the country have some form of sexual harassment policy, according to Dougherty. At The Star, though, it's not entirely clear what policy is in place.
A one-page passage in a 2001 company handbook outlines a policy forbidding "unwelcome sexual flirtations, touching, advances or propositions" and similar violations and instructions on how to report them. Those handbooks haven't been distributed to new employees in years, editors say.
The new policy draft may simply be low-hanging fruit, however. The allegations against Ayers stem from the 1970s, before many of The Star's current reporters were born. Ayers, 82, has made only rare appearances in the newsroom in recent years.
Most workplaces didn't develop harassment policies until the late 1970s and early 1980s, when sexual harassment began to be considered a form of discrimination under Title VII of the Civil Rights Act, said Caren Goldberg, a management professor at Bowie State University in Maryland and consultant on sexual harassment court cases.
Goldberg said those policies are often crafted by lawyers, in response to crises, and don't by themselves solve problems with workplace culture.
"I certainly wouldn't say, 'Don't have a sexual harassment policy,' but it's like a New Year's resolution," she said. "There's a lot of good intention, but there has to be a willingness to follow through."
Both Goldberg and Dougherty said an organization facing a sexual harassment crisis needs to do more to address the issue.
"The first thing I would be asking myself is, 'Is this organizational, is this a cultural problem, or is it one bad dude?'" Dougherty said.
"A proper response would probably include severing ties with him, though, I realize it's a family paper," said Goldberg.
Ayers said Tuesday he has no intention of resigning as chairman of the newspaper company.
Dougherty said research shows that employees often misunderstand written harassment policies. In focus groups, she said, workers often come away worried that common behaviors would be perceived as harassment —  rather than reading the policies as bans on concrete, exploitative behaviors.
She advises policies that use more emotional language — describing harassment as "predatory sexual behavior," for instance —  instead of the legalese of some policies.
Goldberg and Dougherty both said it's best to include language protecting bystanders who report harassment they've observed, or even requiring them to report it.
"Most people who are harassed do not report it," said Lynn Bowes-Sperry, a management professor at Western New England University. "Sometimes they're embarrassed. They fear retaliation and they fear they won't be believed."
Bystanders often feel they're more likely to be believed, Bowes-Sperry said. Workplaces should not only protect them but train them in how to respond to harassment incidents, she said.
The Star's new policy is being drafted by a lawyer, Kyle Smith of the Birmingham firm Sirote and Permutt. Smith said Wednesday that he couldn't discuss the work due to attorney-client privilege.
Davis said there will be protections for both targets of harassment and bystanders who report harassment under the new policy. He said the new policy would apply even at the highest levels of the company.
"I don't see any exception, in what we're putting together, for any person," he said.