TUSCALOOSA — Nick Saban asked me if I attended college.
Yes, the first question I ever asked Alabama's mercurial football coach went that poorly. It was after a steamy scrimmage this spring — a bad one, at that — when I raised my hand.
"What went wrong in the secondary," I asked, noting he had bemoaned the unit's play in his opening statement.
"It didn't go wrong, they just don't know any better," Saban shot back, reminding this brand-new beat reporter of the youth back there. "Did you know everything now that you know now when you were a freshman? First semester in college? I'm assuming you went to college, right?"
Yes. You're familiar with the place, too, Nick — that West Division rival in Baton Rouge that once signed your paychecks.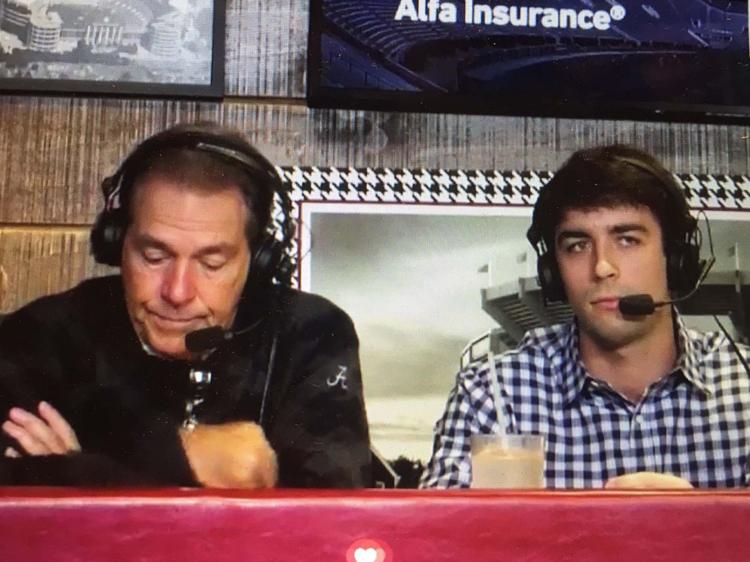 We've both come a long way since then. I know to steer clear of certain words — "wrong" foremost among them — when posing a question. Avoid comparisons, hypotheticals. Don't bring up Lane Kiffin (didn't exactly need much training for that one).
Still, for reasons I still struggle to fathom, I was asked to be the media host for Saban's "Hey Coach" radio show Thursday night at Baumhower's. Maybe because I'm young. Because I haven't had enough time to really get under his skin yet. I've only been here eight months and, at 9-0, there's little to hem and haw about regarding the Crimson Tide.
But, covering Alabama, when you're afforded any opportunity for a sliver of extra access to an almost inaccessible man, you say yes. Unless you're crazy. And I haven't gone loony — yet.
I was told to prepare five questions — "softballs" if I knew what was good for me. Asking Alabama's head football coach anything bordering on controversial while doting, rabid fans packed tables in attendance and listened across the state might have ended in my physical harm.
Whatever their content, I knew the questions would have little bearing. Saban dictates every turn of phrase or word he utters and each mannerism or hand motion he displays. He'd take whatever I asked and craft his message around it, disregarding the question's basic genesis if he felt so inclined.
Nevertheless, there I was, five questions written in a notebook spanning cowbells, injuries and, yes, that college I attended. Banter with play-by-play man Eli Gold ceased when Saban entered the restaurant, a hush enveloping the sports bar as its patrons positioned iPhones for photographs.
Saban sat two feet from me, a ballpoint pen in his right hand and a piece of notebook paper in front of him, filled with various talking points scrawled in all capital letters. When a caller phoned or a customer asked a question, Saban wrote each person's name, underlining it two or three times if their question took more time than he anticipated.
His mood, as it often does, jumped around. He buried his head in one hand as one caller stammered through what was hardly a question, just more of a profession of the undying admiration he and his family felt for Saban. Eventually, the gentleman inquired if Alabama planned to change its offensive approach given the rash of injuries at linebacker — an effort, the caller said, to limit the defense's snaps.
"This is not an excuse to fail," he declared, raising his voice after minutes of scolding onlookers and waving his hands at such flawed logic.
This radio show offers little in the way of strategy. Asking game-plan questions or reiterating the same worries he's heard all week is moot. This is as good a time as any to humanize Saban, a man so many see as nothing more than a robotic, unrelenting man who thinks of nothing but his "process."
He smiled speaking about his granddaughter Amelie, with whom he hid under the bed and in a "dog cage" — I had to reassure Saban on air that, yes, that is its real name — during Sunday dinner this past weekend.
Saban playfully scolded Walt Gary, the 34-year-old Crimson Tide superfan who waits for the team outside the locker room each Thursday. Gary, who has Down syndrome, always gives Saban a score prediction for the upcoming game before the coach departs for this radio show.
"Been a little aggressive this year," he joked, a wide smile on his face recalling Walt's 45-10 prediction for last week's game against LSU.
Ah, there's LSU again. I looked up at the television minutes before Saban arrived. The graphic on ESPN? Saban, dressed in purple and gold, as LSU's head coach.
Thursday was the 15th anniversary of the Bluegrass Miracle — LSU's Hail Mary win against Kentucky in 2002. I segued away from Mississippi State to bring it up, asking if he had any memories.
What followed was peak Saban. He remembered the coin toss — yes, the coin toss — more than the play, one I can recite from memory. The man meticulously plans to have the wind at his teams' back in the fourth quarter of any game — who else but Saban thinks of this — should a game-winning field goal or Hail Mary be required.
The Tigers did and, as a result, Saban said the Wildcats defenders misjudged quarterback Marcus Randall's throw "by 10 yards," he said.
Still, Saban used the euphoric moment to teach a lesson. One of preparedness. The worst thing a team can do is "play bad and win," he said.
"A lot of people don't remember," he said, turning toward this LSU alumnus, "that Alabama beat us like a drum the next week."