This week, we've fielded several calls and Facebook messages from Anniston High fans who are "very upset" and "disappointed" that the Anniston Bulldogs were not featured on Saturday's front page after a Friday night victory that propelled them into the semifinals of a state championship run.
It's not surprising that fans want their teams to be the one featured on the front page. What's disappointing are the accusations that The Anniston Star intentionally slighted Anniston High and never supports the school system.
Nothing could be further from the truth. Anniston Bulldogs had just been featured front and center on the previous Saturday's front page. The headline read: "Dawg Domination."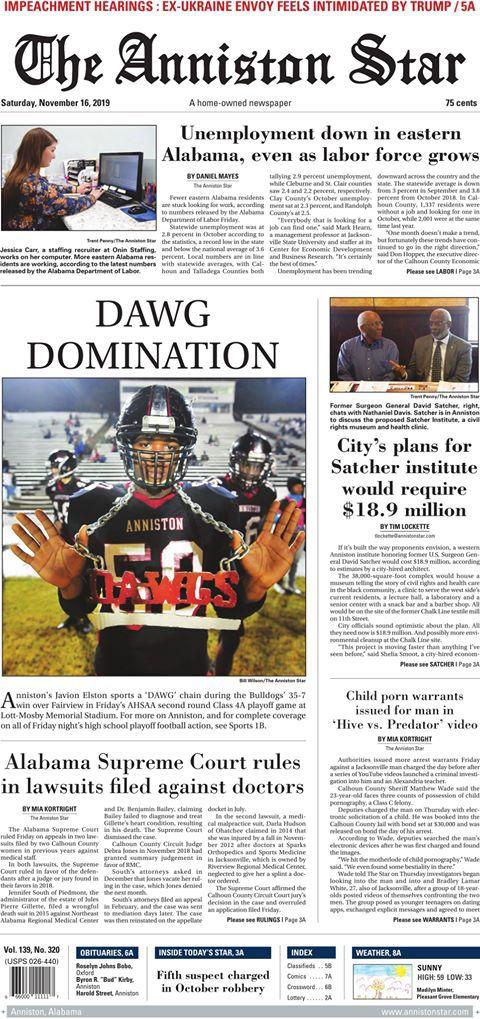 Not only does The Star make a concerted effort to highlight athletic achievements at Anniston High, but we also take every opportunity to point to its academic achievements.
We reported on the front page that Anniston held steady on the most recent state report cards. It was also a front page story when AHS honored Tahj Jones who scored a 30 on the ACT. We also put it on the front page when Anniston businesses raised money to reward students for making the A and A/B honor rolls. There was also a front page story about fifth-graders learning home improvement skills at Randolph Park Elementary.
That's just the front page over the last two months. It doesn't include all of the columns and editorials that champion what's good about Anniston schools, including: a feature on the Anniston track team; a column on Anniston High grad Antrez Dye; and a column on Anniston High valedictorian Dakarai Wilson after an Anniston Star video of her graduation speech went viral.
And that's not including the countless opinion articles defending Anniston High against attacks from a group trying to deannex Ward 4 from the city of Anniston.
And none of that includes the four times the football team was on the front page this season.
So clearly, it wasn't our desire to slight the Bulldogs that kept them off the front page last Saturday. Here's what happened.
At our Friday afternoon planning meeting, The Anniston Star's editors discussed how we still had five local football teams in the playoffs — Anniston, Jacksonville, Oxford, Piedmont and Wellborn. All were going to be covered, but only one could be on the front page the next day. Of course we wanted to give the front page spot to a winning team. That was a given. But, what if they all won?
We ultimately decided that Anniston would get the front page spot over all the other teams, except Jacksonville … for two reasons: 1) This would be Jacksonville's first time ever reaching this deep into the playoffs, which makes it history. You only get one chance to report history when it happens, and that's when it happens. 2) Anniston had been on the front page the previous Saturday, under the headline "Dawg Domination." So, even though this would be a major climb back into being a football power for the Anniston team, it wouldn't be historic since Anniston has won multiple state championships in the past.
As it turned out, all five of our local teams won Friday night, and we went with our plan to recognize history-making Jacksonville.
This was in no way a slight against Anniston High or any of the other teams. We root for all our local teams when they win and lament when they lose. It doesn't help us as a newspaper to be against the best interest of any of our local schools.
This weekend, Anniston plays Jacksonville, Piedmont plays Wellborn, and Oxford plays Pinson Valley. As we sit here days before the games are played, our news judgment points us to perhaps making Wellborn the team we feature next Saturday if it beats Piedmont. They have yet to be featured on the front page, and we want to spread the love around.
It's not science, it's art. You might disagree with it, but that doesn't mean it's wrong.
Now you know what we know ...
Have a question or want an explanation about anything in The Anniston Star's news coverage? Email me at amcook70@gmail.com and please put "On background" in the subject line.