Every weekday at 6:30 a.m., area veterans board the Disabled American Veterans van at the Veterans Assistance Clinic in Oxford and head to the VA Hospital in Birmingham.
What time they get back to Oxford is a moving target — sometimes as early as 1 p.m., sometimes as late as 6:30 p.m. — because it depends on how many people are on the van and what care they receive at the hospital that day.
The service was started by Paul and Carolyn Brouillette in 1997 and has since transported more than 30,000 veteran passengers to their doctors appointments. The program provides rides Monday through Thursday and relies on volunteer drivers, who the Brouillettes get certified through the VA.
Currently there are five drivers, but more are needed. Cynthia Judge has been volunteering as the Tuesday driver for two years, and says she wouldn't trade it for anything.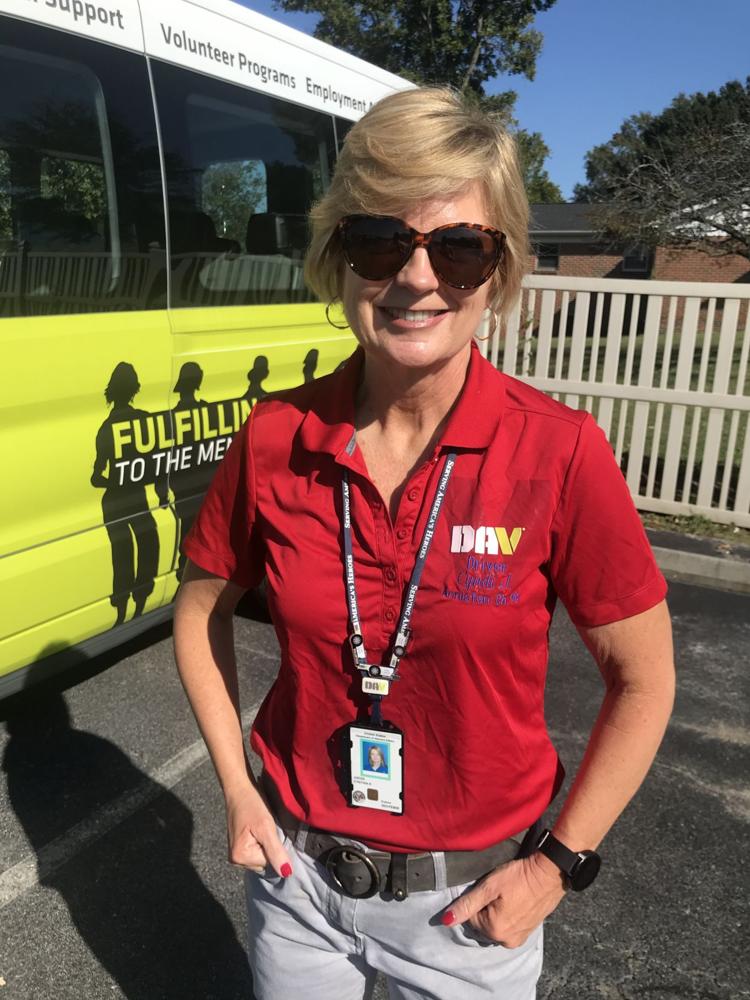 "When I first saw the little posting in the newspaper — 'We need drivers' — I said 'I don't want to do that,'" she said. "Then I saw it again at the community center, and I said 'I don't want to do that.' Then I saw it a third time and said let me call and check into this to make sure I don't want to do that."
Judge said she thought the drivers all had to be veterans, and that the volunteers have to have a commercial drivers licence. 
"You only have to pass VA's health exams, have a clean driving record and be insurable," she said. "I called Paul, and five minutes later, I was signed up."
The Brouillettes take pride in making the process as painless as possible. Paul Brouillette is a Vietnam veteran. He and his wife, Carolyn, are the volunteer coordinators and have earned the respect not only of the veterans they serve, but of everyone in the leadership chain for the VA. 
"The VA has great respect for Paul," Judge said, "and when he sends someone (to sign up as a volunteer driver), they get them through the process as quickly as possible."
Judge said it took her about a month to get through the background check, hearing and vision check, etc. "They want to make sure they can insure you to drive their vehicles," she said. 
After all, the volunteers are responsible for precious cargo.
"Anybody can do this," she said. "And it's rewarding."
Judge recalled a 92-year-old vet drafted into World War II, who was on a Navy ship that liberated the Philippines. 
"He said 'I served my country, and it was a country that I didn't have a right to vote in' because he was black, 'and I'd do it again anyway,'" she said. "He did it proudly. It just brings tears to your eyes."
Fewer and fewer WWII vets are on the van rides to Birmingham. Judge said they have veterans of Vietnam, Korea, more women than they've had in a long time, and they have all age groups.
"There have been days when I've had none and I go home. There are days when I have one," she said. "And there are days when every single seat is filled, because we take escorts as well. Many need a family advocate or caregiver with them because they need that support."
The veterans are usually extremely grateful for the service.
"They're so wonderful and I think it's a privilege," she said. "I get more out of it than they do."
When she drives, Judge said she usually doesn't play the radio because she doesn't want politics or religion or anything to create controversy, and that allows them to talk to each other.
"Some of them just want someone to listen," she said. "They talk about their experience at the VA. If I overhear a vet having trouble with eligibility or treatment, I'll give them the number to the advocate and get them help."
On the most recent trip, the topic of conversation was the LSU-Alabama game.
"They all had plenty to say about the game," she said.
The VA Oxford clinic is very helpful, Judge said, and the local DAV does a good job of letting them know about benefits. 
"Staff at the clinic work hard, but they can't do it all," she said. "They have to send them to the hospital in Birmingham for some of the treatment. The vets are pretty happy with the treatment they get in Birmingham."
Judge said it would be nice if the program had two or three more substitutes. That way a driver could drive maybe twice a month instead of four times a month.
Anyone considering volunteering as a driver can call Paul Brouilette at 256-820-0248. It would be a great and tangible way to celebrate Veterans Day on Monday.
"When they thank us and hug our necks, that's our payment," Judge said. "Don't mess with my Tuesdays because Tuesdays are for my veterans."
Anthony Cook is executive editor for Consolidated Publishing. amcook70@gmail.com.