Postgame analysis of Jacksonville State's 41-14 win at Tennessee State:
THREE THINGS WORTH TALKING ABOUT
Champions again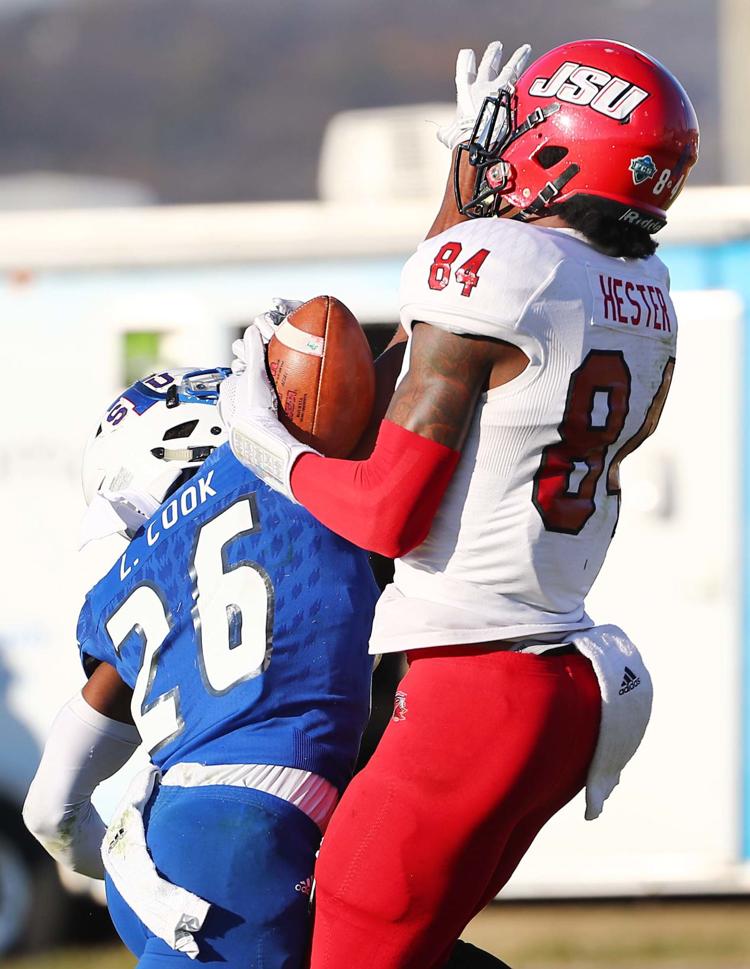 Jacksonville State is the Ohio Valley Conference champion for the fifth straight season.
With a big assist from Murray State, the Gamecocks won't have to share the crown with anyone.
Jacksonville State's 41-14 win over Tennessee State on Saturday gave the Gamecocks a 7-1 record in league play this season. The one defeat came to Southeast Missouri, which entered the day with only one OVC loss.
However, Murray State knocked off Southeast Missouri 40-38 despite trailing 31-0 at one point in the second quarter.
No school in OVC history has won five straight football crowns until now. Eastern Kentucky was the last school to win four in a row, which the Colonels did in 1981-84.
Fast start
A week after scoring one offensive touchdown in a win over Tennessee-Martin, Jacksonville State put up points early and often to take control of Saturday's game.
The first four drives resulted in touchdowns. The drives covered 71, 80, 75 and 59 yards as Zerrick Cooper tossed two touchdowns to Jamari Hester and one to Josh Pearson, while running back Michael Matthews sprinted into the end zone from 16 yards out.
That gave JSU a 27-7 lead, and Tennessee State didn't challenge again.
Defense scores
Jacksonville State's defense poured on the points in the fourth quarter.
Cornerback Yul Gowdy picked off a pass and ran it back 15 yards for a touchdown, and linebacker Jalen Choice followed with a 54-yard interception return for a score.
In the previous game, Quan Stoudemire scored on an interception return, which gives JSU three in two games. That's the first time since 2015 that Jax State has scored on interception returns in back-to-back games.
MINI GRADES
Rushing offense — B-: The Gamecocks had a mostly pedestrian day, but they did top 150 yards. Quarterback Zerrick Cooper, usually not a big runner, finished with team highs in attempts (14) and rushing yards (40).
Rushing defense — B-: Without the 58-yard touchdown run by Te'kendrick Roberson and the 70-yarder by Shawn McColley, the JSU defense dominated against the run. Those long touchdowns count, however, which cut down an otherwise superior day.
Passing offense — A: Cooper had a brilliant day, especially when he hooked up with Pearson or Hester. Cooper threw for 272 yards on 20-of-30 passing. He completed three touchdown passes and no interceptions.
Passing defense — A: The Tigers like to throw, but Michael Hughes struggled to find receivers against JSU. He threw three interceptions, two of which JSU turned into touchdowns.
Special teams — B-: Jason Pierce was excellent as usual. Three of his four punts went inside the 20-yard line. JSU's Cade Stinnett missed a field goal, and an extra point went awry, too.
Coaching — A: Give the JSU coaches credit for getting the Gamecocks back on track. After that loss to SEMO, they didn't allow their team to fold. After last week's lackluster win over Tennessee-Martin, they made sure the players understood that wasn't acceptable.
Overall — A: What other grade would you give a championship-clinching win on the road? The Gamecocks locked up a bid to the FCS playoffs, and they've put themselves in position to earn a top-eight seed, which would give them a bye through the first round. Next week's game against Kennesaw State is a must-win in that regard, however.