It was around this time last year when Darren Spruill, athletic director for the Anniston Parks and Recreation Department, was gearing up for youth soccer and baseball practices. His wife, Aimee Spruill, program director of the Little Tree Preschool, would be coaching one of those teams, and the couple's two children, son Peyton, 12, and daughter Devon, 7, would be participating as well.
But on March 19, 2018, when storms were in the forecast and the area was put under a tornado watch, Darren cancelled all of the practices. He gathered with his family at their home in Jacksonville to watch weatherman James Spann on TV. "I wasn't worried," he said. "I never believed a tornado would actually hit us."
At one point, he stepped outside and shouted a greeting to a neighbor. The two men exchanged comments about the weather when a sudden bolt of lightning chased them back inside their homes.
Aimee's concern began to grow.
"I don't like bad weather to start with, so that forecast had me grabbing helmets and prepping our safe place," she said. That "safe place" was the linen closet in the hallway, in the innermost part of their house.
Aimee was also worried about Anja, their neighbor across the street, whose husband was away on business. Darren rushed over to fetch Anja, bringing her back to wait out the storm. By that time, branches were falling from trees and the street was beginning to flood. Moments later, the power went out and outside warning sirens began to wail.
The tornado was on the ground.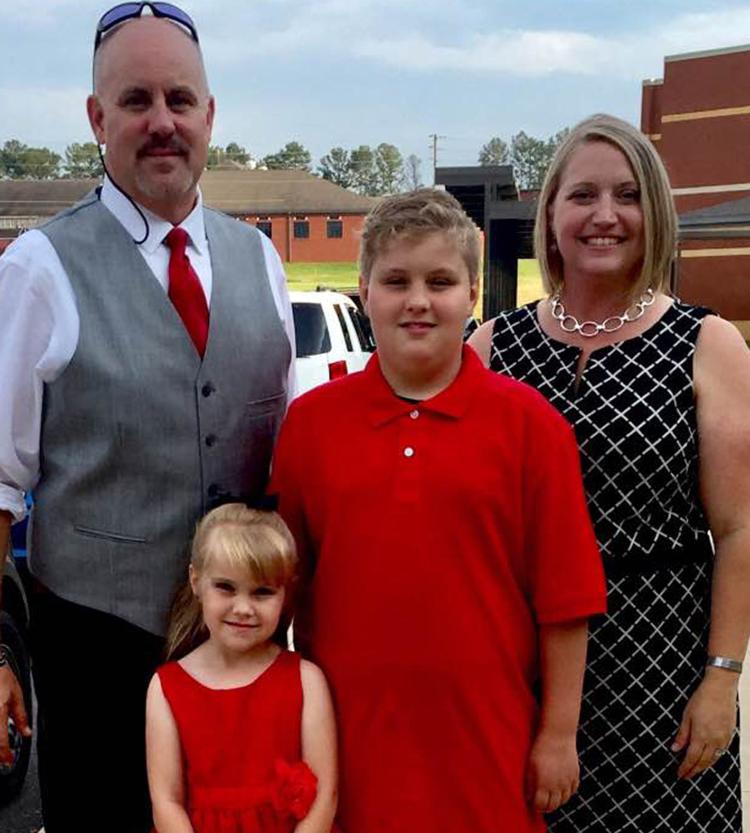 'Fear in your children's eyes'
The children burrowed into the tiny closet with Aimee and Anja. Darren grabbed a twin-sized mattress from his daughter's bed.
"The kids were so scared," Aimee said. "As a parent, you automatically say 'yes, yes' when they ask if it's going to be OK, but inside you're not sure."
Darren also tried to calm his children. "They were terrified," he said. "You don't know what it's like to see that kind of fear in your children's eyes."
The closet was too small for Darren to fit inside with the others. He stood on the outside and leaned in, pressing the mattress against them.
Suddenly the entire house, and all of its contents, began to shake and rattle. Darren and Aimee could hear windows breaking and a deafening roar outside. "Like an entire fleet of military helicopters," she said, and the "crash, boom, crash, boom" of tree limbs falling and hitting the house.
Inside the closet, Aimee's son told her he loved her. "He said it like it was the last time he would be able to say it," she remembered. "I held on to them both for dear life and swore I would never let go."
For Darren, what happened next was surreal.
As the eye of the tornado passed over their house, the vacuum suction was so strong, he was lifted off the mattress. "I was shocked to realize I was floating," he said. "It was only for a few seconds, but it felt like forever." He grabbed both sides of the door jamb to keep himself tethered and looked up to see the slats of the attic fan in the ceiling standing open. Immediately, the other side of the tornado hit. "It was more crash, boom, crash, boom," Darren said.
Trees ripped up, snapped in half
From inside the closet all Aimee could hear was the sound of rain gushing into the house from where trees had come through the roof.
The family emerged from their safe place only to find the front and back doors blocked by trees and debris. They were able to step outside through a third exit off a side room, and Darren set out to check on neighbors, avoiding downed power lines in the street.
As he made his way to each house, he heard a chainsaw starting up in the distance. It was a sound he would hear for days and days to come.
The next morning, in the bright sunlight, the neighborhood destruction was on full display. "It was a lot to take in," Aimee said. "Trees that shaded our house were ripped up by the roots or snapped in half."
Darren began counting the lost trees. He stopped at 25.
The entire back of Anja's house was gone. "If she had not been with us, she might not have survived," Aimee said. Tears filled her eyes at the memory. "I have never experienced anything so traumatic in all my life."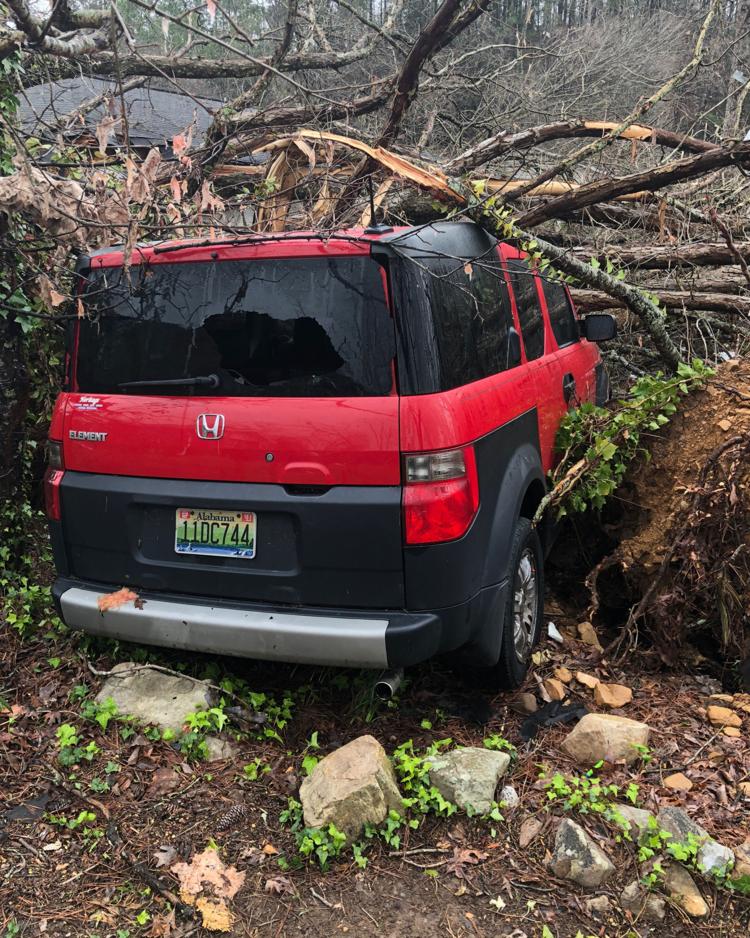 'Amazing number of helpers'
Both of the Spruill's vehicles were totaled by fallen trees, and their house suffered serious roof and structural damage. All of their appliances were destroyed. Broken glass was everywhere. Rooms were flooded.
Like many residents of Jacksonville, they scurried to find temporary housing. When Aimee heard of an opening for an apartment, she rushed to grab it, and that's where they've been living for the past year as they wait for their home to be habitable again.
Volunteers came from all over the area to lend a hand. The dozens of trees scattered throughout the Spruill's yard were removed, piece by piece. "It was an amazing number of helpers, and I'll never be able to pay them back for what they did for us," Darren said, his voice choking with emotion. "I couldn't even offer them a bottle of water. All I could do was thank them."
It's been a long and stressful year filled with challenges and frustrations, especially dealing with the insurance company. The contracted adjuster downplayed the event, stating the tornadic winds were only 30 mph. The family was offered a low payout, but Darren and Aimee refused to accept it. They fought for, and received, full compensation for all of their damages. It remains a touchy subject for Darren. "Our premiums were paid on time," he said. "We shouldn't have had to fight them for it."
Ever since the tornado, the family's anxiety is heightened when severe storms are in the forecast. "We get very nervous when the weather is bad," Aimee said.
The Spruills hope to be back in their own home next month. As they patiently await that day, they contemplate three things they've come to know and embrace.
"One is that we are closer as a family," Darren said. "Second is our love for everyone in this community."
"Third is that everything we lost can be replaced," he said. "Material possessions are just not important. It's the people who matter."