I was cleaning out the basement recently and unearthed a box labeled "STAMPS." I was puzzled for a moment. Why would I have a big box of stamps?
And then I remembered: I used to have a stamp collection — when I was in middle school.
Why I have kept this box for 46 years, I could not tell you. Except that I have a poor memory, and so I hold fast to the physical reminders of my past. Or I could just be lazy.
I hadn't opened my box of stamps in years. I hadn't even thought about my box of stamps for years. There was no reason for me to keep this box.
I do, however, have a friend at work who collects stamps. I decided to give my box of stamps to her. I would just take this box straight to my car and load it in the trunk  … 
Except maybe I should open the box first and just doublecheck what's in there … 
On top was an envelope containing what I assume started it all: "The United States Stamp Collector Starter Kit" from 1973.
"Little pictures tell big stories," it read.
The bulk of my collection appears to be United States stamps from the 1970s.
There were stamps honoring President Lyndon B. Johnson, New York Times publisher Adolph S. Ochs, Red Cross founder Clara Barton, abolitionist Harriet Tubman.
There were stamps celebrating chemistry, the invention of the telephone, the centennial of the Battle of Appomattox, the Apollo-Soyuz Test Project (the first U.S.-Soviet space flight in 1975). 
There were butterflies and quilts, Pueblo pottery and oh-so-many stamps for the 1976 Bicentennial.
(The price of a stamp in 1976 was 13 cents, by the way.)
When I started collecting stamps, friends and family started saving their mail for me, in case I wanted any of the cancelled stamps.
My mother's friend Marie — who was like a bonus grandmother to me — always brought a stack of envelopes whenever she came to visit.
There were dozens of old envelopes in my box of stamps. One of them (postmarked 1963) held stamps commemorating both The Hermitage (home of president and slave owner Andrew Jackson) and the 100th anniversary of the Emancipation Proclamation.
On another envelope was a Benjamin Franklin stamp worth ½ cent.
(Before you get excited, I already googled it. The stamp is from the 1955 Liberty series, and today is worth about 20 cents.)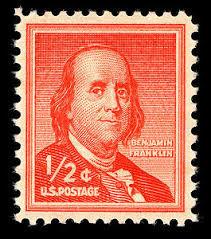 It's much more valuable as a memory.
So you see why I can't possibly get rid of my stamp collection.