Gardeners can be obsessive about filling their landscapes with beautiful specimens, from ornamental shrubs to trees and to flowers. Shoppers at garden centers can be overwhelmed as they read the tags: annual, biennials, perennials. What does it all mean? Understanding those terms can be a help to getting more bang for your gardening buck.
WHAT'S AN ANNUAL?
Annuals, as their name implies, live out their lives in one growing season. They are usually less pricey than perennials.
Annuals are wonderful, no doubt, providing a huge impact in a landscape. Pansies stand out in the winter. Zinnias and dozens of other bright annuals remain beautiful in the summer heat.
Annuals can sometimes produce seeds which may sprout up the next season. I am always thrilled to find a lone pansy that has come from a seed from the previous year.
Garden shops sell annuals in small cell packs, which can be a bit challenging to get off to a good start (and such a wonderful target for the squirrels to dig.)
Annuals may need more water to keep them healthy in the summer heat.
Regardless of their impressive presence, many gardening friends have completely shunned annuals in favor of perennials. Too much money to replace them every year, and way too much work!
WHAT'S A BIENNIAL?
Biennials live out their life cycles in two years. Foxgloves are biennials. The first year there will be leaves, the second year there will be flowers and then pouf the biennials are gone.
When we buy that dazzling foxglove in full flower in the spring, we should be aware that the foxglove will not be there next year. Much better to buy a foxglove as a small plant to enjoy the show. The blooms are captivating.
WHAT'S A PERENNIAL?
No garden should be without perennials. Officially, a perennial is defined as a plant that lives more than two years. They can, however, live for many more, depending on their growing conditions. Some of mine have come back faithfully for years; others, well, all that is left is a plastic tag.
Some perennials die back to the ground, only to reappear when the weather warms. Their roots remain alive throughout their dormancy. Other perennials, like lenten roses and heucheras, keep their leaves all winter.
Happy perennials can spread underground or by making a wonderful clump that can eventually be divided, making free plants. Or perennials can spread too much, like the chameleon plant, and become a pest.
The flowers on perennials tend to be shorter-lived than annuals. Perennials can be in bloom for just weeks, unlike annuals, which can continue for months.
Flowering time for a perennial depends on the particular plant. We can maximize perennials' impact in the garden by choosing ones with different bloom times, or planting a mixture of annuals and perennials, or mixing perennials with colorful shrubs.
Perennials are more expensive to purchase initially, but they can provide beauty for years without having to be changed each season.
PLANTING PERENNIALS
Fall is the time to plant spring-blooming perennials. Planting in the fall gives a plant time to get established before the heat of summer. Many garden shops discount perennials in the fall to encourage their customers to plant then.
Although fall is best, early spring planting can give a perennial a bit of a head start to get established before the weather gets hot. Spring- or summer-planted perennials will need more tender loving care in the form of moisture.
Before that first plant goes in the ground, remember this spot may be home for that perennial for a long time. Provide the right growing conditions: There are perennials for sun or shade, wet or dry areas. Get a soil test. Then build the best home for your plants.
Dig the soil about 8 to 10 inches deep. Add two inches of organic matter and mix it in very well. Finish the planting with a layer of mulch. Water deeply and less frequently; take care not to overwater. Control weeds in the beds by hand to protect the plant's roots.
CARING FOR PERENNIALS
To keep perennials in tip-top shape, check for insects and diseases throughout the growing season. I have had an infestation of aphids on my oriental lilies that has become so bad the aphids are now spreading to the neighboring plants.
Meanwhile, the lily leaves and stems are coated with a layer of sooty mold, which is a byproduct of the presence of the aphids. I may lose my lilies as I let the problem get out of hand. Lilies need their leaves and stems to remain until they die back naturally.
Since I do not use a lot of chemicals, I had been spraying the plants with water to wash off the insects; apparently that technique failed. I had to cut a lot of them back, and worry I may have lost them.
Perennials will require more water than shrubs or trees, but some perennials are definitely more drought-tolerant. Research a plant's needs so it can get the right treatment and prosper.
Removing spent flowers will definitely prolong the blooming time for annuals and especially some perennials. Remove tattered leaves, too. I enjoy the process of grooming my plants; it is very satisfying and therapeutic.
An important item on every gardener's to do list is to prune and remove old leaves and stems before plants begin to sprout in the spring. Some perennials prefer to be trimmed back in the fall, while others do better if pruned in the spring, but most are not that choosy. I like to start the winter with clean flower beds.
Divide fall perennials in the spring, usually as they emerge from dormancy, allowing them time to adjust before summer arrives.
As you plant your perennials, please remember this lovely quote from Sadi: "A garden is a delight to the eye and a solace for the soul."
SPRING BLOOMERS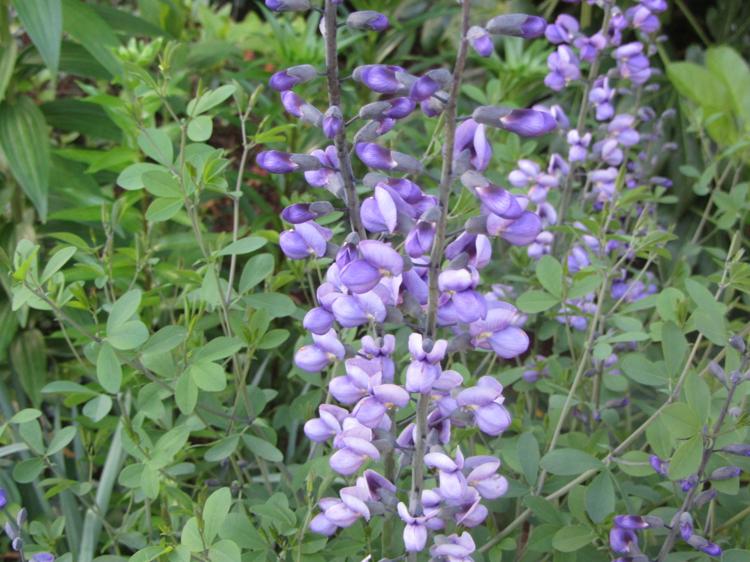 Baptisia (false indigo): Flowers in late spring. Blooms appear on tall spikes, making it a great plant for the back of the bed in full sun. Takes a year to get established before blooming. Forms large clumps as time passes.
Solomon's seal: Early spring bloomer featuring tiny bell-like blossoms. Spreads by underground tubers, forming a wonderful ground cover for shade.
Also: Iris, verbena
SUMMER BLOOMERS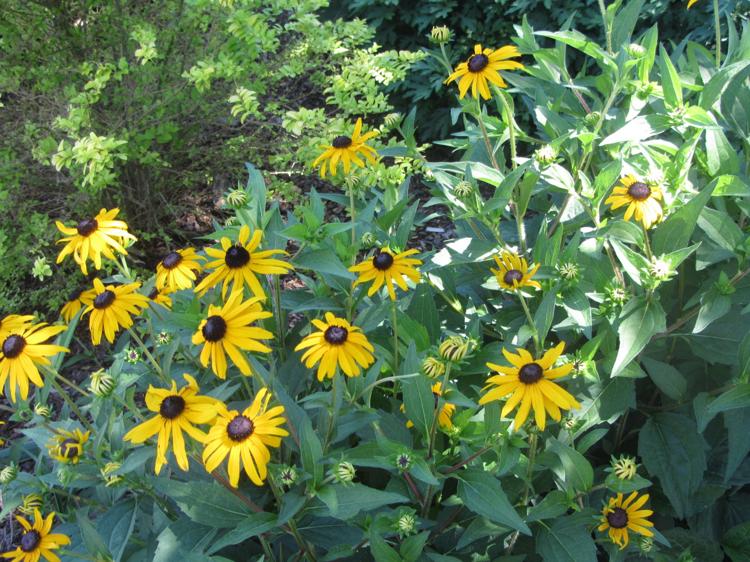 Rudbeckia (coneflower): Easy to grow. Tolerates heat and drought. Long bloomer with bright yellow petals and raised dark centers. Grows in full sun to part afternoon shade. Cut back spent flowers. Blooms summer to early fall if spent flowers are removed. Be sure and purchase perennial (for example 'Goldsturm' coneflowers) instead of the black-eyed susan, which can be an annual or a short-lived perennial.
Balloon flower: Sports blue flowers that resemble a balloon before opening up. Tolerates part- to full-sun (but seem to do better with more sun). Long bloom season. Remove spent flowers to encourage repeat blooming.
Also: Hosta, Texas salvia
FALL BLOOMERS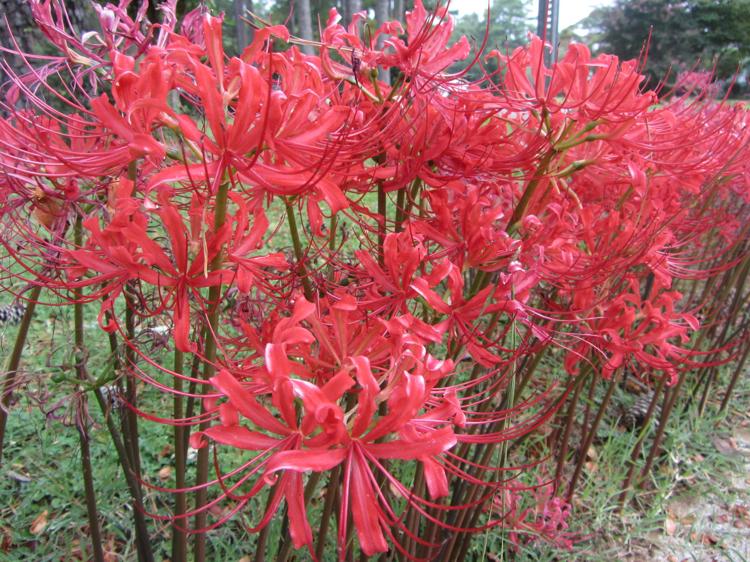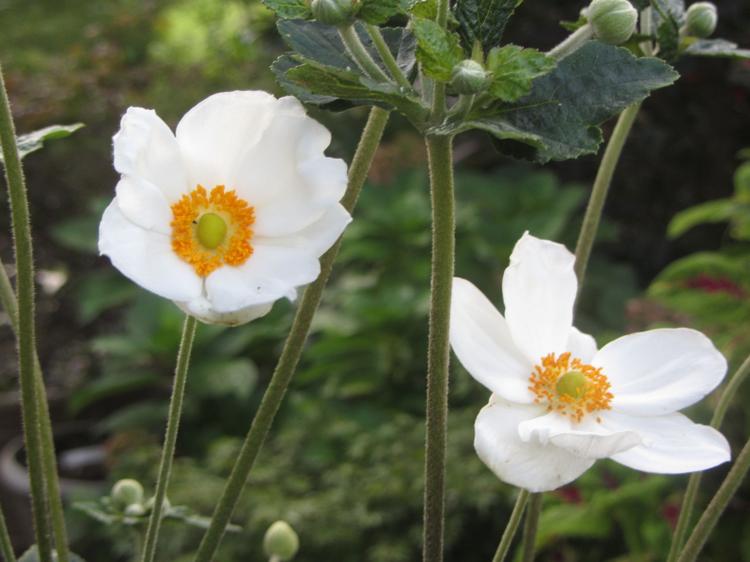 Spider lily: Performs best in full sun. Easy to grow. Requires less water. Pops up with flowers in late summer and then develops foliage
'Ryan's Pink' chrysanthemum: Light pink flowers. Does best in full sun. Has a floppy growth habit. Vigorous spreader.
Also: Confederate rose (double pink), Japanese anemone
WINTER BLOOMERS
Helleborus (Lenten rose): Forms an evergreen ground cover. Seeds vigorously. Long-lasting flowers can be pink, rose or almost white. Remove tattered leaves during spring and summer. Prefers shade.
Crocus: Small bulbs that begin to bloom in late winter. Does best in full sun. Beloved by squirrels. More difficult to grow than the traditional winter bulb, the daffodil.
Also: rohdea, cast iron plant
Sherry Blanton writes about gardening for The Anniston Star. Contact her at sblanton@annistonstar.com.