Adding color is an engaging experience as the gardener plays with contrasting and harmonious hues (and everything in between).
Chartreuse, my favorite color, is not officially on the color wheel. The word "chartreuse" originated from a French liqueur, which is available in both green and yellow.
The Carthusian monks first produced Chartreuse in 1737, according to directions given to them in a manuscript in 1605 by Francois Annibal de'Estrees. It was named after the monks' Grande Chartreuse monastery, located in the Chartreuse Mountains.
It takes 130 herbs, plants and flowers to make Chartreuse. The mixture steeps in alcohol for about eight hours, and the last soaking of the plants gives the liquor its color. Green Chartreuse is stronger than Yellow Chartreuse, which has a milder, sweeter scent.
The color is now a permanent part of our culture. Some interior designers call it the new black, as it goes with everything. Although its color is extremely vibrant, it is also an easy-to-use neutral.
In the landscape, chartreuse adds drama, energy and brightness. The color is spectacular whether it is mixed with other plants or on its own.
In a mass of more subtle green-leaved plants, chartreuse foliage pulls the viewer in. It can be a great highlight, drawing attention to the front door, a bench or another focal point in the garden.
My favorite Master Gardener shirt is a wonderful chartreuse color, making me easy to spot in a landscape. Plantsman Hayes Jackson sports chartreuse shirts at plant sales; he says that way we can always find him, and we do.
On the color wheel, chartreuse can be green-yellow or yellow-green. There is a difference. One is yellow with a bit of green mixed in, and the other is green with yellow added. Yellow is a warm color and green is a cool color.
Green-yellow and yellow-green are located between yellow and green on the wheel. Their place on the color wheel as neighbors indicates they are harmonious.
If we look directly across the color wheel, we get a look at some of the colors that mix with chartreuse. Blues and reds are complementary or contrasting; they go great with yellow and green. Chartreuse plants pair happily with any color, in my personal view of color.
Additionally, chartreuse itself can vary. The color wheel shows five hues, a chartreuse-lover's dream come true.
There are perennials, houseplants, annuals, shrubs and trees with chartreuse foliage. Even more outstanding are the chartreuse flowers.
PERENNIALS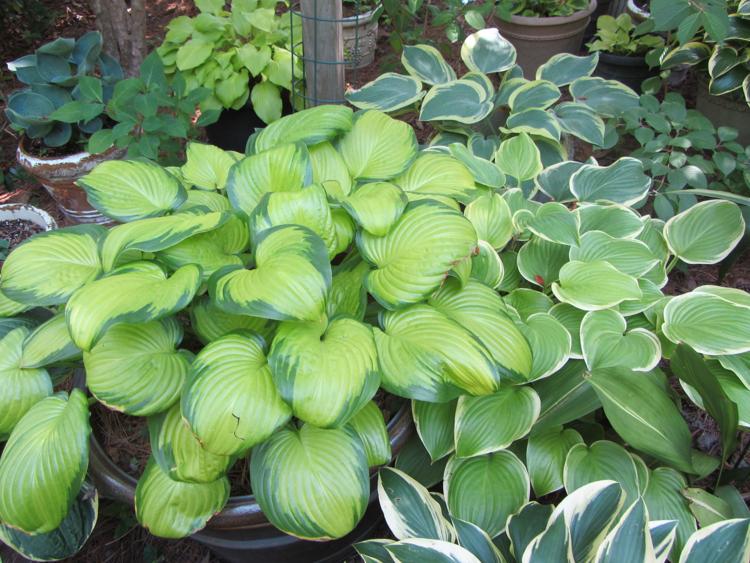 • Hosta with chartreuse leaves are everywhere (thank goodness). The large-leafed hosta 'Sum and Substance' is a great example.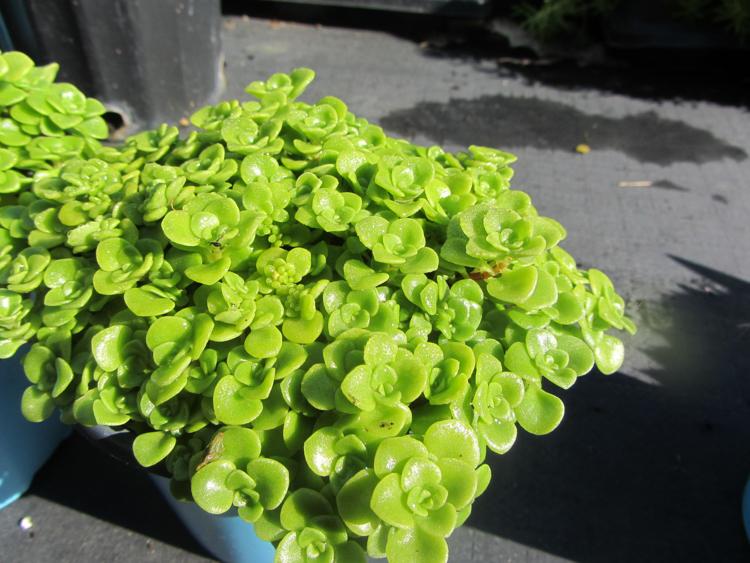 • Sedum is a drought- and sun-tolerant perennial available in dozens of wonderful shades of chartreuse. 'Angelina' stands out. There are also 'Lemon Ball' and 'Ogon' (my personal favorite). Sedum makes a terrific spiller in a container; a black container full of chartreuse sedum is a knockout.
• 'Sweet Kate' spiderwort with its dark purple flowers and brilliant chartreuse foliage brings drama to the landscape. This cultivar has better manners than the spiderwort found in most gardens, which spreads everywhere without boundaries.
• Many gardeners discount Lysimachia nummularia 'Aurea' or 'Golden Creeping Jenny', a ground cover that spreads prolifically, forming a thick mat of chartreuse. For this perennial, however, spreading is a terrific trait. Mounds of chartreuse leaves spilling over a wall or the sides of a container make a terrific focal point. It asks only some shade and moisture.
• Collectors purchase Heuchera (or coral bells) for its spectacular foliage; chartreuse is a popular hue. Love 'Citronelle' especially! Heuchera leaves can remain evergreen during the winter. It is fun to play with the color of the container and the color of the leaves. (Try navy and chartreuse.)
SHRUBS
• 'Florida Sunshine' anise (Illicum parvoflorum, officially yellow anise) has bright yellow-green foliage. It is an attention grabber in a landscape. It is a tough shrub in part sun.
• 'Sunshine' ligustrum is an example of yellow-green chartreuse. Some gardeners do not recommend it as it may revert to regular green ligustrum, which is aggressive and invasive. The color, however, is over the top. Use it with care and keep an eye out to see if any of its leaves begin to turn dark green.
• 'Miss Lemon' nandina has bright chartreuse foliage (more of a green-yellow). This brightly colored shrub does not have some of the ugly habits of its relatives; it does not reproduce wildly as it sports no berries. But it surely shines in a landscape (so much so that someone stole the one planted at the Jacksonville Pocket Park).
• 'Miss Lemon' abelia features variegated leaves of chartreuse. A tough sun lover, this dwarf is a gem.
• 'Gold Mop' false cypress (chamaecyparis) sports a wild mop of chartreuse foliage. The more sun, the brighter; the less sun, it turns a darker green.
TREES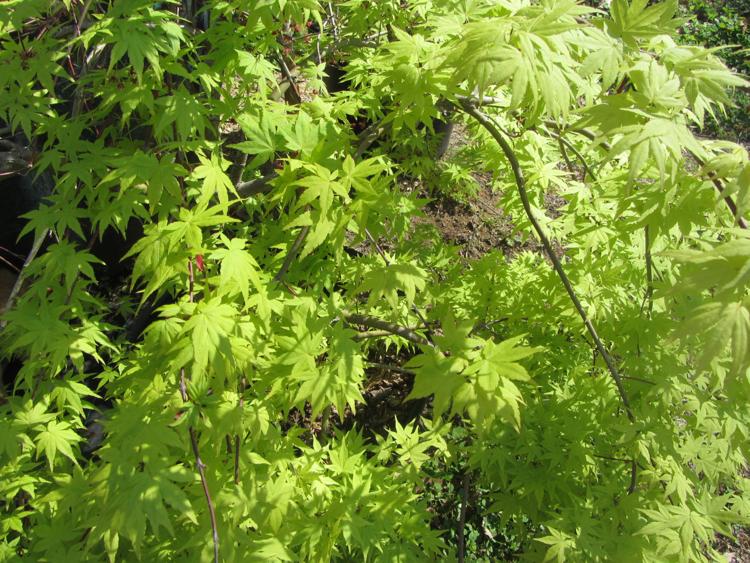 • Many cultivars of Japanese maples open up with chartreuse-tinged leaves; others keep the chartreuse through their growing season. Acer palmutum 'Ryusin' holds onto its brilliant chartreuse foliage. It is a tree that weeps, with its branches cascading toward the ground. A mature tree is an enormous mass of chartreuse leaves from top to bottom.
• Acer palmatum 'Sangu Kaku' (coral bark maple) has chartreuse bark and bright chartreuse leaves in the growing season. As an extra, the bark turns flaming red in the winter. Fall foliage is a flamboyant yellow.
FLOWERS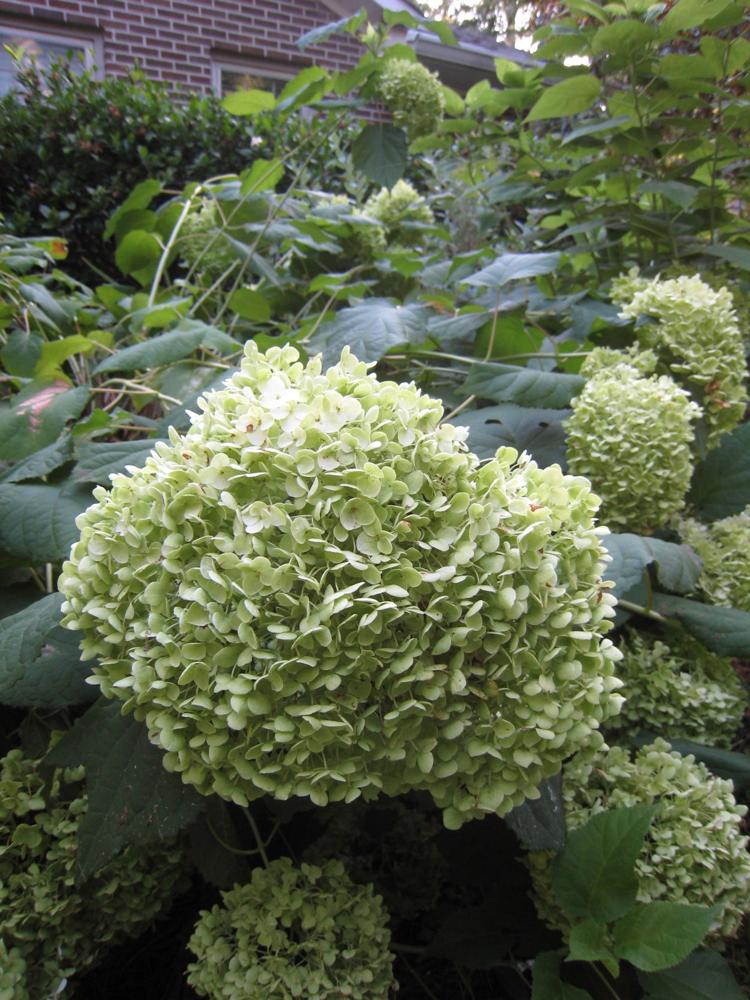 • Hydrangea paniculata 'Limelight' is a showstopper with its chartreuse blooms. If the traditional 'Limelight is too big for your garden, there is 'Little Lime'.
• The blossoms on the Chinese snowball viburnum (viburnum macrocephalum) open up with large exquisite flowerheads in chartreuse before turning white.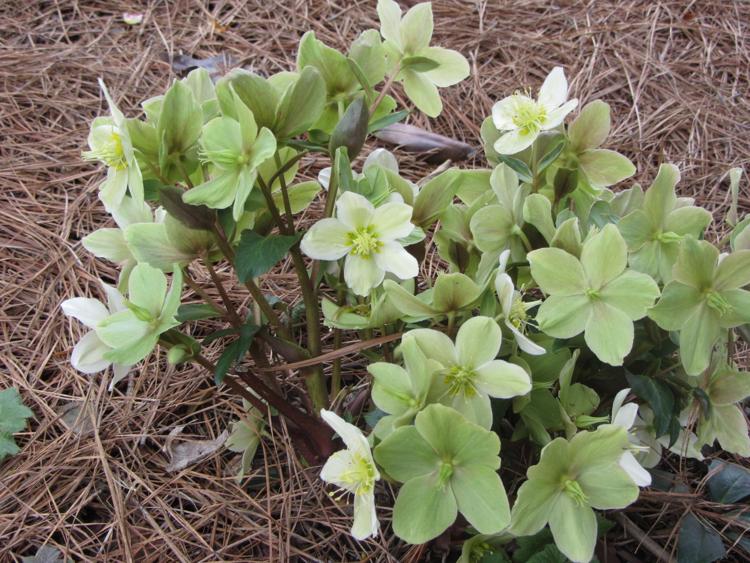 • The charming blooms on lenten roses (helleborous) slowly change from pink, purple or white to a light shade of chartreuse. Over time, this perennial evergreen forms a groundcover that provides the gardener a mass of beautiful flowers in deep winter, just when we need their cheer.
ANNUALS
• No summer shade garden is complete without a coleus or two with chartreuse leaves. They make spectacular container plants but also make an outstanding color bed. New cultivars can take sun, but all need regular moisture.
• Sweet potato vine 'Margarita' (Ipomea) is a gracious spiller in a container or can provide a solid mass of chartreuse leaves in a color bed. If you plant it in a container with other plants, sweet potato vine may try to run over them.
Sherry Blanton writes about gardening. Contact her at sblanton@annistonstar.com. Follow her on Facebook at "Southern Gardener-Anniston Star."