Interactive map: Click on a Christmas tree icon to see photos, videos and details of each site. 
Many years ago, Avery Robertson started building wooden Christmas decorations in his backyard workshop. Now, his yard is home to a 17-foot-tall wooden Rudolph leading nine other reindeer in front of Santa's sleigh. The yard is also filled with Christmas trees, angels, snowmen, moose, stars and penguins. Friendship Santa will be in his sleigh from 5-8:30 p.m. every night from Nov. 24-Dec. 23. Santa's helpers will serve cookies and hot chocolate, and Friendship Santa will be available for photos (bring your own camera). The lights will remain on until Dec. 25, but if the closed sign is up please do not enter the yard. 5921 McIntosh Road, Oxford, 256-835-0111, "Friendship Santa" on Facebook. 
---
Santa's Wonderland of Lights & Amusements, Oxford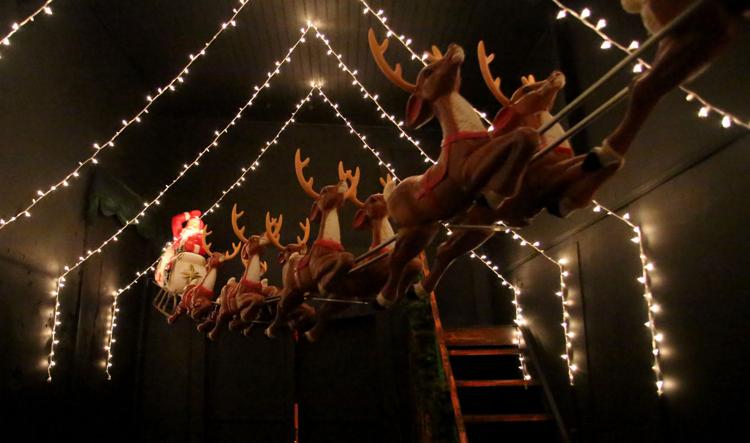 Santa's Wonderland of Lights & Amusements, Oxford: Every winter, the Terrortorium haunted ride in Oxford transforms into a decidedly unscary Christmas wonderland. Take an old-fashioned amusement park ride through holiday scenes, and take a ride on a Holiday Ferris Wheel. Open 6-9 p.m. Friday and Saturday nights from Nov. 30-Dec. 22, plus Sunday Dec. 23. $7 to ride through Santa's Wonderland; $5 for the Holiday Ferris Wheel; or $10 for combo tickets to both. 25 W. Choccolocco St., Oxford, 256-239-3483, "
Santa's Wonderland of Lights and Amusements"
on Facebook.
---
Greenbrier Dear Road, Anniston
The stretch of Greenbrier Dear Road between Golden Springs Road and Holly Hill Lane offers lights and displays of all sorts. Turn onto Edgefield Way and tour through the neighborhood of Edgefield Farms, where some houses have elaborate decorations. Back on Greenbrier Dear Road, continue east; several side streets offer light shows. Turn onto Woodmont Road and end your tour in the Greenbrier Chase neighborhood, where the decorations range from tasteful to Griswold. 
While Glenwood Terrace goes all out for Halloween, Forest Lane – one block to the south – does it up for Christmas. Each of the homes on this historic street puts out a miniature tree decorated with twinkling white lights. At one end of the street, the towering trees have grown together to form an archway, which is magically lit up with lights.
Quintard Avenue, Anniston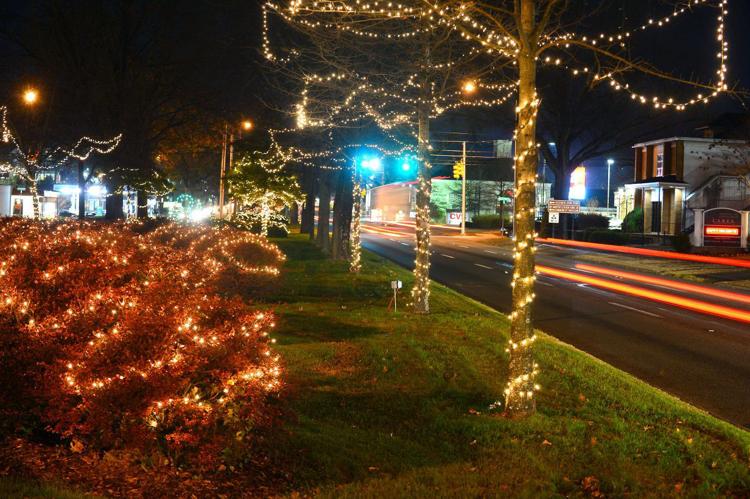 The Anniston Parks and Recreation department's annual holiday display fills the median of Quintard Avenue from Sixth to 18th streets with strings of colored lights and holiday scenes. One special decoration is a blue angel figure in honor of Justin Sollohub, an Anniston police officer killed while on duty in 2011.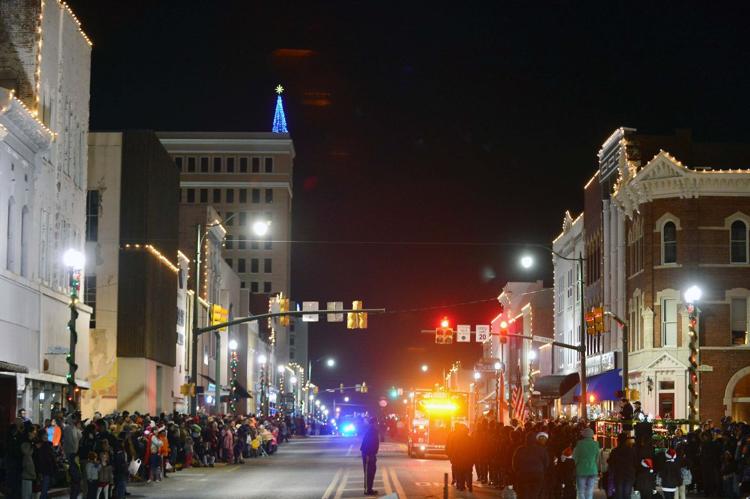 Downtown Anniston buildings are outlined in Christmas lights, street lamps are wrapped in garland, and a giant Christmas tree made from strands of lights stands at 11th and Noble streets. Don't miss the elaborate holiday window displays at Classic on Noble, Alexander's at Noble Shops, Simply Shabby and other storefronts. Elaborate, sparkly costumes from "The Nutcracker" ballet will be on display in the windows of Couch's Jewelers, Nunnally's Noble Frame & Gallery, and Catalyst. The Anniston Christmas Parade will be held on Noble Street on Dec. 11 at 6:30 p.m.
The stately brick homes are usually elegantly decked in white lights and classic holly and ivy trimmings. Follow the trail of lights running down either side of Pawnee Drive and Pueblo Pass, and watch for the twinkling reflections as you round Doss Lake.
---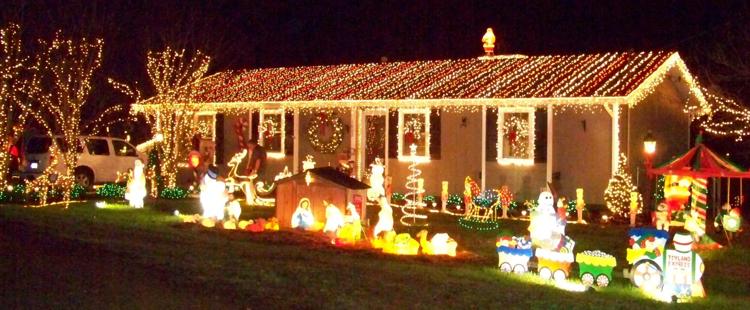 Ken and Tina Goble have been decorating for Christmas since they got married in 1996. It started small, and has grown to include a whole yard full of wooden figures, the majority of them handmade. Ken candy-stripes the roof every year and puts up a giant Christmas tree made from strands of lights. The display should be up by Dec. 1. 1023 Scott Ave., Weaver.
---
Several houses along this street are decorated for the holidays.
---
Gaddys Light Display, Jacksonville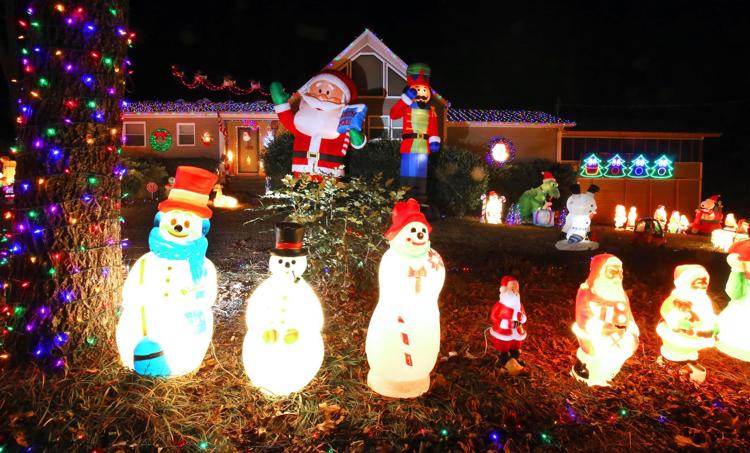 There are several houses decorated along Angel Drive, but one stands above the rest. Chris and Amy Gaddy decorate with 30,000 lights, most of which are set to music, which can be heard over your car radio. The yard is decorated with 300 vintage plastic blow-mold decorations and multiple inflatables. Santa's sleigh and reindeer are on the roof. The centerpiece is a 20-foot-tall Christmas tree glowing with around 3,000 lights. The light show is scheduled to start Nov. 22 and run through New Year's, depending on the weather. The Gaddys are also collecting donations for shelter animals, including blankets and food. 1046 Angel Drive, Jacksonville. "Gaddys Light Display" on Facebook. 
---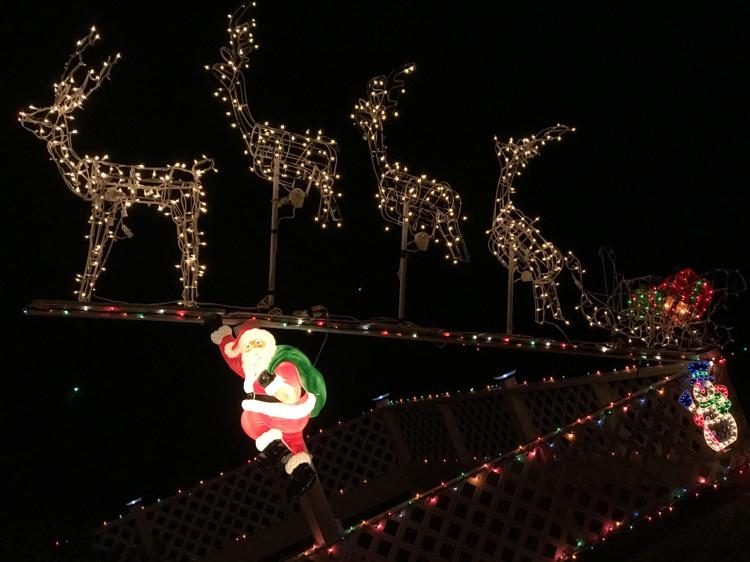 Barbara Storey's award-winning decorations take up two lots and include lots of lights, a manger scene, reindeer on the roof, reindeer on the ground, candy canes, penguins and more. "You name it, it's out here," said Storey. 602 Riddle Ave., Piedmont.
---
First Baptist Church of Glencoe
An elaborate light show on the front of the church features 35,000 smart pixel lights and animations, all synchronized to Christmas music. The lights will turn on at 6:30 p.m. on Dec. 2 and continue through New Year's Eve, from 5-10 p.m. Sunday-Thursday and 5 p.m.-midnight Friday-Saturday. Free hot chocolate drive-thru on the weekends from 7-9 p.m. through Christmas Eve. 103 N. College St., Glencoe, 256-492-2460. 
Gilley's Christmas Lights, Ballplay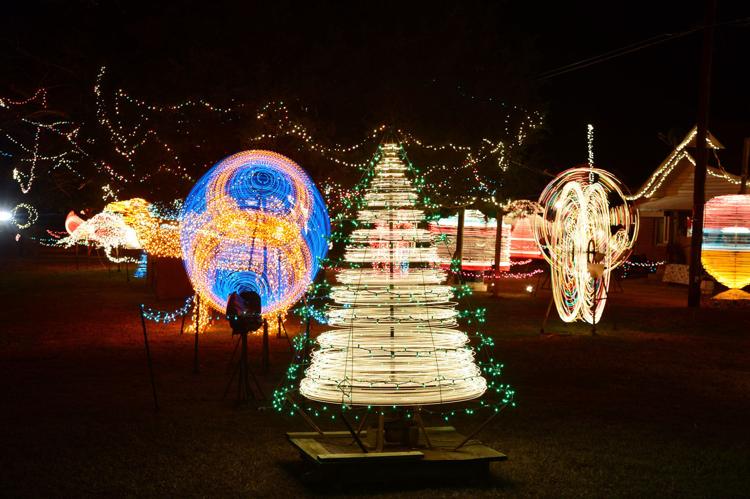 A holiday tradition for nearly 33 years, Gilley's Christmas Lights draws seasonal sightseers from all over the region to walk through a yard full of motorized wire sculptures covered in colored lights. J.C. Gilley created all sorts of fantastical contraptions using wire and second-hand motors from lawn mowers, washing machines and the like. Mr. Gilley has passed away, but his children continue the tradition. There's an alligator that snaps its jaws and swishes its tail, an elephant that raises its trunk, a man who tips his hat, a butterfly that flaps its wings, and many, many more. Open Nov. 22-Dec. 27, weeknights from 5-9 p.m. and weekends from 5-10 p.m. (if it's raining, the lights are not turned on). Admission is free. 915 Gilley Road, Gadsden, 256-490-4828, "Gilley's Christmas Lights" on Facebook.
---
"Christmas at the Falls" attracts thousands of visitors each year with thousands of Christmas lights decorating the park. You can ride through on the train, or stroll the park. Open Nov. 22-Dec. 30 from 5-9 p.m. (closed Dec. 24-25). On Dec. 28, you can bring pets to "Paws on the Falls" (pets not allowed on the train or in the petting zoo). Admission is $6 for ages 4 and up and free for kids 3 and under. 1500 Noccalula Road, Gadsden, 256-549-4663.
Christmas at Bubba's, Vigo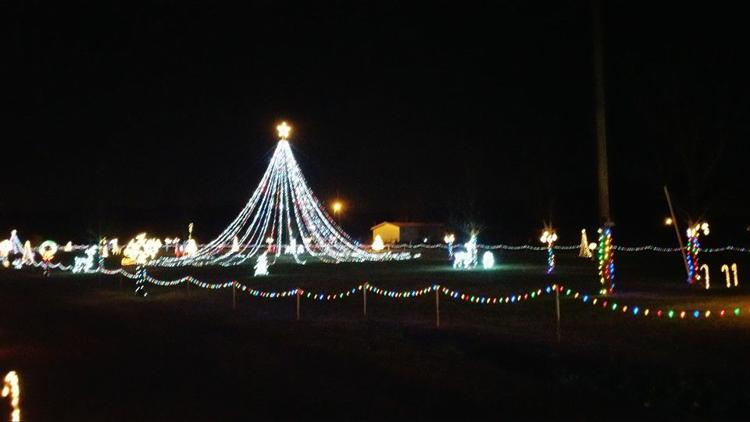 A light display for all ages, located at the foot of Duggar Mountain. Drive around the property, or park your car and walk. Free goody bags for kids (while they last). Hot chocolate and coffee will be available for purchase on the weekends. Open after Thanksgiving from Sunday-Thursday from dark until 9 p.m., Friday and Saturday until 10 p.m. 238 The Wagon Road, Piedmont, 256-282-1593, Christmas at Bubba's on Facebook.