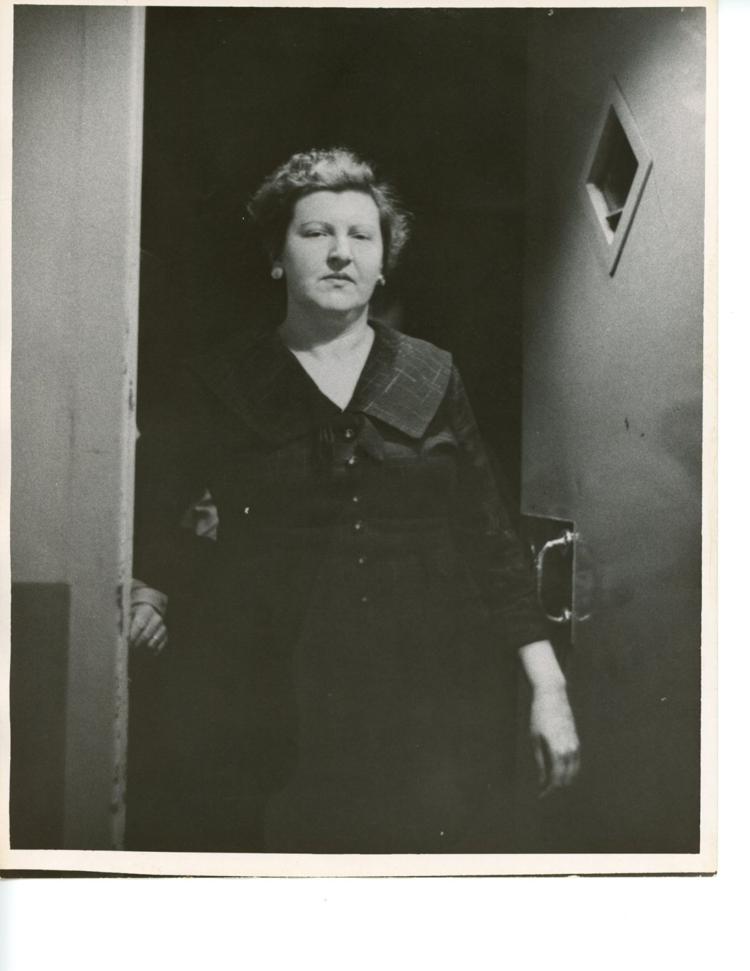 Viola Hyatt, the Torso Slayer
During the last 10 years of her life, Viola Hyatt was lovingly called the "Mayor of Tuckaway Village." She spent most of her evenings sitting on her porch, reading the Bible. She looked after all the people in her tiny Jacksonville mobile home park, where she lived on a fixed income, saving coins in a jelly jar. She'd often call working parents to let them know their sons or daughters had gotten home safe and sound.
"She never had a job," according to a 2001 story in The Anniston Star. "She didn't graduate from high school. Yet, she read voraciously. She was witty, fearless and God-fearing."
In small towns like Jacksonville and Rabbittown, where Hyatt grew up on her father's farm, people look out for their own. Forgiveness is natural and second chances are deserved, even if those people happen to be infamous.
When Viola Hyatt died on June 14, 2000, she was 71 years old. Only about 50 people attended her funeral, for which there was no obituary or funeral notice. For good reason. The people of Calhoun County had forgiven Viola Hyatt, but others might come looking for the story from before she was known as the "Mayor of Tuckaway Village" … back 40 years ago when she was known as the "Torso Slayer."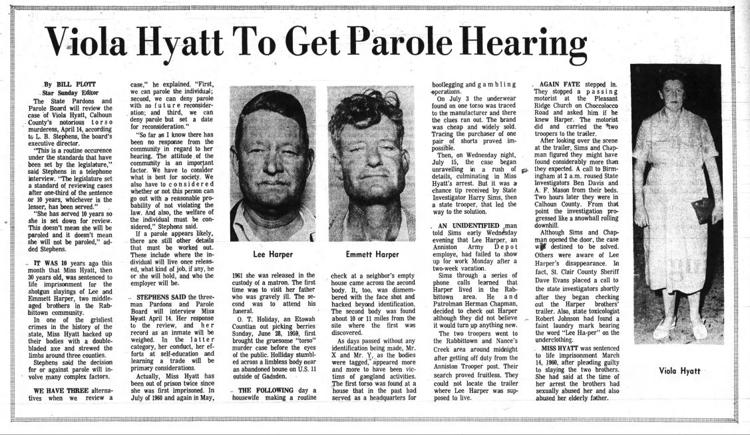 O.T. Holiday was out picking berries on a summer morning in 1959 when she stumbled over a body, its limbs cut off, near an abandoned house on U.S. Highway 11 outside of Gadsden. Later the next day, another torso was found, also missing its arms and legs. The victims couldn't be identified and were labeled simply Mr. X and Mr. Y.
Police initially believed the gruesome killings were gang-related, because the first torso was found near a home that had once been used for bootlegging. Eventually, a tip came in that helped identify the victims as brothers Lee and Emmett Harper, who lived in a trailer behind the Hyatt farm off County Road 55. This led police to Viola, who confessed three weeks later to murdering the brothers.
In his book "In Love with Defeat," Anniston Star publisher H. Brandt Ayers shared the story of his 1960 jailhouse interview with Hyatt, back when he was a young reporter. He details what happened on June 27, 1959:
"She stole into their trailer at night with her daddy's shotgun, emptied a chamber into each brother's face, and dragged the bodies outside. There, in order to fit the disposal task to the dimensions of a wooden wheelbarrow, she cut off their arms and legs with her daddy's double-bit ax. Making several trips, she deposited the parts on a tarpaulin in the back seat of the family car. She drove through the night on a journey that touched several northeast Alabama counties, throwing an arm out here, a leg out there, rolling out the two torsos."
Hyatt told police that the two men had abused her and her father. "They done me wrong," is all Hyatt would say.
Hyatt pled guilty and spent 10 years in Tutwiler Prison before being paroled and coming home to Jacksonville, where she quietly lived out her life as the Mayor of Tuckaway Village.
---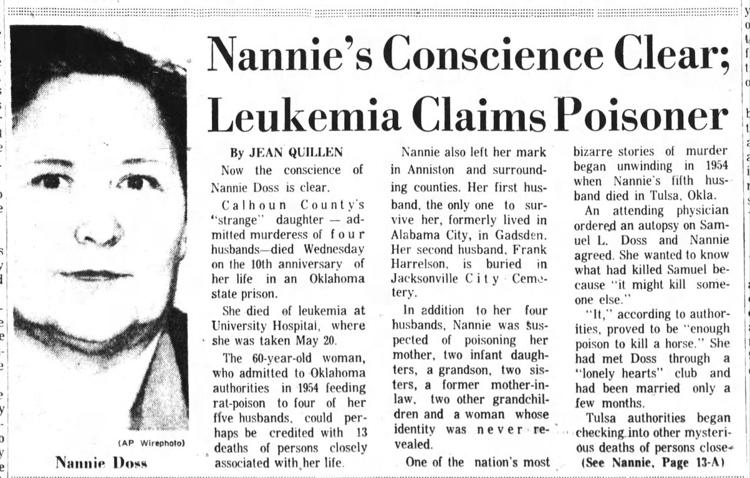 Nannie Doss, the Giggling Granny
Grandmothers are supposed to be sweet. They bake cookies and give the best hugs. Grandmothers laugh when they tell stories … some might even say they giggle.
Nannie Doss sure did, only the stories she told weren't to grandchildren snuggled up in bed. She told her stories to the police, giggling the whole time as she confessed to murdering four of her five husbands.
It's how Nannie Doss became known as the Giggling Granny.
Born in Blue Mountain in 1905, Doss was one of five children born to Jim and Louisa Hazle.
According to an essay for Encyclopedia of Alabama by Jacksonville State University professor Gordon Harvey, when she was 7, Doss claimed to have suffered a head injury when a train she was riding stopped suddenly and she hit her head on the metal train seat in front of her. Doss later blamed this injury for her murderous tendencies.
Obsessed with romance novels and escaping her poor farm life, Doss met and married Charles Braggs in Anniston in 1921 when she was 16 years old. The couple's two infants died mysteriously after eating breakfast. While food poisoning was the official cause of death, Braggs was warned not to eat Doss' cooking. He soon left with his eldest daughter and the couple divorced in 1928.
Braggs wouldn't be Doss' last husband. But he would be the only one to survive the marriage.
Doss met her second husband, Jacksonville's Frank Harrelson, through the Lonely Hearts classified ads in the local paper. The couple married in 1929. During their 16-year marriage, Doss' baby granddaughter died – possibly due to being stabbed in the brain with a hairpin – and, a few months later, her 2-year-old grandson died of asphyxia.
On a night in September, Frank came home drunk and forced himself on Doss. She poured rat poison in his moonshine. Frank died on Sept. 15, 1945, but no one knew the real cause of death until years later.
With her second husband dead, Doss continued looking for love. From North Carolina to Kansas to Oklahoma, she met and married men, killing them all with rat poison, either in their coffee or in a special arsenic-laced prune cake.
She was finally stopped when a doctor in Tulsa, Okla., grew suspicious following the death of Samuel L. Doss, eventually discovering that Doss had ingested "enough poison to kill a  horse."
Nannie Doss was soon arrested and the giggling began. Though police believed she could have murdered as many as 13 family members – including five children, her mother and mother-in-law – Doss said she "never killed blood kin."
"Now my conscience is clear," she told Tulsa detectives. "You can dig up all the earth in the world, but you won't find anything else on me."
Doss was convicted and could have gotten the electric chair, but the judge didn't want her to be the first woman executed in Oklahoma. Instead, she was sentenced to life at McAlester prison in Tulsa, where she spent 10 years – even working in the prison bakery. She died of leukemia at the age of 60, 10 years to the day from her conviction of murder, June 2, 1965.
According to local reports, Doss requested that she be buried in Jacksonville Cemetery next to her second husband – and first victim – Frank Harrelson. She wanted a headstone with the inscription, "God be with you til we meet again." The name on the tombstone was to be listed as Nannie Harrelson. Instead, Doss was buried in Maple Grove Cemetery in Russellville, Ky.
The passing of Calhoun County's "strange daughter" was greeted with a strong editorial in The Anniston Star.
"Then the years forgot and she became just one woman, alone, doing penance and thinking in her solitude, long, long thoughts until an all-answering death brought an end to it all."
---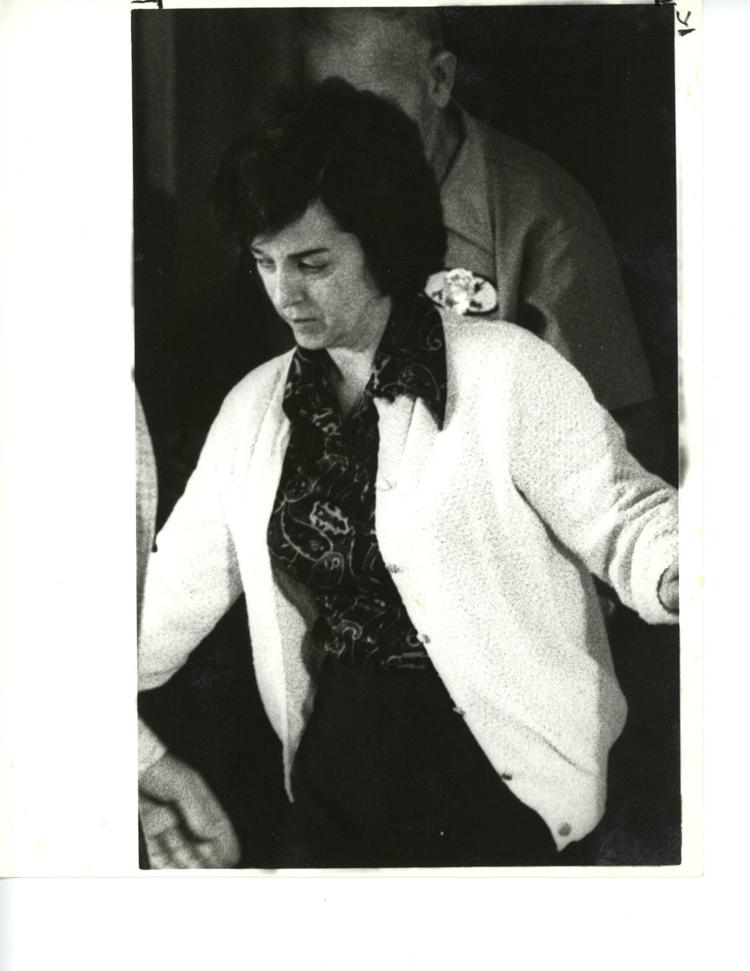 Marie Hilley, the Black Widow
In October 1979, Anniston's Audrey Marie Hilley was arrested for the murder of her husband, Frank, and the attempted murder of her daughter, Carol, with arsenic. Despite warnings from friends and family, she was granted and finally posted bond in November.
That's when things truly got bizarre, and Audrey Marie Hilley became Anniston's most notorious resident.
After posting bail, Hilley vanished. She registered at a local motel, where a note indicating that she "might have been kidnapped" was left behind. For the next three years, Hilley would remain a fugitive.
Where she was and what she was doing were the stuff of soap operas, too ludicrous to be true, and yet it's what made Hilley's story so compelling.
While on the run from Anniston police, Hilley met John Homan in a Florida bar, telling him her name was Robbi Hannon. The two soon married and moved to Homan's hometown in New Hampshire, where she worked as a secretary.
Hilley often talked about having a twin sister named Teri Martin, who lived in Texas. After being married for a year, Hilley left to visit her sister.
After being gone for several weeks, Hilley, taking on the personality of the fictitious sister Teri, called Homan to say that Robbi had died in Texas, adding that the body had been donated to science.
In November 1982, having lost weight and colored her hair blonde, Hilley returned to New Hampshire and Hamon, posing as Teri Martin. It was when Hilley decided to write a fake obituary for Robbi Hannon that her story finally unraveled.
The FBI tracked her down and returned her to Alabama to face trial. Hilley was convicted in the murder of her husband and the attempted murder of her daughter and sentenced to life in Tutwiler Prison.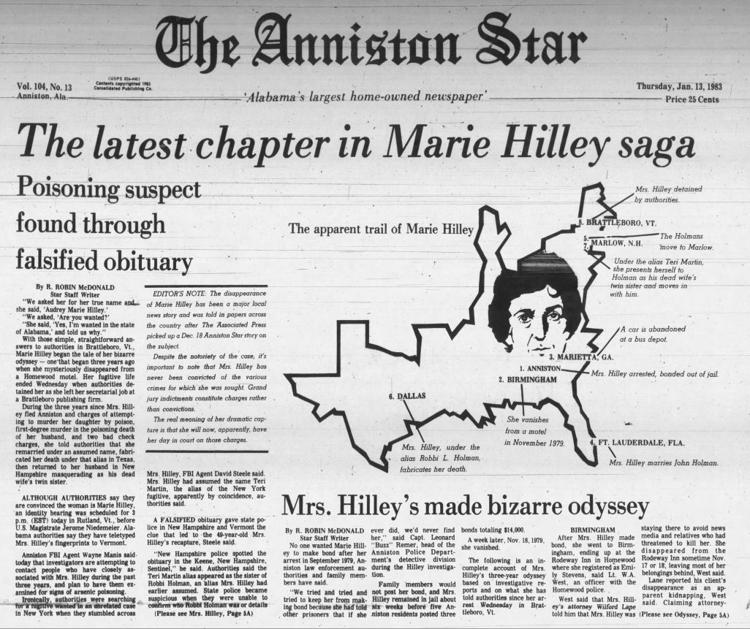 While in prison, Hilley was awarded the occasional furlough as reward for good behavior. She often spent those free days visiting her husband, who had moved to Anniston to be closer to his infamous wife.
In February 1987, she was given a weekend pass, only this time she didn't return. She vanished … again. The manhunt was on … again. But this time, Hilley didn't get far. She spent three days wandering in and around the woods near her childhood home in Blue Mountain.
Police received a call of a strange woman on a porch. When they got there, they found Hilley, soaking wet and covered in mud, delirious from freezing temperatures. She was taken to the hospital, where she suffered a fatal stroke brought on by hypothermia.
Of the final end to the saga, The Anniston Star wrote, "Mrs. Hilley's story, which received national attention for its bizarre mix of poison, murder and masquerade, ended in the rain and cold of a drizzling February afternoon on the Old Gadsden Highway."