Today is National Brothers and Sisters Day. As children, we develop special bonds with our siblings, and our siblings tend to know us inside and out.
If your siblings are older than you — and mine is (she will get me for this, haha) — they have been a part of your life since you were in diapers. They may have helped you navigate through life and maybe even intimidated your bully, or helped you learn to ride a bike.
No one will ever "get" you like your sibling will. National Brothers and Sisters Day is a day to reflect on the best times with your siblings. Take time to give them a call, or email and let them know how special they are to you.
I want to spotlight one of my sister's hallmark dishes this month, which is her routinely requested Red Velvet Cake. Her cake is requested for all of our holiday gatherings, and our table would not be complete without it.
I have one sister, Sonya Morgan Lipham, who is a seasoned cook and loves to cook as much as I do. Just like any siblings would do, we contend over who is bringing the macaroni and cheese to the family gathering, and who likes our dish more.
However, I have to concede that nobody can make a homemade red velvet cake like my sister can. This is her account of where it all began: "While antiquing in Cave Springs, Ga., many years ago, we stopped for a bite at a local cafe. I'll never forget the setting: red gingham curtains, sitting next to a window with snowflakes falling. We had a sandwich, a cup of soup and a slice of red velvet cake. The baker came out to where we were sitting, and I asked her what the 'key' was to good, smooth icing, and she said to always use unsalted butter. Ever since then, that is what I have always used, and it really does make a difference."
Here are some more helpful tips for this recipe: Always use real butter for the icing, not margarine. It is important to sift the flour. Use only quality ingredients such as Crisco oil and real vanilla extract, not generic or imitation. Crack eggs in a separate container. Sometimes you can add a smidgen more oil to make it moister if desired.
The next recipe is Chicken and Portobello Pasta Bake. It is a great weeknight dish to prepare for your family. It can be made ahead of time and put in the oven when ready to eat.
I discovered this recipe out of an old magazine, and my family loved it. They said to add it to the 'keeper' list.
If you like pasta, mushrooms and cheese, you will love this dish. One tip is to boil the noodles in chicken broth to add more depth of flavor. This dish can also be made with leftover turkey from holiday meals. Serve with a salad and garlic bread for a complete meal your family will thank you for.
Greg Morgan lives in Oxford. His food column appears the first Wednesday of each month. contact him at gmorgan@annistonstar.com.
Sonya's Famous Red Velvet Cake
2 ½  cups all-purpose flour, sifted
2 ounces red food coloring
1 stick unsalted butter, softened
1 box confectioners sugar
1 (8 ounce) package cream cheese
Preheat oven to 350 degrees. Butter and flour three 9-inch round cake pans. Cream sugar and oil. Add eggs and beat well. Sift together flour, salt and soda; set aside. Mix food coloring, vinegar and cocoa, then add to sugar and oil mixture. Add vanilla. Add flour mixture alternately with buttermilk and blend well. Pour batter into cake pans. Bake for 35 minutes. Let layers cool before icing.
To make the icing: With a stand-up mixer on medium to high speed, mix butter, sugar and cream cheese. Add vanilla and mix well. Fold in the pecans.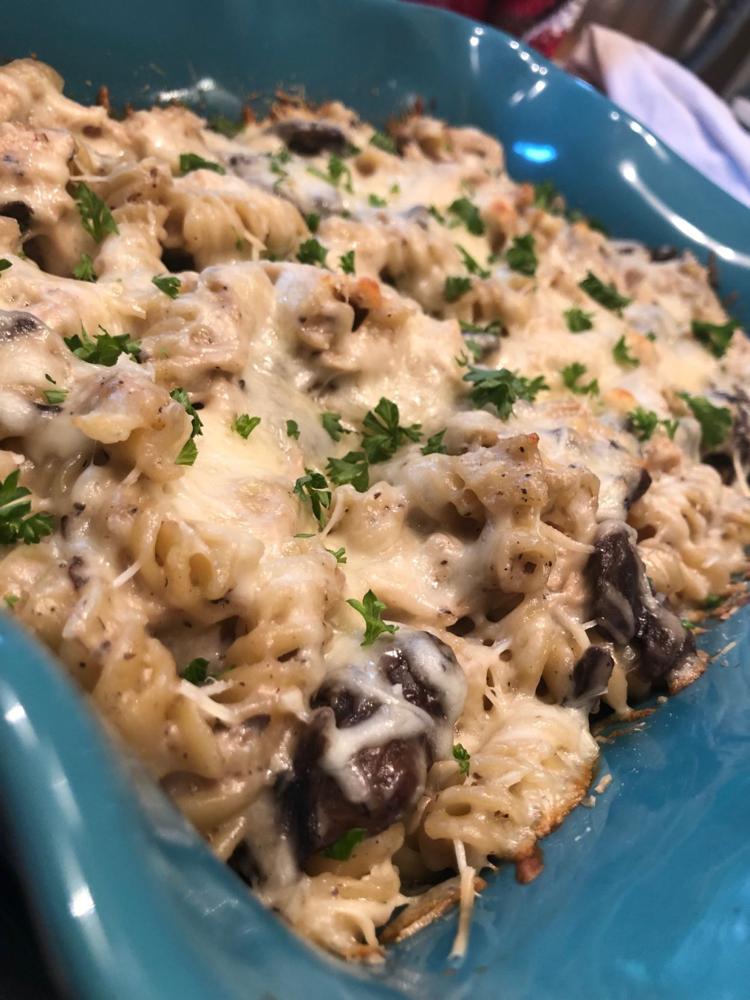 Chicken and Portobello Pasta Bake
2 ½ cups uncooked spiral pasta
1 carton of chicken broth
3 large portobello mushrooms
3 tablespoons all-purpose flour
⅓ cup heavy whipping cream
2 cups cubed cooked chicken
1 cup shredded mozzarella cheese
½ cup grated parmesan cheese
Grease an 11x7-inch baking dish.
Cook pasta in chicken broth and water until done and drain. While pasta is draining, scrape and remove gills of mushrooms with a spoon and slice the caps.
In a large skillet, heat oil and butter over medium-high heat. Add mushrooms and cook, stirring, until tender. Add garlic and cook one minute longer. Stir in flour until blended. Gradually add milk and cream. Bring to a boil and cook, stirring, until thickened.
Stir in the chicken, salt and pepper to taste. Heat through. Add pasta to mixture and toss to coat. Stir in ⅔ cup of mozzarella cheese. Transfer mixture to greased baking dish and sprinkle with parmesan and remaining mozzarella. Bake uncovered at 350 degrees for 20-25 minutes or until cheese is melted.
— Adapted from Taste of Home, 2012