Mothers come into one's life from the most wonderful places.
For many years now, I have been lucky enough to know, love and be loved by the Knight family of Choccolocco. Lucy and I have been friends since elementary school. Her parents, Harry and Sarah, have been a model of partnership, gentleness and grace for me for over two decades.
Mrs. Sarah Edwards Knight is, among other things, an accomplished cook. I have long admired her patient, methodical nature, and that nature is displayed in all its glory while she bakes.
She loves to cook and bake and she always has a kitchen full of the coolest culinary gadgets. She's eternally willing to graciously critique a recipe (or a life choice) and offer praise and advice.
A few years ago, Mrs. Sarah shared a recipe with me along with a precious cup of "starter," that golden liquidy goodness which is a cross between ingredient, tool and a pet that lives in your refrigerator.
In honor of Mother's Day, and to give some solid suggestions on gifts for the baking mama, here's that beloved recipe and some of the tools I've found useful while making it.
This recipe requires forethought and planning. It takes 36 hours from start to finish, but my goodness, the rewards truly are outstanding. Here, I offer the schedule I use in order to make these rolls for Sunday brunch.
This recipe isn't all about ingredients. It takes technique and patience and the right tools.
The recipe is challenging but it's a really fun experiment in chemistry and kids especially love helping make and eat it.
Like all good food, all the time and work that goes into it makes it sweet in a way that sugar  just can't.
Rachel Cowan Webb is a freelance food writer in Anniston. Contact her at rcwebb16@gmail.com. Follow her baking adventures on Instagram @homemade.hip.pies.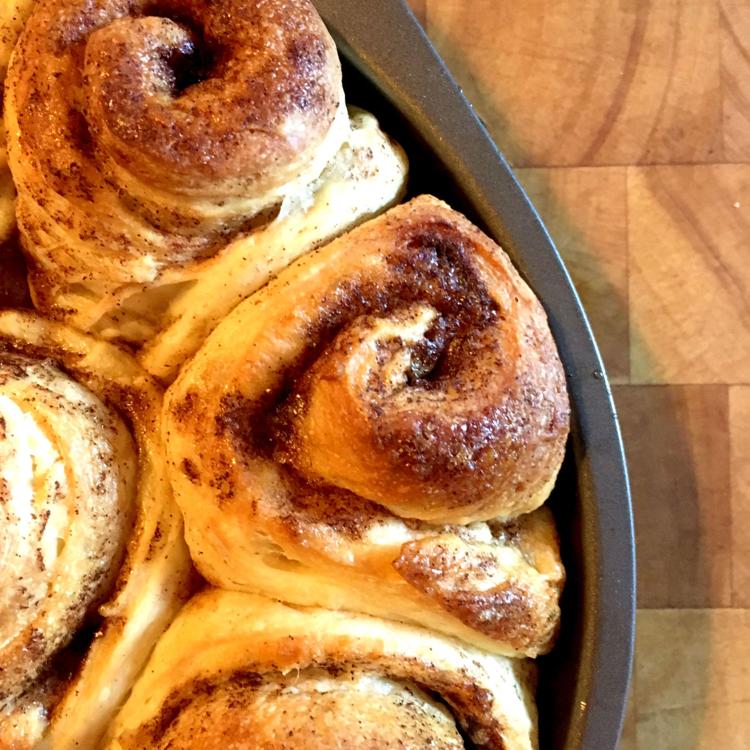 Mrs. Sarah's Sourdough Cinnamon Rolls
1 cup sourdough starter (more on this later)
6 cups bread flour or all-purpose flour
1 tablespoon salt (I like to use chunky-style sea salt)
1 cup brown sugar (not packed, just leveled)
Optional: pecans, raisins, walnuts, peanut butter, etc.
Day 1: 8 p.m. (Friday evening)
Set the sourdough starter out on the counter to warm up to room temperature. This will take 8 to 12 hours.
The starter that Mrs. Sarah shared with me is potato flakes, sugar, water and about a billion living yeast spores. My starter is named Carol. I keep her in a closed container in the fridge and pull out a cup every week, feed her and put her back. She was started way back in the day with packaged yeast, and I like to think about the descendants of those first yeast spores, generations along, living in their little cloudy world in a container in my kitchen.
I feed her every time I take out a cup to cook with or share, which is about every week or 10 days. She gets 3 tablespoons of potato flakes, ⅓ cup of sugar, a cup of warm water and a good stir. I write the dates that I feed her on the lid with a permanent marker.
I've heard this type of starter referred to as "Friendship starter," which makes "Friendship bread." Because it has to be used so often, it's sometimes more convenient to give the cup of starter away and help a friend start their own colony than cook with it.
Day 2: 8 a.m. (Saturday morning)
Measure out a brimming cup of starter.
Feed the rest of the starter and put it back in the fridge.
In the bowl of your mixer, combine the dry ingredients and whisk together lightly. Slowly add the starter, oil and water, in that order, while the mixer is running on low speed. When the dough is incorporated (but not sticky), place the dough in a well-oiled bowl big enough that the dough can double in size. Brush or spray the top with oil to keep it from drying out, cover it with a cotton or linen kitchen towel, and leave it in a warm place to rise for about 12 hours.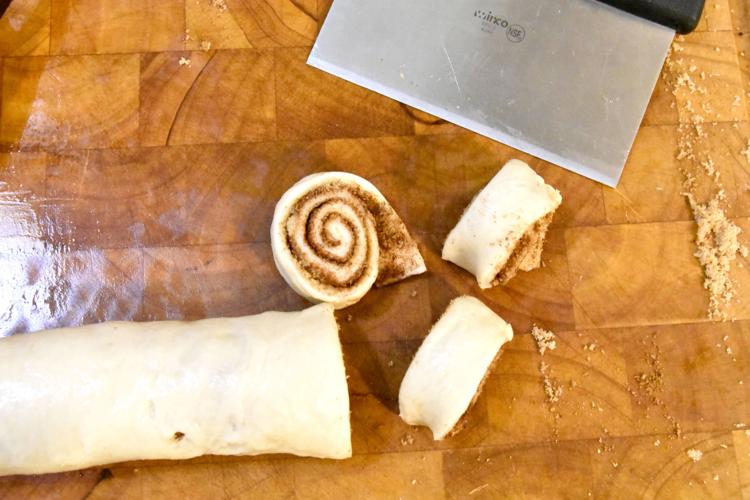 Day 2: 8 p.m. (Saturday evening)
After the dough has doubled in size, punch it down and turn it out onto an oiled work surface. Using a knife or bench scraper (my absolute favorite kitchen tool) cut the dough in two and set half of it aside.
In a saucepan on the stove, melt the butter then add the brown sugar and cinnamon. Mix it well and set it aside to cool off a bit.
Take all your rings off and wash your hands really well, then knead the dough until it's in a roughly rectangular shape. Stretch and pat the rectangle out until it's about 12 inches wide, 12 to 18 inches long, and maybe half an inch thick. The dough will be springy and will want to "bounce" back. It may take some time and technique and make a bit of a mess, but it'll go, I promise! When the dough is finally in roughly a "sheet" form, pour the butter mixture over it. Spread the mixture with a pastry brush (not your fingers, no matter how good it smells) right out to the edges. If you like, sprinkle the top with raisins, pecans or any other delicious tidbit that sounds appealing.
Using a bench scraper, gently pick up the long edge of dough farthest from you and, with this edge as the starting point, begin rolling the dough up like a sleeping bag, towards you. The cinnamon/sugar mixture should be on the inside (and oozing out the ends).
When you have a nice long, coiled tube of sugary wonderfulness in front of you, take the bench scraper and begin slicing the dough into discs about an inch thick. Place the discs (which now finally look like cinnamon rolls!) into a ceramic baking dish, flat side up, or a cast iron pan/muffin pan, or even a disposable aluminum pan. Leave at least an inch of space on all sides because they are about to sit and rise again for another 12 hours.
Now! Remember the other half of the dough? It can be treated this same way and made into cinnamon rolls, or it could be portioned, kneaded and laid into bread pans to rise. It makes fabulous bread on its own.
Cover all the goodies with cotton or linen kitchen towels and leave them to rise in a warm place.
Preheat the oven to 350 degrees.
Bake the cinnamon rolls for about 35 minutes, or until golden. Bake the bread for about 25 minutes, or until golden.
Mix together a little cream and powdered sugar for icing, or enjoy the cinnamon rolls plain. They're great with hot coffee and cold, sweet fruit.
The bread slices beautifully when cool and makes good sandwiches and wonderful toast.