Cooking is one of my favorite pastimes. My grandmother, Memaw, was instrumental in my upbringing and has always been a fabulous cook. She taught me how to show love to the people in my life through the special labors of growing, cleaning, preparing, preserving and serving food.
The coming together of family at the dinner table is a sacred ritual to her — a ritual of service and love and togetherness.
Because of her, I am drawn to simple, classic recipes that use whole ingredients and have big, bold flavors, bright colors and good combinations of textures. Bonus points if the ingredients are things I can grow!
I like to use simple tools, like my collection of vintage cast iron and my rolling pin that my father made from a single, beautiful piece of maple.
My Memaw's influence on me is most obvious in the food that I cook and the plants I grow, and few things could make me happier.
My grandfather is the lucky guy whom Memaw has cooked for the longest. After 60-plus years of marriage, she's learned what his favorites are, and she shared this secret with me: Papaw adores lemon cake.
For his birthday last year, I developed this recipe for him. The original came from the internet but it wasn't a whole-food recipe, so I nixed the bottled lemon juice and canned curd it called for and started torturing lemons in my kitchen instead.
I zested, cut, juiced, squeezed, rolled and grated until my fingers were sore, but I now know the best way to craft a bundt cake from real lemons — plus lemons are forever intimidated by me.
This cake has a glaze instead of icing. I love it because it's added in layers as the cake and glaze are cooling, so it builds up a wonderful, sweet-and-sour, crunchy crust. If you prefer icing, then go for it! But the glaze only requires sugar and lemon juice, two things you'll already have out from making the cake.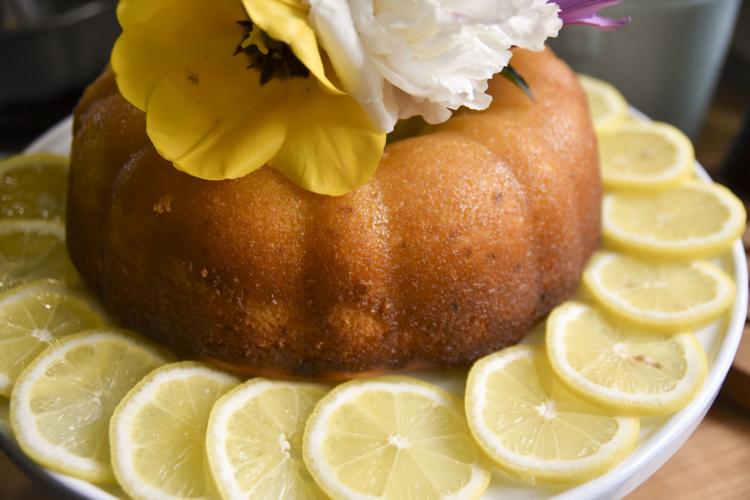 1 ½  sticks unsalted butter
14 ounces granulated sugar (2 cups)
12.75 ounces all-purpose flour (about 2 ½ cups)
2 teaspoons baking powder
8 ounces whole milk (1 cup)
Finely grated rind of a whole large lemon (or more, if you're feeling sassy)
The juice of the grated lemon, seeds removed
In the bowl of your mixer, cream together the butter, sugar and salt.
Add the eggs one at a time, fully mixing one in before you add another. Scrape the sides of the bowl with a silicone spatula to help it mix evenly. (Turn the mixer off first! Trust me on this one.)
In a separate bowl, whisk together the flour and baking powder.
Alternate adding the flour/baking powder mixture and the milk, mixing well after each addition. It helps to think of the dry ingredients in three parts and the milk in two parts. (F M F M F)
Stir in the lemon rind and lemon juice last, right before the batter goes into the pan.
Pour the batter into a buttered bundt pan and bake at 350 degrees for about 45 minutes, or until a toothpick inserted into the center of the cake comes out clean.
Let it cool for 5 minutes or so when it comes out of the oven. Use this time to prepare the glaze!
After the cake cools a bit, put your favorite cake stand upside down on top of the bundt pan. Carefully, carefully flip the whole thing over so that the cake stand is upright with the bundt pan upside down on top of it. Gently work the cake pan off the cake, leaving the cake sitting pretty on your cake stand.
Optional: If you have fresh lavender blossoms, add them to the mixture and strain them out before application.
Combine in a saucepan over heat and stir until the sugar dissolves. Use a little more lemon juice if all the sugar won't dissolve.
As the cake is cooling, use a pastry brush to apply the glaze in layers. It may take a while, so be patient!
Garnish with lemon zest and, if you have them, fresh lavender flowers.
Serve this cake at any time of day (but particularly at breakfast) with hot coffee and fresh fruits. It's also wonderful underneath a scoop of homemade vanilla ice cream.