Have you ever had someone in your life who inspired you to do something? Maybe it was a singer who inspired you to want to sing, or a person that assisted you along life's journey and inspired you to want to help someone else.
I want to introduce you to my grandmother, Lurlene Landers, also known as 'Maw-Maw Landers' by all of her grandchildren.  Maw-Maw Landers is the best cook I know (I am a little biased), and she is the inspiration behind my love for cooking.
She is 96 years young and currently resides in Weaver, where I was raised (Go Bearcats!). She has two children, four grandchildren, four great-grandchildren and two great-great-grandchildren.
She was born in 1922 and grew up in Hollis Crossroads in Cleburne County. While in school, she would study by candlelight. She graduated in 1940 from Cleburne County High School and was the valedictorian of her class.
Maw-Maw Landers was one of nine children and would have been a teenager during the Great Depression. She has memories of her family churning cream to make their own butter and buttermilk. They would store the buttermilk in the spring water to keep it from spoiling.
They raised most of their food from their garden. They would take the sugar cane to Mr. Bain and he would make sorghum syrup, which they would eat on homemade biscuits for breakfast. They would also take corn to the local grist mill to be ground into meal.
The cooking mastery she has today is a wealth of expertise and proficiency that can't be taught, but only comes with many years of experience. One of the greatest compliments I could ever receive is, "This tastes just like Maw-Maw Landers' dish!"
Although she isn't able to cook much anymore, Maw-Maw Landers is still able to answer any questions that any of us grandchildren have about cooking. We might call and ask how much lard to use when we are making biscuits. Her reply might be, "Just get a little in your hand." Or we might ask how much flour and cornmeal to put on the okra for frying, and her reply might be, "Just sprinkle a little on there."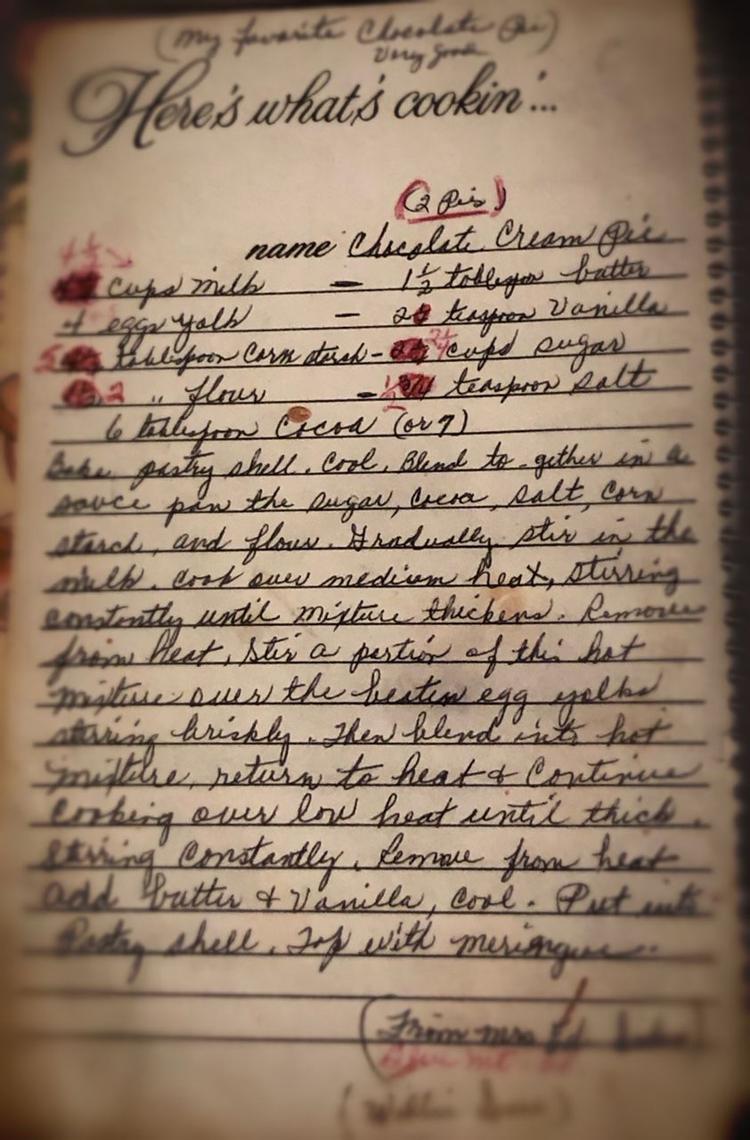 Great cooks don't always have to measure; they just know how to adjust the ingredients to make food taste great. Recipes are just guidelines, and we have the freedom to change them and make them our own.
I wanted to share two of my most treasured recipes from Maw-Maw Landers: her homemade chocolate pie and her macaroni-and-cheese casserole. My father would always request that she make him a chocolate pie. The macaroni-and-cheese is more like a casserole than traditional macaroni-and-cheese. It is one of my most requested recipes to take to any family or church event. Guests always say, "Greg, bring the mac-and-cheese!"
Greg Morgan lives in Oxford. His food column appears the first Wednesday of each month. Contact him at gmorgan@annistonstar.com.
---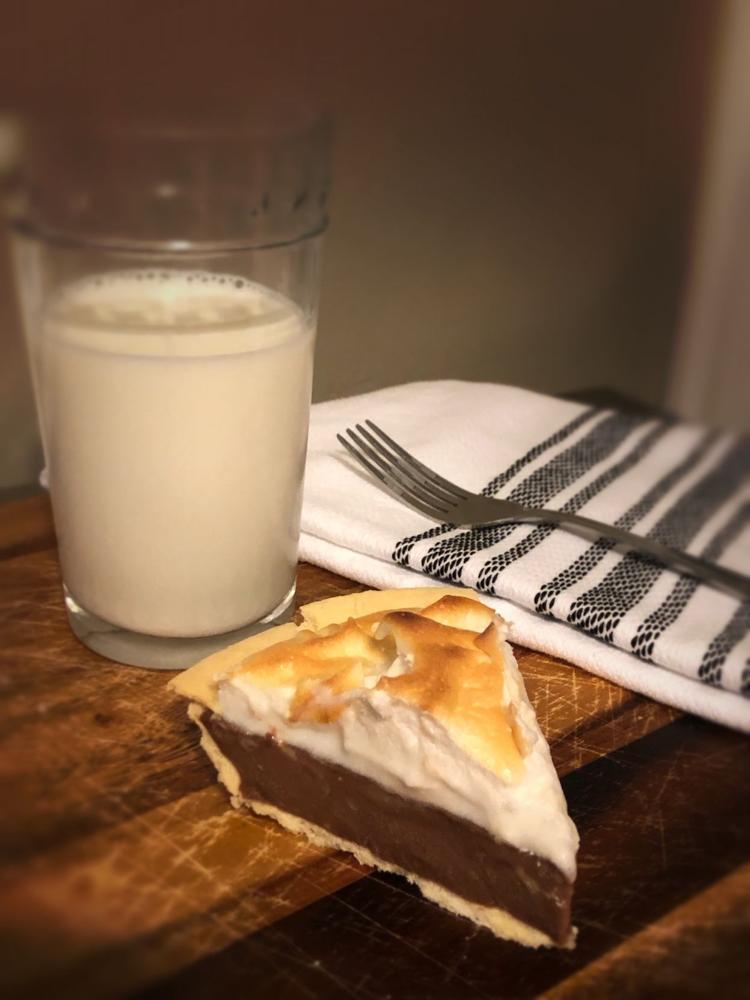 MAW-MAW LANDERS CHOCOLATE PIE
2 pie shells (this makes two pies)
2 ¼ cups sugar
6 tablespoons cocoa
½ teaspoon salt
5 tablespoons cornstarch
2 tablespoons all-purpose flour
4 ½ cups whole milk
4  egg yolks, beaten
1 ½ tablespoons butter2 teaspoons vanilla

Bake pie shells according to package instructions. Cool. In a saucepan, blend together sugar, cocoa, salt, cornstarch and flour. Gradually stir in the milk. Cook over medium heat, stirring constantly, until mixture thickens. (If you don't stir constantly, it can burn and stick). Remove from the heat, and stir a portion of the hot mixture into the beaten egg yolks. (This is called tempering the eggs. If you put the eggs straight into the hot mixture, they will curdle.) Blend the egg mixture into the hot mixture and return to the heat. Continue cooking and stirring until it thickens. Remove from heat and add butter and vanilla.  Pour mixture evenly into the two pie shells. Top with meringue.

For the meringue:

4 eggs whites, at room temperature
1 teaspoon vanilla
½  teaspoon cream of tartar
½ cup sugar

Allow egg whites to stand at room temperature for 30 minutes. In a large mixing bowl, combine egg whites, vanilla and cream of tartar. Beat with an electric mixer on medium speed about 1 minute or until mixture forms soft peaks. Gradually add sugar, 1 tablespoon at a time, beating on high speed about 5 minutes or until mixture forms stiff, glossy peaks. Immediately spread meringue over hot pie filling. Bake in the oven on broil for just a minute or two, carefully watching, until the meringue starts to turn brown.

Tips:
• Room temperature egg whites will beat to a greater volume than cold egg whites.
• Add cream of tartar and vanilla before you begin beating the egg whites. Cream of tartar helps to stabilize the meringue.
• The sugar must be added gradually while beating at high speed, 1 tablespoon at a time. Adding it too quickly will knock the air out of the egg whites and make them collapse.
• Quickly spread the meringue over the hot pie filling as it will help to cook the meringue from underneath and prevent weeping.
• Spread the meringue to the edge of the pie and seal it to prevent it from shrinking when it bakes.
MAW-MAW LANDERS MACARONI AND CHEESE
12-ounce bag of macaroni noodles, uncooked
1 large box of chicken broth
1 can cream of chicken soup
½ cup mayonnaise
4 cups Mexican-blend shredded cheese, divided
1 small onion, chopped fine
4 slices Kraft Cheddar Cheese Slices, cut into small pieces
1 or 2 drops of yellow food coloring
Milk
Paprika
Boil noodles in chicken broth until al dente (almost done). Don't drain all of the liquid off, just about half of it. (Trust me, it will be dry if you drain it all off). Add chicken soup, mayonnaise, 2 cups of shredded cheese, onion, cheese slices and food coloring to the noodles. If mixture seems a little dry, add a small amount of milk. Mixture should be a soupy consistency (trust me). Pour mixture into a 13x9-inch casserole dish. Top with remaining 2 cups of shredded cheese and sprinkle with paprika. Bake in a 350-degree oven for 30 minutes.
• Cooking the noodles in chicken broth takes this dish to a whole new level of flavor.
• You can vary this casserole by substituting or adding cream of mushroom or cream of celery soup.
• This will taste better if you use freshly grated cheddar and Monterey Jack cheeses rather than the bagged kind. I use bagged cheese when I am in a hurry, but it does make a difference in taste.
• If you don't like onions, you can leave them out.
• The yellow food coloring is just to make the dish look more 'cheesy.'