Do you ever have those days when you just want to stay home because you are getting so much accomplished you don't want to leave what you are doing to go grocery shopping?
I had one of those days last weekend, and decided it was a perfect time to have groceries delivered from Publix in Oxford using a service called Instacart.
Shoppers order groceries online or by using an app. They are then connected with a Personal Shopper who will shop for and deliver your groceries.
You can order groceries to be delivered in an hour or two, or schedule delivery for later in the week.
I have used this service three times to order from Publix, and it seems to work like a well-oiled machine.
Here's how it works: The first thing I did was download the Publix Delivery app on my smartphone. When you open the app, the first thing you will see is a search box to look for whatever items you may need.
If you have used the app before, your previously ordered items pop up so you can choose them again if you need to. You can also search for coupons and sales on popular items.
You can browse international, pantry, bakery, frozen, meat and seafood, plus many more categories.
In Virginia, Florida and North Carolina, you can order beer and I guess wine, too. But not in Alabama.
Once you order, you can choose a tip for your shopper/driver if you would like; 100 percent of the tip goes to the shopper/driver. All three of my shopper/drivers were excellent and friendly.
There was a delivery fee of $3.99 on my $88 order of groceries, plus a service fee of $3.54, plus the tip I chose. The service fee goes to Instacart, which operates the delivery service and handles customer service. The delivery fee depends on the size of the order and the time you choose for delivery.
So, for my order, I spent $11.07 in fees and a tip. Not everyone will want to do that. But for me, saving time so I can work on our farm is crucial and well worth $11.07.
The shopper is in constant touch with you via text, and lets you know if they need to substitute an ingredient or product, which you can agree or disagree with. So keep your phone nearby.
You will also receive notice when your groceries are on their way. My shopper had shopped and delivered seven or eight times the day before, and had several other deliveries scheduled that day, as well.
The food I ordered was for two recipes I wanted to try for Sunday dinner with friends: Leek and Mushroom Grits Frittata from the March 2019 issue of Southern Living, and Southwestern Roasted Veggie Salad with Chipotle- Balsamic Dressing from the cookbook "Love Real Food" by Kathryne Taylor.
Plus, I roasted some brussels sprouts with pine nuts that I already had.
Ann Angell is fitness director for the YMCA of Calhoun County. She also writes a fitness column, which appears in the Life & Arts section the third Sunday of each month.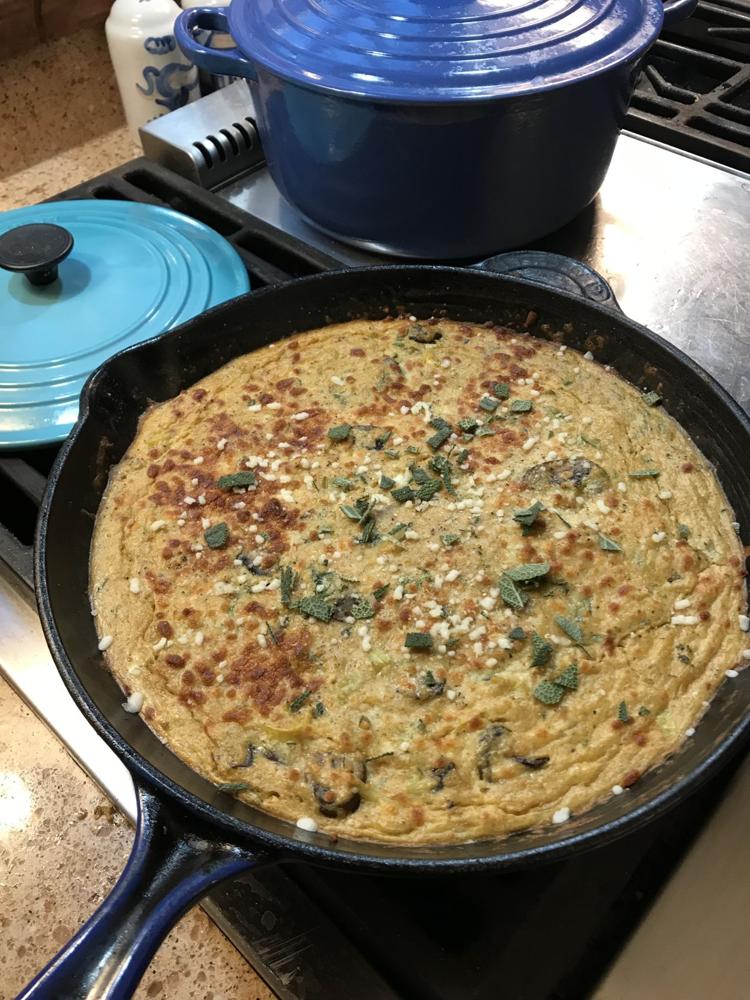 LEEK AND MUSHROOM GRITS FRITTATA
I am a vegetarian, so for this recipe I left out the sausage and used vegetable stock instead of chicken stock. It was very tasty.
¾ cup uncooked regular grits
3 tablespoons unsalted butter
2 ounces Parmesan cheese, finely shredded (about ¾ cup), divided
¾ teaspoon kosher salt, divided
½ pound smoked sausage, chopped
12 ounces fresh cremini mushrooms, sliced
1 large leek, white and light green parts only, chopped (about 1 cup)
Preheat oven to 425 degrees with oven rack in middle of oven. Bring stock to a boil in a medium saucepan over medium-high heat. Whisk in grits and reduce heat to medium-low. Cook, covered, until grits are thickened and tender, 8 to 10 minutes. Uncover and stir in butter, cream cheese, 1 ½ ounces of Parmesan and ¼ teaspoon salt. Stir until butter and cheese are melted (mixture will be thick). Remove from heat; let stand at room temperature until ready to use.
Cook sausage in a 10-inch nonstick skillet over medium-high until browned and crisp on all sides, 5 to 6 minutes. Transfer to a plate lined with paper towels, reserving 1 tablespoon drippings in skillet. Add mushrooms to skillet and cook, stirring occasionally, until mushrooms begin releasing liquid, 5 to 6 minutes. Add leek and cook, stirring often, until tender and liquid has been absorbed, about 6 minutes. Sprinkle vegetables with ¼ teaspoon salt and transfer to a medium bowl. Wipe skillet clean.
Whisk together eggs, milk and remaining ¼ teaspoon salt in a large bowl. Stir in grits, vegetables and sausage. Pour mixture into skillet.
Bake in preheated oven until almost set, 15 to 20 minutes. Increase oven temperature to broil. Sprinkle evenly with remaining ½ ounce Parmesan and broil until top of frittata is slightly golden, 3 to 4 minutes. Remove from oven, and garnish frittata with thyme before serving.
— Southern Living magazine, March 2019
SOUTHWESTERN ROASTED VEGGIE SALAD
The amount of each salad ingredient is to taste. Feel free to experiment! We added cabbage and kale straight from my husband's garden in addition to arugula. It was delicious!
Sweet potatoes, peeled and chopped
Red bell peppers, chopped
Avocados, peeled and chopped
Sun-dried tomatoes in oil
1 tablespoon balsamic vinegar
½ teaspoon maple syrup or honey
Small clove garlic, minced
In a large rimmed pan, spread the sweet potatoes and red bell pepper in a single layer. Toss with olive oil and sprinkle with chile powder and a dash of salt. Roast at 425 degrees for 15-20 minutes.
While the veggies are roasting, make the dressing. Whisk together ¼ cup of olive oil, balsamic vinegar, adobo sauce, lime juice, maple syrup or honey, minced garlic and sea salt. (I tweaked this quite a bit. More adobo, more garlic, added pepper, put in a tiny bit of Dijon mustard, too.)
Toast the pepitas in a skillet until golden.
Put arugula, avocado, sun-dried tomatoes, feta cheese, roasted vegetables and toasted pepitas into a salad bowl. Add dressing!
— From "Love Real Food" by Kathryne Taylor