It is hotter than summertime as I am writing this. I cannot even think about cooking anything hot when I get home from work in this type of weather. So lately I have been breaking out my three best cold soup recipes: gazpacho, cold cucumber avocado soup and warm arugula vichyssoise, which you can make cold or warm.
An internet search for cold soups will take you down the road of 1,000 different versions of chilled soups, but I think the absolute best and easiest, especially for those of you growing your own summer garden, is gazpacho.
You really don't need a recipe for this amazingly yummy and good-for-you soup. I usually just throw in things from my husband's garden that would complement the main ingredient, which is tomato. You need tomatoes and cucumbers for sure, but red and green peppers, avocado, red onions, garlic and whatever else you think would be good are all fair game.
Tons of basil and parsley go well with this, too. It really develops with what you have on hand. Follow this basic recipe but add what you like.
There are many ways you can serve gazpacho. You can add different flavors such as watermelon or honeydew, or even give it a Greek twist by serving it with feta cheese on top.
In summer, we usually have lots of cucumbers, so I have been making cold cucumber soup for many years. The recipe below calls for sour cream, but I like to use plain yogurt instead.
Anytime a recipe calls for chicken broth, I usually substitute vegetable broth. I sometimes serve cold cucumber soup as an appetizer in a small glass before dinner, but it also very competent as the main course with half of a tomato sandwich as its sidekick.
The warm arugula vichyssoise is so good cold! I love potatoes and I really love arugula, so when I saw this recipe a few years ago I had to try it. The leeks and the arugula make this soup so flavorful.
With all three of these soups, you can blend, puree or process the vegetables however you prefer. You can go chunky or smooth.
Like most soups, all of these will taste better once they sit for a while in the fridge. Overnight even. All the flavors become more flavorful overnight.
The great thing about soups warm or cold is you can just add what you want. There are so many different ingredients you can use when making summer soups. Don't forget that fruits make great cold soups, as well as all the yummy vegetables available in the hottest summer months. 
When the pavement is hot enough to cook an egg on, run inside and whip up one of these dreamy chilled soups and wait for the cooler temps to arrive.
Ann Angell is a certified instructor and personal trainer. She is fitness director for the YMCA of Calhoun County. She also writes a fitness column that appears on the third Sunday of each month in the Life & Arts section.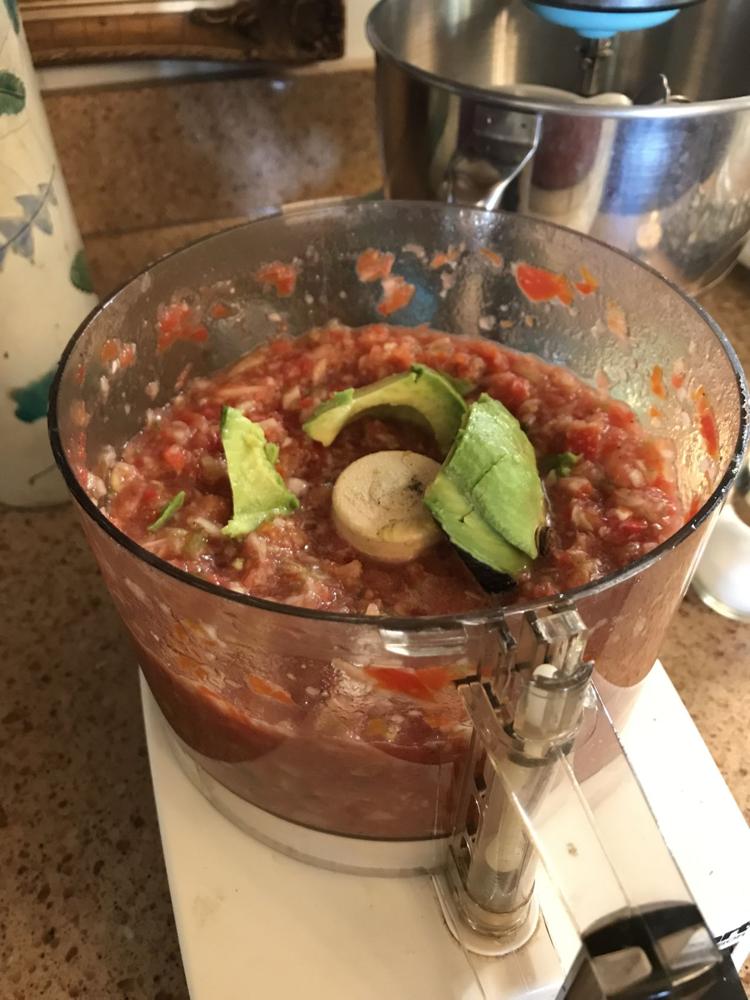 When I make this recipe, I use a small can of V8 vegetable juice instead of the 3 cups of tomato juice, and I always add ripe avocado and lots more tomatoes than the recipe calls for, plus lots of basil. If I have homemade pesto, I add a dollop of that too.
1 hothouse cucumber, halved and seeded, but not peeled
2 red bell peppers, cored and seeded
23 ounces tomato juice (3 cups)
1 teaspoon freshly ground black pepper
Roughly chop the cucumbers, bell peppers, tomatoes and red onions into 1-inch cubes. Put each vegetable separately into a food processor fitted with a steel blade and pulse until it is coarsely chopped. Do not over-process!
After each vegetable is processed, combine them in a large bowl and add the garlic, tomato juice, vinegar, olive oil, salt and pepper. Mix well and chill before serving. The longer gazpacho sits, the more the flavors develop.
---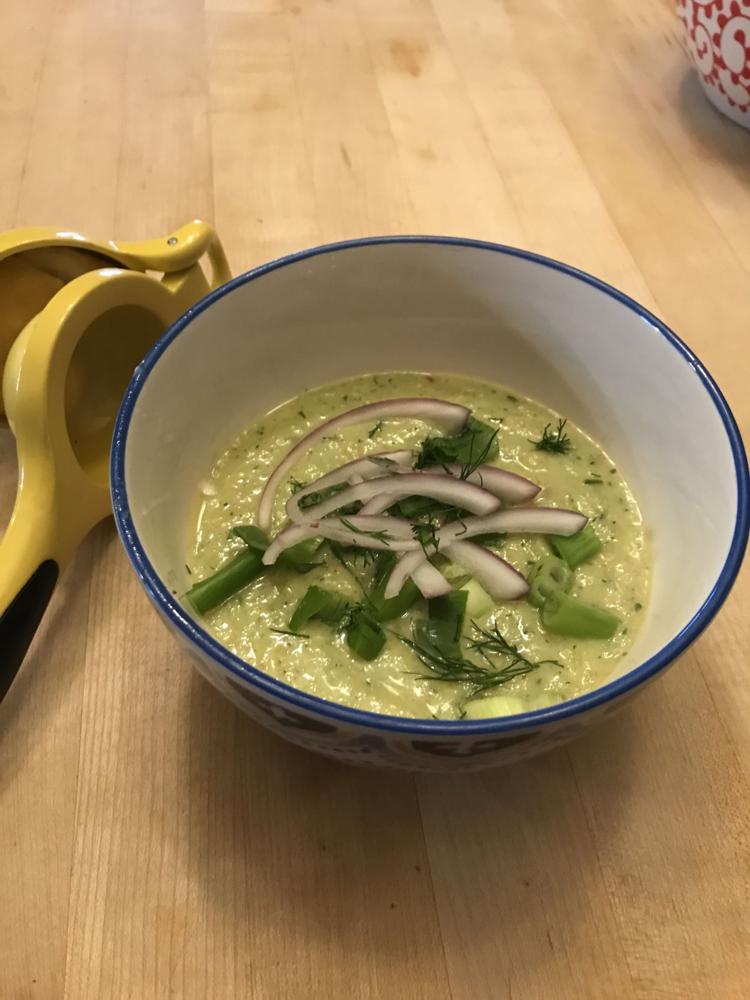 COLD CUCUMBER-AVOCADO SOUP
This recipe does not say to add chopped dill but it is a PERFECT herb with anything cucumber! Trust me! Also, I add thinly sliced purple onions and green onions on top before serving.
1 large cucumber peeled, seeded and cut into 2-inch chunks
1 large, ripe avocado, peeled
2 scallions (green and white parts included) chopped
1 cup chicken broth or vegetable broth
2 tablespoons lemon juice
½ teaspoon freshly ground pepper, or to taste
Garnishes: Dollop of sour cream, chopped chives or scallions
In a food processor or blender, combine the cucumber, avocado and scallions. Pulse until the mixture is thoroughly chopped.
Add broth, sour cream and lemon juice and continue to process until smooth.
Season with salt and pepper to taste and chill for 4-6 hours.
Taste for seasoning and serve in chilled bowls with garnish.
---
I serve this cold! I also substitute vegetable broth instead of chicken broth, and use cream cheese instead of mascarpone. Mascarpone is an Italian cheese, but for this recipe I don't think it makes that much difference. Also, if you don't have a handheld immersion blender, get one. It is the perfect tool for any kitchen!
¼ cup plus 2 tablespoons olive oil
2 leeks, green parts discarded, white parts washed and chopped 
4 Yukon gold potatoes (about 1 pound), peeled and diced 
4 cups low-sodium chicken broth 
¼ teaspoon red pepper flakes 
1 4-inch Parmesan cheese rind 
1 5-ounce container baby arugula (about 6 cups)
2 teaspoons fresh lemon juice 
3 tablespoons mascarpone cheese
Heat a medium Dutch oven over medium-high heat and add 2 tablespoons of the olive oil. Add the leeks and salt and cook, stirring often, until the leeks are very soft, about 5 minutes. Add the potatoes and stir to combine. Cook for an additional 2 minutes to let the flavors marry. Stir in the chicken broth and pepper flakes. Add the cheese rind and bring to a simmer. Reduce the heat to medium low to maintain a gentle simmer and cook until the potatoes are tender, about 20 minutes. Stir in the arugula and cook until wilted, about 1 minute. Remove from the heat and discard the cheese rind.
Add the remaining ¼ cup olive oil and the lemon juice. Using a handheld blender, puree until completely smooth. Ladle into bowls or cups and top evenly with the mascarpone.