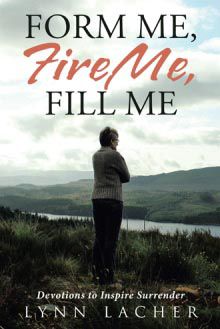 Lynn Lacher's father, Bud Hampton, is 90 years old and a resident of Autumn Cove assisted-living center in Anniston. In 2016, he suffered a stroke, then developed signs of Alzheimer's.
 One day, a nurse visited her father to conduct an assessment for the insurance company. Lacher tells the story:
"He had suffered a stroke. He was basically blind. He couldn't hold a pen. He couldn't always answer questions," she remembered.
The nurse asked her father to write a three-word sentence.
"He can't do that," Lacher told her.
The nurse explained that she had to ask anyway.
Lacher turned away, not wanting to witness what would happen next.
A minute later, the nurse handed her a piece of paper, with tears in her eyes.
Lacher's father had written his three-word sentence.
"From his demented state … he remembered his own faith. He remembered what is true," Lacher said. "That is peace."
Lacher had that three-word sentence made into a necklace. When she wears it, her father's truth and peace are near to her heart.
Lacher has just published "Form Me, Fire Me, Fill Me," a book of daily Christian devotionals, which is available at online booksellers. She has also signed a contract to publish a novel next summer, "The Lick Skillet Coffee Club," and is working on a book for caregivers of dementia patients.
"Daddy is losing himself. He doesn't know where he is, or who we are. He has good days and bad days, whenever God decides.
"We live what we live. I'm learning through this," Lacher said.
"Life is a train wreck. Most people run away from the hard stuff. But the very things meant to tear your life apart make you stronger.
"I have to live in God's peace. Peace is a choice. Love is a choice. Joy is a choice. God empowers our choice."
'My parents did everything for me'
This is not the first train wreck for Lacher. Her mother, Laurelle Hampton, developed dementia in 2004 and passed away in 2013 at age 87. She had a form of dementia associated with Parkinson's disease. "She always knew who we were," Lacher said. "Up until the week she passed away, she was asking the attendants how their families were doing."
Her parents were both very intelligent, Lacher said. Her mother had two master's degrees; her father was a farmer for 40 years before going back to school and becoming a systems programmer. "There is no rhyme or reason to this disease. You can be the most intelligent person in the world," she said.
Two years after Lacher's mother passed away, her father found love again, and remarried at age 88, to a widow from church. He and his new bride had been married a year when he had his stroke and had to move to assisted living.
"It's a hard time of life. It's a lot of work," Lacher said. But it has nonetheless been her pleasure to take care of her aging parents. "My parents did everything for me," she said. "They encouraged me in my writing."
As she writes in the preface to her new book, "When my way seems too hard, Lord, it really isn't. You are with me."
Support group is invaluable
Writing became one of Lacher's methods of coping as she cared for first one, then two, parents with dementia.
"If you live your passion — for me, my passion is writing — while you are taking care of someone, you are fulfilled in a way," she said.
"I wrote devotionals to take care of myself, and to encourage myself. That builds my faith." Lacher writes a devotional each day on her website, www.lynnlacher.com.
Lacher also joined a local Alzheimer's support group led by Jim Wilson, chaplain at Regional Medical Center. The group meets every Thursday at 4 p.m. in the chaplain's office in the RMC Physicians Center.
"I wouldn't have made it through without the support group," Lacher said. "This is a disease people are afraid of. It's painful. People tend to isolate themselves when they're in pain. They feel like they're all alone in the world." That's where a support group can be invaluable.
Another important coping mechanism is humor. "There's humor in everything. There's humor even in this, but you have to look for it," Lacher said.
"So many people try to reason with someone with dementia. But you are challenging their reality, and no one wants to have their reality challenged. You have to go into their world," she said.
Her father will sometimes ask, "Did you get it fixed?" Lacher will have no idea what he's talking about, but nonetheless she reassures him: "It's fixed!"
One day he told her he was on "Star Trek" and had traveled to Atlanta. "Really?!" she asked him excitedly.
"He has an amazing imagination," she said. "He is zapped here and there."
For years, her father volunteered in the emergency room at RMC. A lot of times, that's where he goes in his mind, Lacher said.
Sometimes caring for her father can be overwhelming, and Lacher copes by "emotionally segmenting" herself. Her husband, Pat, handles some of the things that she can't bear to do. He visits her father every day, and helps feed him. "He does the things that would tear me apart," Lacher said.
'It's what we're called to do'
In September, when Florida was flooding in the wake of Hurricane Irma, Lacher visited her father and discovered that he was upset. "I went to help with the flooding, but I couldn't swim, and they got mad at me," he said.
"It's OK," his daughter reassured him. "They know you tried to help."
"But I can't rescue anybody."
"You're there for other reasons, then."
Caring for someone with dementia can be wildly unpredictable, Lacher said. One day something is suddenly gone that was there only yesterday.
"The hardest thing is the day they don't know who you are," she said.
"Sure, it's hard. Sure, it's tiring. But it's what we're called to do."