Slideshow: Steeples of Calhoun County, seen from above
Calhoun County brims with stories about steeples and their deeper meanings.
The steeple atop Pastor Ronny Moore's sanctuary was tall and sleek, a skyward beacon easily seen among the hills surrounding West Point Baptist Church in Jacksonville. Its color mimicked the clouds above. Windows adorned each side. At its apex stood a simple cross.
Today, it's gone, a casualty of the March 2018 tornado that devastated much of northern Calhoun County.
"We don't even know where part of it is at," Moore said. "We have searched and searched trying to find the old steeple. The old cross that was on top, we haven't been able to find it all."
When West Point Baptist rebuilds on Alabama 204 a few miles west of Jacksonville, it will feature a new steeple. A steeple-less sanctuary, often a sacrilegious thought among Christians, wasn't even discussed. "It was pretty much a given that we would be reinstalling a steeple on the new facility," Moore said.
Calhoun County brims with these stories — not stories about steeples lost in storms — but stories about steeples and their deeper meanings, if they indeed have deeper meanings for Christians and their houses of worship.
Like politics, steeples' importance within Christian faiths produces no universal opinion. Even clergy who pastor congregations with similar beliefs and worship traditions do not agree.
Seventeenth Street Missionary Baptist Church features a large, traditional spire that watches over its neighbors. Golden Springs Baptist Church features two steeples, kind of. First Baptist Church of Jacksonville owns a complex steeple that's stunning in size and scope.
But Hill Crest Baptist Church in Saks does not have a traditional steeple. Neither does Grace Episcopal Church, nor the Church of St. Michael and All Angels in Anniston. In truth, the steeple adorning Parker Memorial Baptist Church in Anniston, one of the city's architectural masterpieces, is part steeple, part bell tower.
Anniston First United Methodist Church features a steeple. Edgewood Church does not — but it does have a cross prominently displayed in its imposing front window. 
First Christian Church, Anniston, features a steeple. Anniston Full Gospel Holy Temple does not.
Oxford Church of Christ doesn't have a steeple. Neither does Victory Headquarters Christian Center in Anniston or Cornerstone Church in Choccolocco.
There are steeple-less churches, steepled churches, churches missing their steeple, churches repairing their steeples, and then there is Anniston's First Presbyterian Church, whose current steeple defines non-traditional and unique. 
Gone is the "Holy Molar" — the 115-foot stone-encased hollow tower that resembled an upside-down tooth and was dismantled in 2008. (In place since the 1960s, it leaked and its stones became dangerously loose.) In its place is a modern steel monolith that features bells and a Celtic cross.
"There is a history behind them," said Stan Albright, pastor of First Baptist Church of Oxford. "It has been proven that historically, steeples go all the way back to the pagan days before the church came into being. They are remnants of these things in Egypt and other places like that. That is one reason that some churches don't have steeples."
Churches judged by their appearance
Michael Cox, founder and pastor of Cornerstone Church, started that congregation with only a handful of members more than 25 years ago. His fingerprints are found throughout the church's large Choccolocco facility.
He's famous for wearing cowboy boots and riding a Harley-Davidson and eschewing the pastoral ritual of wearing a tie. And he's not a fan of steeples.
"To me, it's not that big of a deal," he said. "There's nothing in the Bible that says you have to put some type of landmark on your building to show people what you are."
Traditionalists may see Cornerstone's physical appearance as the antithesis of what they'd prefer. It's unapologetically modern, less a church structure than a gathering place for Christians. 
Cox's goal was to give Cornerstone an appearance that doesn't put visitors or church members "in a box" because of preconceived notions of traditional churches based on architecture. He doesn't want anything that would interfere with a visitor walking through the door. His church's affiliation with the Church of God, Cleveland, Tenn., isn't included on its signage, either. 
"I don't think pastors mean for it to be that way, but the truth is we do judge a book by its cover," he said. "People who are just riding by, they are going to pretty much put you in that box and say, 'I know who you are and what you are about just by riding by,' and that's not fair … We want to be a church that unchurched people want to go to."
A steeple, Cox said, is a symbol that denotes religion, "and I was one of those who (previously) got run away by religion." When he built Cornerstone, installing a steeple "didn't seem like a good use of money, and without a biblical presence, it wasn't necessary."
Like Cornerstone, Victory Headquarters Christian Center in Anniston, which opened in 2014, features no steeple.
"I don't place as much emphasis on artifacts or representations as I do being a Christian ministry," said bishop Charles Gregory, who also is principal at Anniston High School. "If you would look at the Scripture, in the first two commandments, God speaks that he is the Lord our God and we should have no other God before him, and then he says we should not make any graven images." 
Gregory's stance is simple. He wanted his church represented by the word "Christian" in the signage that adorns it — branding, in other words. "I did not necessarily want one on our church because I wanted something that was more modern-looking that would appeal to the logo of our church … I'm definitely not against it, but it's not something that was necessary."
Albright's church, Oxford First Baptist, doesn't have traditional steeples on its building, which was completed in 2000. He says they are "more like bell towers" that are "kind of short and squatty, but they do have a point on top." And if he were to build a new church today, he wouldn't install a traditional steeple on it, either.
Instead, he'd construct a multi-purpose building that was "highly usable" for a variety of events — conferences, worship services, gymnasium activities, meeting spaces — and acknowledges the realities of millennial and Generation X influences on formal religion. He envisions it would resemble a modern school that's open and inviting and devoid of claustrophobic hallways and small classrooms. Why spend money on an ornamental steeple, he asks.
"I'm 65 and people would probably think I'd be with the older generation, but really my heart leans more toward the younger generation and the way they see things," Albright said. "I just think it's a better use of the Lord's money."  
Steeples: cost vs. symbolism
Steeples don't have to be expensive, but many are. Online, congregations can buy a 10-foot "Affordable Church Steeple-in-a-Box" for $1,040 from Southeast Church Supply; assembly is required.
One of the Southeast's largest suppliers of fiberglass steeples, Fiberglass Unlimited in Roanoke, sells a collection of steeples, cupolas, baptistries and other ornamental devices, including a 36-foot, three-piece steeple that weighs 1,750 pounds, and a 9-foot, 5-inch, one-piece steeple that weighs less than most adult men. Prices, like heights and weights, vary.
Those fiscal realities often force pastors and church elders to weigh costs against symbolism. 
Consider the plight of Golden Springs Baptist Church, which recently removed one of its two steeples after a lightning strike rendered it structurally unsound. Plus, the roof was leaking around it, causing wood to rot. 
"If you look at the brickwork under it, you can see where the lightning blew the bricks out," Pastor Roland Brown said. The plan, he said, is to repair the damage and reinstall the cross that sat atop the damaged steeple.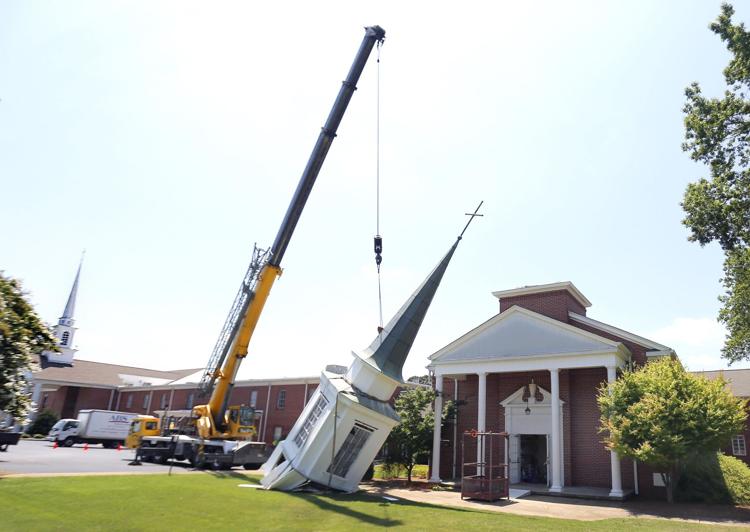 Over the mountain at Anniston's First Christian Church (Disciples of Christ), the Rev. Laura Hutchinson has a different quandary. Her church's steeple needs repairs, but finding a qualified steeple handyman isn't easy. 
"It's sort of a double-edged sword for me right now because my church is old and historic and I absolutely adore it. But I have a problem with spending a lot of money on a building instead of giving it to the poor," she said.
Back at Golden Springs Baptist, Brown believes steeples aren't critical for today's Christian churches, even traditional ones with older congregations. "It's not important at all," he said, "because all this is just architecture. We're the church; you're the church. If it's 100 years or a thousand years, it's just brick and mortar. It's not important at all."
Yet, the emotions many Christians feel when they gaze at a steeple gracing the roof of their church is undeniable, he said.
Steeples "remind us of where we came from. There are people here who remember them being put up. And it's not so much the structure but the memories of those people that they loved," Brown said.
"They're trying to get your head to look up. I think that is the primary reason we have steeples. It also should be a place where if you are driving down this road and you can say, 'I need help.' We're not always that way anymore, but we want to be."