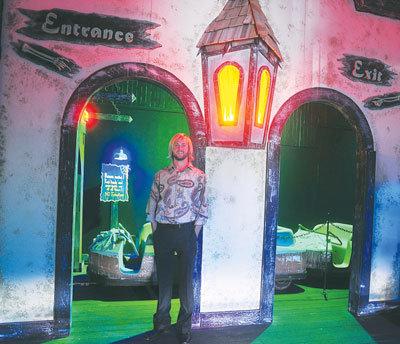 1. Terrortorium, 25 W. Choccolocco St., Oxford. Haunted house, Big Eli Ferris wheel and Haunted Castle Dark Ride (from the Miracle Strip Amusement Park Open every Thursday-Saturday, Sept. 29- Oct. 21, and Thursday-Tuesday, Oct. 26-31, starting at 7 p.m. Admission is $13 for Terrortorium, $7 for Haunted Castle Dark Ride, $5 for Ferris wheel, $17 for house and ride, $20 for all three. Info: Terrortorium Haunted House & Amusements on Facebook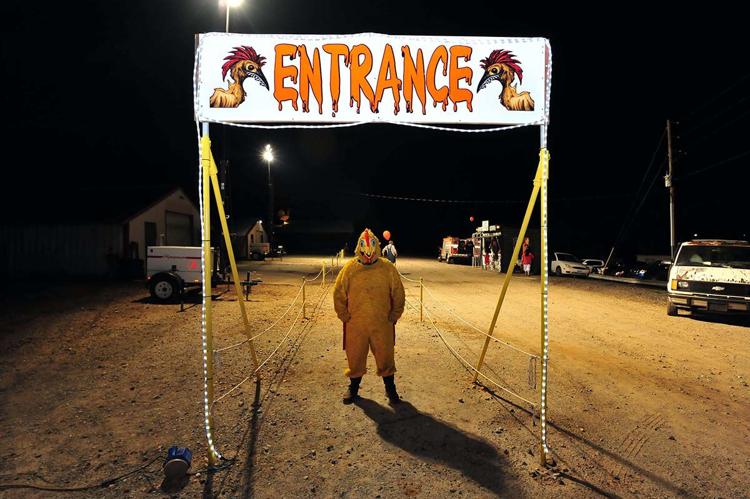 2. Haunted Chicken House, 7522 U.S. Highway 431, Heflin. Yearly Hollis Fire and Rescue benefit with haunted house, haunted hayride and a haunted walking trail. Open every Friday-Saturday in October, 7 p.m.-midnight. Admission: One attraction $15, two attractions $25, three attractions $40. Info: hauntedchickenhouse.net
3. Zombie Apocalypse Hayride, 3232 McIntosh Road, Oxford. Sponsored by Shooter's Alley, ride a trailer mounted with paintballs and shoot at live (well, moving) zombies. Ride is family-friendly and not overly scary. Open: Every Friday-Saturday in October, plus Halloween night, from 7 p.m.-midnight. Admission: $20 (ride and 200 paintballs); $30 (ride and 300 paintballs, plus chance to sit on the military truck pulling the trailer) $50 VIP ticket (400 paintballs, skip-the-line pass and a guaranteed seat on the Deuce and a Half). Info: oxfordzombies.com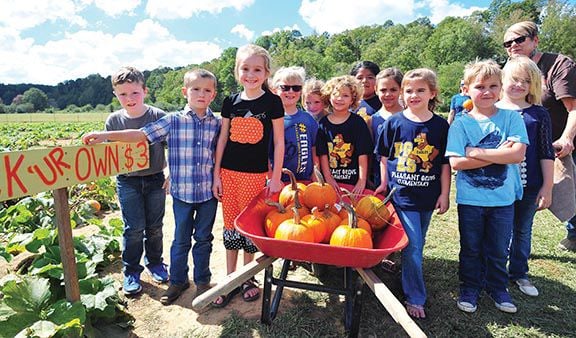 4. Bennett Farms Pumpkin Patch, 1073 County Road 13, Heflin. Pumpkin-picking, corn crib, double pipe slide, farm animals, hay bale maze, live bands 11 a.m.-1 p.m. Saturdays. Just off Exit 199 from Interstate 20. Open: Sept 30-Oct 29, 2-5 p.m. Friday, 9 a.m.-5 p.m. Saturday, 1-5 p.m. Sunday Admission: $10 per child (includes activities but not pumpkins); free for ages 1 and younger; $5 per adult. Info: 256-302-1896, bennettfarms.com
5. Flashlight Candy Hunt and Festival, Frogtown Soccer Complex (behind the Jacksonville Community Center). Oct. 24. Games and fun from 5:30-7:45 p.m., the candy hunt begins at 8 p.m. $5 per child ages 12 and younger; free for ages 13 and older. Info: 256-435-8115
6. Harvest Festival, Jacksonville State University Quad, Oct. 24, 4:30-7 p.m. Children are invited to the annual SGA Harvest Fest, when JSU students will provide free games and trick-or-treating. Wear your best Halloween costume for even more fun. Free and open to the public.
7. 9th Annual Tubaween Concert, Mason Hall Performance Center, Jacksonville State University, Oct. 25, 7:30 p.m. Join JSU's Tuba and Euphonium Ensemble, Encore! Show Choir and Steel Drum Band for a humorously spooky night of song and dance.  Free and open to the public.
8. Haunted Mason, Mason Hall, Jacksonville State University, Oct. 27, 4 p.m. to midnight. Mason Hall gets a ghostly makeover each year as part of the annual Kappa Kappa Psi fundraiser, Haunted Mason. Bring your friends to venture through the scariest haunted house in town. Tickets are $3 in advance or $5 at the door. Advance tickets may be purchased on the porch of Mason Hall during the day throughout the week. Proceeds benefit the music department.
9. Spookapalooza Weekend, DeSoto State Park, Oct. 27-29. A weekend of fun events including trick or treating, games, storytelling and more. All events are free to the public and great for all ages. www.alapark.com/DSP-Spookapalooza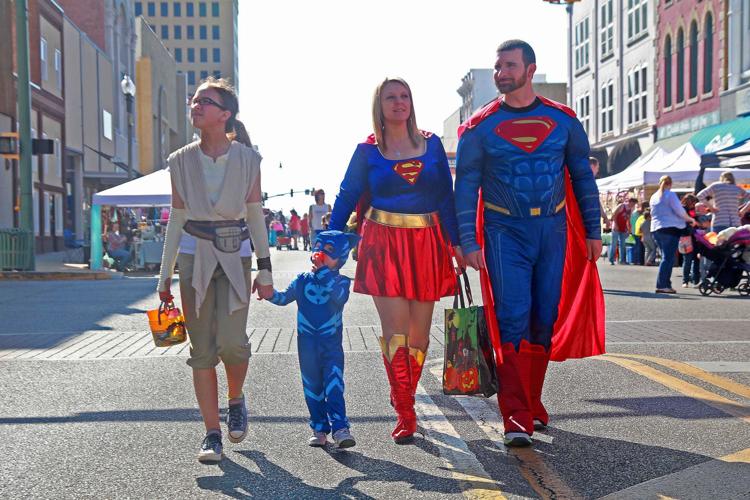 10. Neewollah on Noble, Noble Street, downtown Anniston, Oct. 28, 3-7 p.m. Family-friendly festival includes food vendors, arts and crafts, music, pumpkin painting, Kid Zone, contest and costumes.
11. Downtown Oxford Trick or Treat, Old Sears parking lot at Quintard Mall facing Highway 21. Oct. 28, 4-7 p.m. Info: mainstreetoxford.org
12. Imagination Place Fall Festival, Imagination Place Children's Museum, Hardin Center, Gadsden, Oct. 28, 10 a.m.-noon. The festival takes place in the Hardin Center's courtyard and will include a cake walk, a visit from the mad scientist, a photo area, games, face painting, treats and a mini pumpkin dig. Children are welcome to wear costumes, but they are not required. Select Downtown Gadsden merchants are also participating in the fun and will be handing out candy to trick-or-treaters. A map of the participating stores will be available and children must be accompanied by adults. The event is free with regular admission. Info: 256-543-2787 or visit www.culturalarts.org.
13. "Rocky Horror Picture Show," Public Library of Anniston-Calhoun County. Oct. 28, 7 p.m. Must be 18 or older to attend, with ID required. Those in Rocky Horror costumes will be invited to shadow-cast during the screening. Free admission. Optional prop bags may be purchased for $5. Info: publibann.weebly.com
14. "Hansel and Gretel," Oxford Performing Arts Center. Oct. 29, 2 p.m. Presented by the Jacksonville Opera Theatre, the classic tale of a brother and sister whose appetite for sweets gets them in trouble with a witch. Tickets are $8 and $12 and can be purchased online at oxfordpac.org.
15. Hayride and Campfire Stories, Frogtown Soccer Complex (behind the Jacksonville Community Center). Oct. 30, 5-7 p.m. Admission: $2. Info: 256-435-8115
16. Flashlight Candy Hunt, Norwood Hodges Community Center, 3125 Spring Valley Road, Anniston. Oct. 31, 6:30 p.m. Bring a bag and a flashlight. Free snacks and drinks. Awards for best costumes. Admission is $3 per child (12 and under).
17. After Hours Club, Houston Cole Library, Jacksonville State University. Nov. 1, 7 p.m. Join the Center for Applied Forensics for a screening of Episode 2 of "The After Hours Club," a documentary series focused on death in America. JSU's forensics experts are featured in this episode, which was filmed on campus.