For years, my brother Jack insisted that I give the "Harry Potter" novels a read. But I held my ground since, after leafing through it in an Australian bookstore, I had already rejected a book at that time called "Harry Potter and the Philosopher's Stone." "I'll wait for the movies," was my inevitable rejoinder.
But my brother has always been an extraordinary salesman, both professionally and personally. I finally caved. Suddenly he and I were talking about the series of novels, and I had to face how wrong I had initially been. The book that I had rejected again and again at my brother's suggestion had actually made me a believer by the end of its first chapter.
The Whitton brothers, though, were due for an even grander Harry Potter adventure.
It all started early last October, with a call from Jack. It seems that his son Jonathan, who works in New York City, had won the lottery. Well, not exactly the lottery, but the lottery that gave every "winner" the opportunity — within the half-hour time frame assigned them — to purchase tickets for the play that was destined to be the theatrical juggernaut in New York City that it had recently become in London.
"Harry Potter and the Cursed Child" was to open in a city that did not involve international travel, and I was being offered tickets.
Since I had recently retired, I leaped at the offer. Jonathan would join us for the play. It would therefore be the three Whitton Boys, er, Men, who would be seeing both parts of the play in one day in late May 2018.
With the what and the when quickly established, I thought the least I could do was volunteer to deal with the how. There should be a hotel in the heart of New York City. There should be a flight of no more than two hours out of Atlanta (near where I live in Jacksonville) or Charlotte (near where my brother lives in South Carolina).
Not a bad plan at all, really.
What was to follow, however, was two old brothers travelling by car to the magic of New York City, of Hogwarts, and of family.
Brothers negotiate. My brother and I always did and still do negotiate. A lot.
Jack: "No plane travel. Let's drive. I want to stop at the North Face Outlet in Hagerstown, Pa."
Me: "OK, if we're stopping at the North Face Outlet, let's leave early enough to have an extra night in New York."
Jack: "If we're leaving early enough to have an extra night in New York, let's drive my two-seater."
Me: "Well, since we're not flying, let's take my CR-V instead."
Jack: "Since we're taking your CR-V instead, let's stay in the Meadowlands in New Jersey instead of the city and take the bus in each day. It's only a 10-minute ride."
Me: "Since it's only a 10-minute ride, let's ..."
You get the idea: sibling exercise.
So we left South Carolina, traveling not from Track 9¾ and not on the Hogwarts Express, but from the Whitton home in my well-broken-in Honda before dawn on a Monday morning, the car loaded with one small rolling bag and one backpack each.
Our day-and-a-half drive turned out to be nearly 800 miles through nine states: South Carolina, North Carolina, Virginia, West Virginia, Maryland, Pennsylvania and New Jersey. It was a singular way to begin our new Harry Potter adventure.
After we settled in at our Meadowlands lodging late Tuesday morning, Jack treated me to the first of our daily (and nightly) bus rides through the Lincoln Tunnel. Those bus rides more than once seemed like Harry Potter's harrowing midnight bus ride in "The Prisoner of Azkaban."
Jack and I have been travellers to New York since we were kids. It's a city we've always been comfortable in. Our father grew up there, and we still have relatives there. We were allowed our first unsupervised visit when I was 18 and Jack, a bit younger.
So, Tuesday afternoon we wandered the streets for a couple of hours, even passing by the theater that we would be spending most of our Wednesday in. The theater might have been closed, but the Harry Potter Gift Shop attached to it certainly was not.
Inside — the walls stuffed with Potter memorabilia — were school ties and scarves, magic wands, books on how to deal with fantastic beasts. It was all meant to replicate an emporium along Diagon Alley.
We met Jonathan at his office at the Hayes Theatre, one of the three houses operated by Second Stage Theater, where he is associate general manager and where he also served as company manager for a recent production of "Lobby Hero," which starred Chris Evans (yep, Captain America) and Michael Cera.
The next day would be a full one. How to prepare for more than 5½ hours in the same theater seat? Well, a breakfast at the hotel and then a morning rest before heading into the city on the late morning "Midnight Bus" to meet Jonathan at a favorite diner that serves breakfast and daily specials at all hours.
The New York home of "Harry Potter and the Cursed Child" is the Lyric Theatre on 43rd Street. The new Lyric, which opened in 1997 as the Ford Center for the Performing Arts, stands on a site formerly occupied by two classic theatres on 42nd Street, the Lyric and the Apollo.
The Lyric Theatre underwent a complete redesign and transformation in preparation for the North American premiere of "Harry Potter and the Cursed Child" for its official opening on April 22, 2018. And there stood the three Whitton Boys, just one month later.
The initial question about the play is, of course, did it live up to all its hype? Indeed it did. In fact, it just won this year's Tony Award for Best Play.
Despite its often-expansive nature, the play also remains an intimate experience about coming of age — as do all seven of the Potter novels — and about the often-painful roles of both parent and child.
In the moving epilogue of "The Deathly Hallows," the final Potter novel, Harry, in middle-age (and now, the play tells us, Head of Magical Law Enforcement) and his wife, Ginny Weasley, place their younger son Albus aboard the Hogwarts Express along with Rose, the daughter of Ron Weasley (now a mostly stay-at-home father) and his wife, Hermione Granger (now Minister of Magic).
The play picks up from there, and concerns itself with Harry's escalating, often contentious relationship with Albus.
Albus discovers that same parental dynamic in a fellow student: Scorpius Malfoy, son of Draco, Harry's nemesis when both were at Hogwarts.
Voldemort also remains integral to the plot.
Add to that a subplot about another father desperately attempting to deal with his own son's decades-old death. And add to that another subplot about the fundamental dangers of bending time.
The magic of the production was astonishing. The day we saw the play, Jamie Parker, the actor playing Harry Potter, was greeted by thunderous applause before he uttered his first words.
Scenes faded out and in with cinematic elegance. At the end of Part One, magic quite literally spilled over the stage and into the audience from every conceivable direction.
There was about a three-hour break between Part One and Part Two of "Harry Potter and the Cursed Child." So far, the day spent with Harry Potter had been exhilarating. Even the trouble we had taking a picture outside the Lyric Theatre became part of the magic.
Taking a proper selfie was turning out to be hard on a crowded city street until Glenn Halcomb of Birmingham passed by. Glenn is friends with Jonathan and also has connections to Anniston. After he took the photo for us, Glenn wanted to catch up on "back home in Alabama."
Part Two of the play began with the audience anticipating more of the magic it had earlier experienced. Yet, the most moving aspect of "Harry Potter and the Cursed Child" is the care with which it concentrates on two generations: Harry, Ron and Hermione, now all parents, and their children.
So who is "the cursed child"? There won't be answers here. At the end of both parts of the play, audience members were given individual pins reading, "Keep the Secrets." Just know that the play's answer to the question is absolutely satisfying.
What can be expressed, however, is gratitude to the creators of a breathtaking theatrical piece: to J.K. Rowling for her ongoing inventiveness in giving us a world to believe in (and one that so beautifully reflects our own), to playwright Jack Thorne, director John Tiffany and their actors and designers for affectionately nudging that world into the intimacy of theater and making the experience of watching a play as deeply fulfilling as reading a Potter novel for the first time.
Steven Whitton is a retired professor of English.
---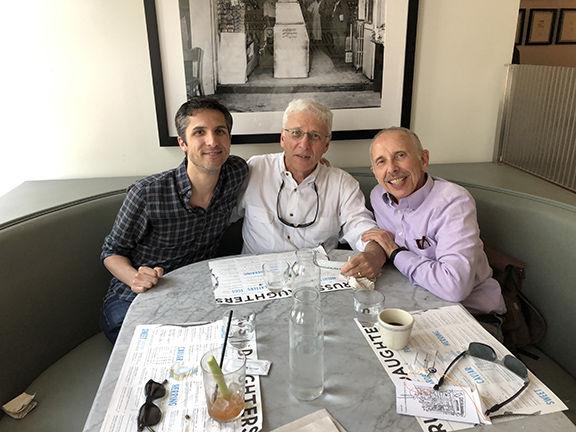 'Harry Potter' and the amazing knishes
The Days After Harry were filled with culinary adventures in New York City.
At the wonderfully boisterous Westway Diner on Ninth Avenue near 43rd Street, there's every kind of classic diner fare on the menu, from egg creams and milkshakes to steaks, hamburgers and deli sandwiches. Breakfast dishes, such as a tangy feta and spinach omelet served with crisp home fries, are ready to be tasted any time of the day.
Friday, especially, was an assortment of flavors.
A morning trek through New York's Lower East Side started with a stop at Bluestone Coffee at 41st and 8th. (Apparently this new chain is giving Starbucks a run for its money in the city.) Then we made the short walk to Bryant Park to take the F Train downtown.
We were lucky to get a last-minute brunch reservation at Russ and Daughters Café on Orchard Street. Since there was going to be a 45-minute wait, we walked over to what I knew to be the definitive reason we were on the Lower East Side.
The Pickle Guys, in an L-shaped storefront on Grand Street, is stuffed with nearly two dozen brine-filled barrels of every variety of pickle and olive, not to mention turnips, green tomatoes, green beans and okra.
The store motto is "Smells Great. Tastes Better." While we were there, a woman seemed to be pressuring The Pickle Guy for "a taste." Finally, he looked her in the eye and told her: "One pickle, one dollar." (Lest The Pickle Guy be thought of as too tough a businessman, a little girl pushing a dolly in a carriage soon after departed his shop clutching a pickle with his compliments.)
Let's put the next experience as straightforwardly as possible: Russ and Daughters ain't no ordinary café. There were knishes (fancy potato dumplings served with both apple sauce and sour cream) followed by "boards" comprised of smoked fish (salmon or sable), cream cheese, onions and tomatoes and capers, bagels or bialys. Even vegan diets can be satisfied with elaborate salads.
Then it was on to the Russ and Daughters Shop on East Houston (pronounce it "How-ston") to find everything from cheeses to dried fruits to nuts to nearly any other food delicacy you can name. Backpacks ended up full of pickles and foodstuffs to transport back home.