How can we keep the spirit of Christmas cheer and giving aglow after the last candle grows dim? I have two suggestions: First, follow an Anniston family's example in creativity by placing 24 trees in your home. And second, see an oil painting in Nunnally's art exhibit that motivates giving for good causes all year 'round.
Although the familiar German carol derived from "O Tannenbaum" (fir tree) was written by an organist in Leipzig, Germany, in 1824, you would think the lyrics were written for Jean and Cliff Corlett.
The two twinkling trees on the front porch of their home in Golden Springs are but an introduction to what's inside. The couple has put up 22 more trees, each one with a theme. Guests don't merely step inside to enjoy the ornaments and the miniature village, and the decorations on tables, above fireplaces and throughout. They take a tour.
"This year I began decorating in late October and finished Nov. 2," Jean said. "It was a good feeling to know the decorations were in their places of honor. It gave us more time to enjoy them."
These pieces of holiday finery have given them pleasure since 1969, when the serious decorating started. Jean and Cliff moved to Anniston that year and knew it was their future home.
There is a Victorian tree with china teacups and pitchers, a Silver tree with eight Thomas Kinkade Santa Claus ornaments and a White tree with objects that rekindle memories of Jean's teaching days at Faith Christian School. Other themed trees include War Eagle, Grandchildren, International and Teddy Bears — so many bears that they spill out upon the hearth.
Two Angel trees are especially pretty, complete with china angels, porcelain, lace and crystal. But look to the Music tree to know about Jean and Cliff and their musical lives.
The tree contains bells from Jean's 28 ½ years directing six different handbell choirs at two churches. The branches also hold song sheets, saxophones, pianos, carolers, drums and flutes. (Jean played the flute in the Parker Memorial Orchestra.)
If the Corletts keep an album of places and people they have served musically in the area, it must be bursting. She has directed choirs, served as organist, soloist or pianist when needed at 12 churches, worked with high schools, elementary schools, JSU, directed music for CAST, provided music for civic events and now teaches music to kindergarteners at the Church of the Good Shepherd Presbyterian, where she is also organist, pianist and choir director. In addition, she sings in the Calhoun County Civic Chorale and Oxford Community Chorus.
"Music has been my passion since I was 6 years old and started piano lessons," Jean said.
A violin in the living room recalls Cliff's days as a violinist. In past years he was owner of Evangel bookstore (in downtown Anniston), where Christian music was sold.
If an active love for melody and creativity are yardsticks for a productive life, then it's already been a life well lived for the Corletts.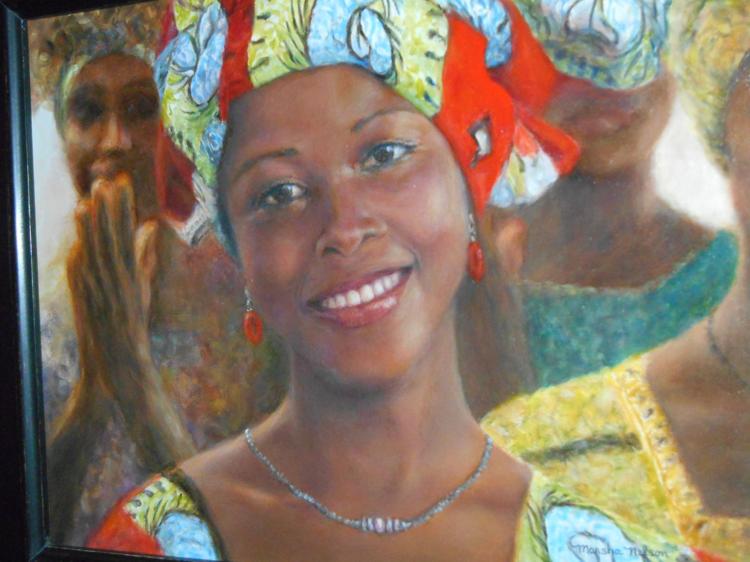 'Life Restored' at Nunnally's gallery
The current exhibit at Nunnally's Noble Frame and Gallery is full of adventure and knowledge if you spend some time there to look and learn about the art.
An oil painting not far from the Featured Artist's alcove caught my eye. In the painting titled "Life Restored," a joyous woman gave me reason to pause. She's evidently excited, I thought, about something. There's a personal celebration going on here and the feeling is contagious.
Several years ago Marsha Nelson, the artist, read a story in a church periodical about this young woman. She contacted the article's writer and received permission to depict the woman.
"She was from a remote village in Africa," Nelson explained. "She had suffered a devastating injury during childbirth that had left her as an outcast in that culture. Someone had helped her travel to a charity hospital, Mercy Ships, where she was given a surgery that restored her health."
Mercy Ships, based off the coast of Africa, and Fistula Foundation, of San Jose, Calif., are organizations that treat childbirth injuries in the poorest populations in Africa.
"My painting shares a wonderful story of healing and a new life due to people's interest and generosity," Nelson said. "I felt blessed to paint the young woman. My prayer was that I could express the joy she felt."
Nelson has 15 paintings in the Nunnally's display, as well as another 19 in an exhibit at the Public Library of Anniston-Calhoun County organized by East Alabama Artists, with the support of Nunnally's.
Foothills Piano Festival recital
Argentinian Marcelo Lian is the next featured musician in the Foothills Piano Festival series. The recital will be Jan. 13 at 3 p.m. at First United Methodist Church of Anniston.
"I invited him on the recommendation of our visiting instructor Julio Barreto, a fellow Argentinean," Wendy Freeland, festival coordinator, said. "This year's Foothills Piano Festival has brought us chamber music and a performance of a concerto. Now, audience members will enjoy a traditional piano recital including works by Bach and the famous 'Pictures at an Exhibition' by Modest Mussorgsky."
More about the recital in a future arts column.