For young artists and actors, exploring the direction of their training can spark growth. And later, the exposure and recognition of their work encourages them even more. For area students, an art exhibit this month and art camps in June could be just the opportunities that fuel their artistic future.
Oxford City Schools Art Exhibit
The Oxford City Schools Art Exhibit in the Martin-Lett Gallery at the Oxford Performing Arts Center was coordinated as a platform to present the creativity, talent and diversity of students in preschool through 12th grade, and to give recognition to students who have shown special progress in artistic technique.
The display, an annual event that showcases Oxford student art, will be up through May 22.
Besides learning from dedicated instructors Teresa Edwards, Michael Taylor-Phillips and Anita Ambrister, the students had two advantages: Visual arts instruction is offered to every student in the school system — 4,100 students in all — and their pieces have been professionally framed, due to funding from the Oxford City School Foundation.
"The school system puts great emphasis on the arts," said Cindy Lett Williams, president of the foundation. "Music is also offered to each student."
Ambrister's reward for teaching each year is seeing her fifth- and sixth-graders interested, even excited, in finding out what the land and people were like before Alabama became a state. "After our discussions, they choose what interests them the most. Then they do research on that," she said.
Looking at art and local history
To complete the Hometown Project educational unit, the students focus on landmarks and people, making sure they know the "then and now" of each.
"I want them to realize the importance of our history," Ambrister said.
The students were fascinated by two legends of Blue Pond, a neighborhood subdivision behind Center of Hope on U.S. Highway 78, which involved gypsies and Native Americans.
Hometown Project also coincided with the future traveling Oxford Bicentennial Exhibit, which will be about past people who made a contribution to the town. City planning was also a subject that Ambrister's classes touched on, the teacher said.
Birds at Choccolocco Park have been another focus, primarily because of the history of the parkland and its connection with Native Americans. Bird-watching is a popular activity at the park, too, the students learned.
Their study of design, shape, space, textur, and color took on added importance for their pencil drawings of birds. "The fine lines for drawing their feathers was essential," Ambrister said.
Ambrister will retire at the end of this semester after teaching for 40 years. "My goal has been to lay a solid foundation in visual art and hope the student rises to the next level," she said. "I have explained to them why an oil or watercolor is much more than something you just hang on the wall."
Art pieces at the elementary level in Edwards' classes were selected on the quality of artistic composition and overall design, creativity, overall impression and how the piece stands on its own, also incorporating the elements of art. They were created with paint, tempera paint, watercolor, marker, pencils, construction paper, soft chalk and pastels.  
Jacksonville State University faculty and graduate students will teach classes and lead workshops on visual art and musical theater for high school students June 23-28 in Hammond Hall and the Stone Center.
The programs are geared to students who are seriously considering enrolling in these subjects in college. They will give the students an idea of what the college-level experience in visual art and musical theater will be, according to Morgan Worsham, camp director.
The two camps will be going on simultaneously. Those enrolled in both will be able to have meals and recreation together. Students may sign up for a residential dormitory stay, or they may come from 9 a.m. to 8 p.m. each day.
For more details on registration and what will be taught, visit the program's website at www.jsu.edu/gasp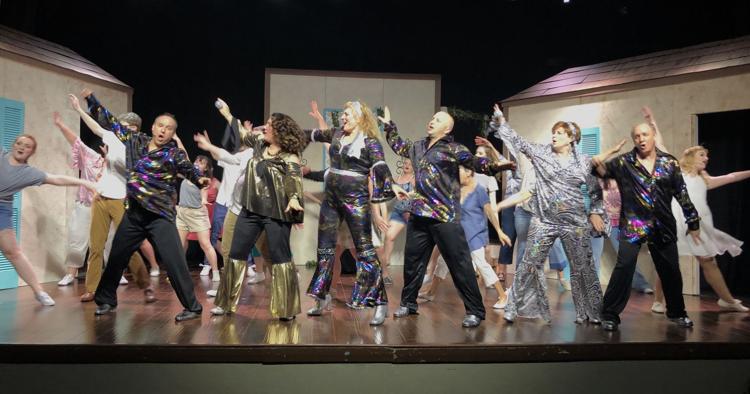 Final performance for 'Mamma Mia'
With singing, acting and dancing by a cast of 32, the musical "Mamma Mia" is a feel-good show that moves quickly and musically, according to Brian Rothwell, director of the musical for CAST community theater. "It's a good ride, all the way," he said. "It's well worth coming to see."
The title is taken from an Italian expression that means "Mom mine," which expresses something like "It's unbelievable!" in English. The plot tells the story of a bride who longs to discover the identity of her true father before she walks down the aisle to get married. The bride, the daughter of a once-rebellious single mother, secretly invites three paternal candidates to her wedding.
The final performance will be at McClellan Theatre at 2:30 p.m. today. The musical is rated PG-13.Tickets are $20 for adults, $15 for seniors and military, and $10 for students.