The language of art speaks in several tongues and in several flavors this fall. The Tailwaggers Gala on Saturday night featured ballroom dancing exhibitions that represented several countries. … With her drawing on the cover of the new Knox Concert Series program, Susan S. Roberts is giving the concert line-up a colorful and celebrative edge … "Hello, Dolly!," opening Oct. 11 by CAST, will use song and dance to tell the story of Dolly Levi, a matchmaker and an independent woman ahead of her time.
The Tailwaggers Gala was presented by the Abracadabra Ballroom Dance Studio (1111 Noble St.) on Saturday at the Anniston Country Club. The gala benefitted the League of Animal Welfare. Wayne Willis, mayor of Weaver, was master of ceremonies.
Couples from classes danced the Viennese waltz, the samba (which originated in Brazil), the cha-cha (which has its roots in Cuba), the foxtrot (created by African-American musicians), the rumba (a Latin dance with Afro-Cuban origins) and the East Coast Swing, based on the Lindy Hop, an American dance.
Another highlight was the tango exhibition, a dynamic dance with a staccato feel, first created in Argentina.
Perhaps French composer Camille Saint-Saens' musical fantasy "Carnival of the Animals" — or a festivity like it — took place in the animal shelter later that night. Once our furry friends heard that over $3,000 was raised, they decided to have their own show.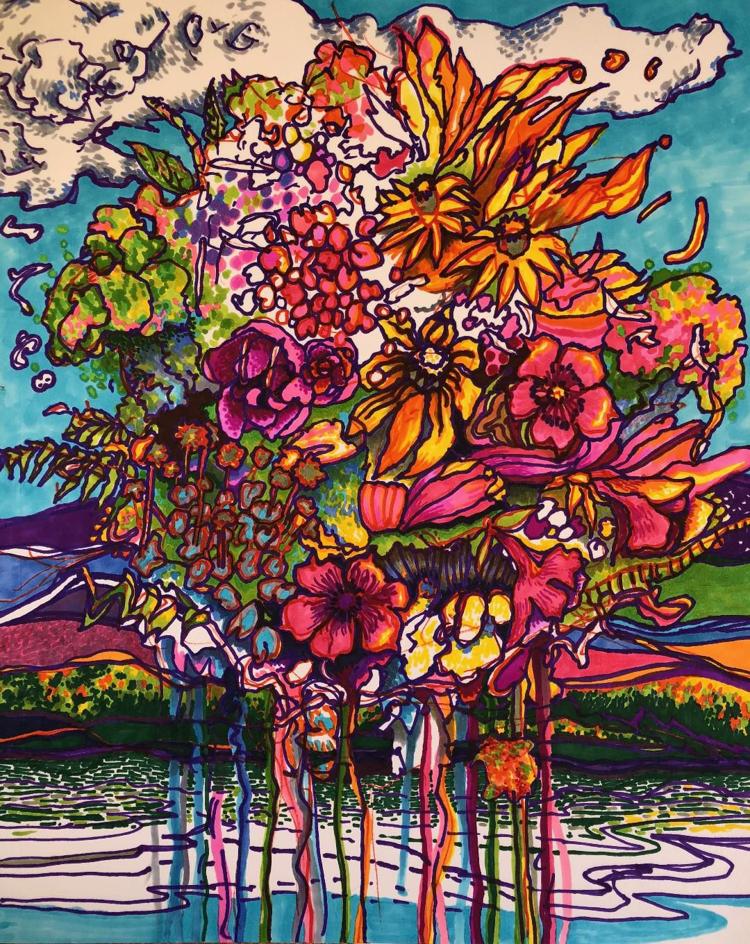 "Floating" is the title of Susan S. Roberts' drawing on the Knox season's program cover. Her display of color is likened to the display of fun and beauty offered by the coming series of concerts, she said.
The different hues — and the different types of music — have different effects on each of us. In other words, her drawing is a reflection of the changing moments of feelings as we see the performances throughout the year.
The artist, a native of Tuscaloosa, now maintains an active art studio in Anniston. She works in painting, drawing and mixed media. Roberts completed her master of fine arts in studio art at the University of Alabama in 2007 and holds an MA degree in art education from the University of Alabama and a BS in art education from Jacksonville State University. From 1993-2003 she was a full-time art instructor and art department chair at Gadsden State Community College.
"Floating" is a mixture of reality and surreal, Roberts said. "It's my reflection on colors and sounds as I think of 'Artrageous,' the concert coming up Nov. 8, and the music of the 1960s and 1970s for this season," she said.
This is the organization's 73rd year to bring world-class music of many genres to northeast Alabama and a high note in Anniston's cultural offerings, in her opinion. "I decided to push the colors to their brightest," she said.
Also, after reading her artist's statement, it seems to me that her interest in nature and the art process align with Knox's development and history: "I am interested in how colors, depth and the fluid qualities of paint can communicate about growth, change and persistence."
CAST presents 'Hello, Dolly!'
First, it was thrilling to get parts. Now it's clear that much work follows the thrill before the CAST production of "Hello, Dolly!" has its opening night Oct. 11 at McClellan Theatre.
Two cast members in particular are relishing every moment of developing their characters. Jenny Wall as Dolly Levi and Forrest Hinton as Horace Vandergelder say their roles are challenging but lots of fun.
Dolly Levi is a widow, seemingly meek and mild but with a brilliant mind. "She is a businesswoman, strong-willed and very independent in a time — the late 1800s — when women didn't have that much freedom," Wall said. "She is a matchmaker who helps those looking for a mate. When Horace Vandergelder requests her services, she realizes that this 'half-millionaire' would make a good catch for herself."
Forrest Hinton, who portrays Vandergelder, is experiencing his first production with CAST. "Horace is a crusty old man and set in his ways. But as time passes he grows into a pretty nice guy," Hinton said.
Wall will be busy during the next few weeks. Not only will she be tackling the principal part, but she is now choral director at The Donoho School.
"Great actresses have played this role," she said, mentioning Carol Channing and Barbra Streisand as Dolly. "Inventing my own 'Dolly' will be an interesting goal."