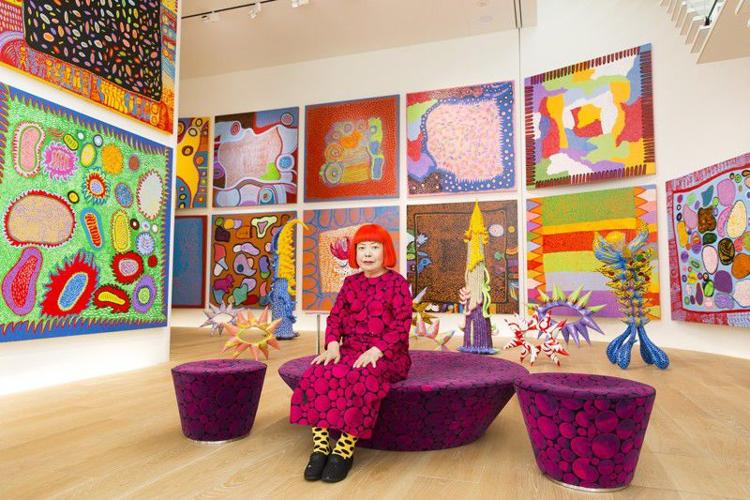 Yayoi Kusama is as important an artist — maybe more so — than Andy Warhol. They both worked in New York City at the height of the pop art movement. If you've heard of Warhol but not Kusama, that might be because one of them was a white man and the other is an Asian woman.
Now in her 80s, Kusama is enjoying newfound fame, thanks in part to a retrospective exhibit called "Infinity Mirrors," which is at the High Museum in Atlanta through Feb. 17.
Advance tickets — more than 120,000 of them — sold out in less than 24 hours. (A limited number of walkup tickets are available each day. People have been lining up for these starting at 5 a.m.)
Why the phenomenal interest in an artist whose name many of us don't know how to pronounce? (ya-yoy ku-sah-ma)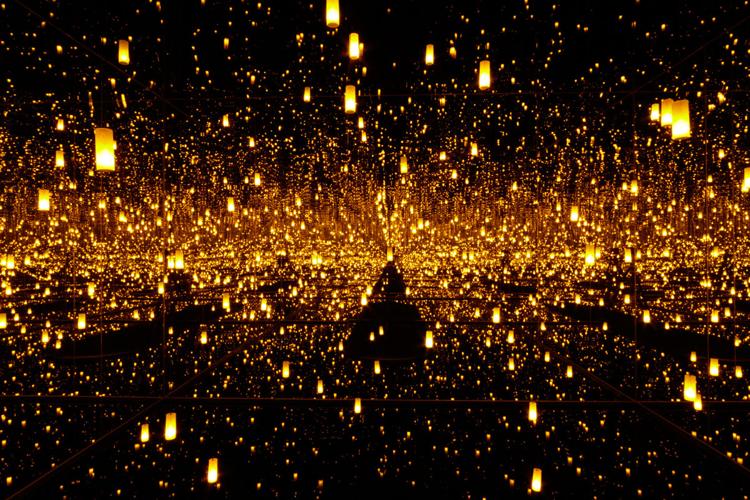 Kusama has made more than 20 of these immersive art environments, in which viewers enter small rooms lined with mirrors, which seem to endlessly reflect whatever is in front of them, usually hundreds of colored lights or polka-dotted objects. (The polka dot is to Kusama as the soup can is to Warhol.)
There are six Infinity Mirrored Rooms in the exhibit, the most ever shown together. You might have seen photos of them on Facebook or Instagram. It's an idea tailor-made for selfies.
Mika Yoshitaki, a curator at the Hirshhorn Museum in Washington, D.C., and organizer of the exhibit, thinks that, in our virtual reality world, people are intrigued that "Kusama is able to use mirrors to create infinity in an analog space."
Michael Rooks, a curator at the High Museum, said people have been asking him, "What's so special about this show?"
"There are as many answers to that as there are visitors to the exhibit," he said.
I went into "Infinity Mirrors" thinking it would be fun pop art filled with bright colors, happy polka dots and cool mirror tricks.
Instead, I found myself coming face to face with my own mortality.
I rode up in the elevator with one of the exhibit designers for "Infinity Mirrors." "It's been like coming to work at the Wonka Factory," he said.
Sure enough, the elevator doors opened onto an explosion of color and form. These are recent paintings and sculptures by Kusama, now 89 years old and creating art every day in her Tokyo studio.
Off in the corner sits a large white box with a door. From the outside, the fabled mirror room looks like it could be a large storage closet.
Kusama created her first mirror room in 1965. Called "Phalli's Field," it has been re-created for this exhibit. She had been making art by covering pieces of furniture in hundreds of soft fabric "tubers." She was obsessed with the idea of repetition, but she was also getting tired of sewing and stuffing thousands of tubers. And then one day she realized she could create repetition with mirrors.
Inside "Phalli's Field," the walls are lined with mirrors, and the floor is covered with hundreds of stuffed fabric tubers, white with red polka dots, spreading out in all directions. It's supposed to be hallucinatory, but also funny.
Visitors can go in one at a time, and stay for only 20 or 30 seconds. There is an attendant present outside each mirror room.
Upon entering, my first thought was of me. There I was, reflected an infinite number of times. Me me me me me.
Just as I was beginning to contemplate the loss of my uniqueness, the attendant opened the door and ushered me out.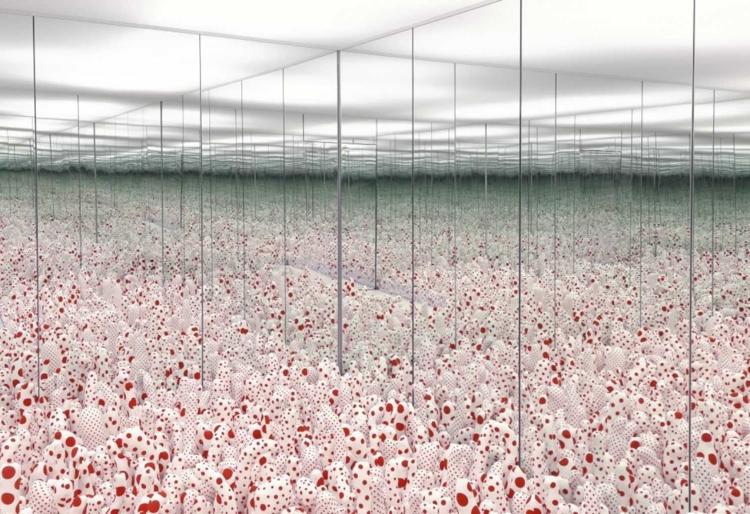 The mirror rooms are dazzling, but if you want to know what they mean, you need to spend some time with the other works in the exhibit.
In the 1950s, while the men pop artists were making big, bold gestures, Kusama was making small gestures. Starting with a dark background, she would paint tiny curved lines, over and over and over and over again, forming a pattern that ended up looking like lace.
Kusama called these paintings "Infinity Nets."
In art terms, the dark areas between the lines — the holes in the net — is "negative space."
Those dark holes of nothing? Those became the polka dots.
One of the Infinity Nets in the exhibit is actually only a small piece of a giant painting. In 1960, Kusama was attempting her largest painting ever. For up to 60 hours at a stretch, she would make her tiny brushstrokes, over and over and over and over again. When it came time to install the painting, it was too big for the wall. So Kusama lopped off a strip at the bottom.
Up close, the brushstrokes are messy, inconsistent. Evidence of the artist's hand. "Kusama was here."
"Wait a minute," I thought. "Is infinity inside the net — or am I inside the net?"
On an adjacent wall hangs a 2001 painting called "Accumulation of Stardust." (From stardust we came, to stardust we shall return.)
It's an abstract painting of polka dots, repeated over and over and over and over again. But these polka dots are shaded to look like spheres. And they're red. They look like blood cells jostling around in an artery.
"Wait a minute," I thought. "Am I the net?"
If you look infinitely inward, aren't we all just balls of energy arranged into patterns?
It can be scary to contemplate the polka dots of nothingness.
Unless you put them on pumpkins.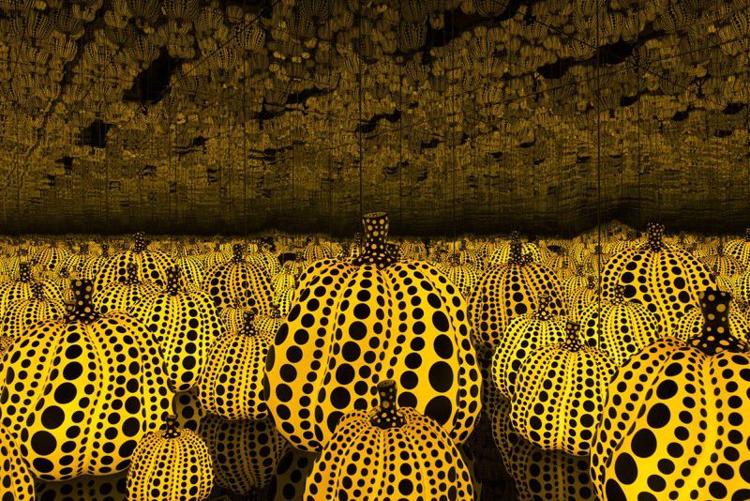 Perhaps the most famous of Kusama's mirror rooms is "All the Eternal Love I Have for the Pumpkins," filled with dozens of glowing yellow pumpkins patterned with black polka dots.
There was an unfortunate incident in the pumpkin room when this exhibit was at the Hirshhorn last year. Someone taking a selfie tripped and damaged a pumpkin.
Photos are no longer allowed inside the pumpkin room. Also, an attendant must accompany visitors into the room.
My attendant stood quietly behind me while I admired the infinite pumpkins. I asked him how many times a day he had to come into this room, over and over and over and over again. "Four hours at a stretch," he said. "I never get tired of it."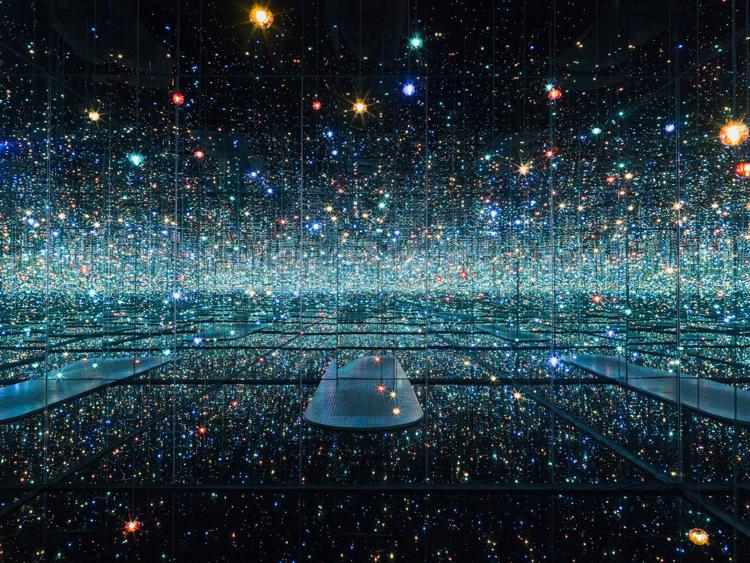 "The monotonous repetition may seem meaningless, but it keeps infinity at bay," Kusama once wrote. "Until finally, near the end of the journey, you are perhaps ready to embrace infinity."
Standing in line for the mirror room "The Souls of Millions of Light Years Away," I could glimpse infinity through a crack as the attendant opened the door for the people ahead of me.
When it was my turn, the attendant warned me the lights inside would go out. She didn't tell me when. Or for how long.
It was ethereally beautiful inside. Hundreds of tiny lights hung from the ceiling, flickering like stars. I looked up, and it was pitch black. I looked down, and the stars beneath my feet went on forever.
Kusama's message, according to the exhibit curator, is that "if you can overcome anxiety in the face of infinity, you can find peace and transcendence in the face of the afterlife."
You can greet death as an old friend.