In its first week at the Louvre, "Vermeer and the Masters of Genre Painting: Inspiration and Rivalry" was such a hit that 9,400 people were herded through its galleries. The crowds were so large the Louvre had to issue timed passes for the first time ever. Why all the hoopla?
Not the hottest artist during the Dutch Golden Age, Johannes Vermeer now gets top billing everywhere in the art world, thanks to his luminescent paintings and mysterious life (few records exist). This combo has produced multiple novels about him, as well as the 2004 movie "Girl with a Pearl Earring," starring Scarlett Johansson and Colin Firth.
This newest exhibit is currently at the National Gallery of Art in Washington D.C. Showcasing 10 exquisite Vermeer paintings (two more hang in the National Gallery's collection), the exhibit also includes 55 works by Vermeer's contemporaries Gerard ter Borch, Gerrit Dou, Pieter de Hooch, Gabriel Metsu, Frans van Mieris, Caspar Netscher and Jan Steen.
Although they lived in different towns, these friendly rivals reveal their relationships in their works. Viewers will see that they "stole" from each other ideas about technique, composition, style and subject.
Due to Ter Borch's promotion of a new manner of genre painting in the 1650s, this group of artists composed scenes in posh home interiors, primarily featuring upper crust Dutch women wearing elegant clothing while doing domestic chores. This was called "modern" art back then, and it was a drastic change from traditional art involving religious or mythological scenes, royalty and battles, among others.
Between 1650-1675, the Dutch Republic's vibrant global economy — based on shipping, a prosperous merchant class and new scientific discoveries — produced an affluent society. Wealthy people craved art for their walls that showcased interiors as fashionable as their own.
New developments in telescopes and microscopes excited those studying scientific pursuits. Dou's small painting "Astronomer by Candlelight" from Los Angeles' Getty Museum and Vermeer's much larger "The Astronomer" from the Louvre greet visitors at the exhibit's entrance. Each astronomer has his hand on a celestial globe and is intently pursuing his studies, but the artists' composition is as different as the lighting.
A handsome painting from Frankfurt, Germany, completes the entrance trio. Vermeer's "The Geographer" is often considered a mate for "The Astronomer." But the paintings are slightly different sizes, so the National Gallery hung the Dou between the two Vermeers — which are the artist's only paintings spotlighting a single man.
The similarity of Vermeer's "Woman Holding a Balance" and Pieter de Hooch's "Woman Weighing Coins" is undeniable. Who created his painting first, we will never know. Vermeer's style produces a hushed, tranquil scene. Sometimes called "Vermeer's Madonna," this woman is totally absorbed in the balance's slowing movement. His magical illumination highlights her beautiful face and the shiny coins and beads on the table. That radiant face reduces de Hooch's effort to just a nice painting.
The stunning execution and use of light are often what attract people to Vermeer's works; then they are drawn into the paintings' worlds. Compare his brilliant perspective in "Woman Writing a Letter, with Her Maid" and pricey palette in "The Lacemaker" with Ter Borch's efforts in "Woman Writing a Letter." Though different on many levels, each has a mesmerizing allure.
All three paintings emphasize the women's earnest focus. Elegant imported table rugs help ground the images. Vermeer's lighting in "Woman Writing with Maid" is outstanding; her pearl earrings glow, as do the pearls threaded into the lacework cap on her head. And his "Lacemaker" is no hired seamstress. Her delicate lace collar and intricate hairstyle — underscored by Vermeer's signature yellows and blues — reveal her social status. Yet Ter Borch's "Woman Writing" is no slouch either. Well-lighted, she's surrounded by opulent furnishings as she concentrates on her letter. Tor Borch's painting definitely holds its own against the Vermeers.
The exhibit will be at the National Gallery of Art in Washington D.C., through Jan. 21. It took seven years to get this exhibit up and running. It takes time to cajole major museums in Europe and the United States to allow their premier masterpieces to leave home. It's doubtful that this many Vermeers will ever be together again.
Mary Eloise H. Leake is a freelance writer living in Anniston.
---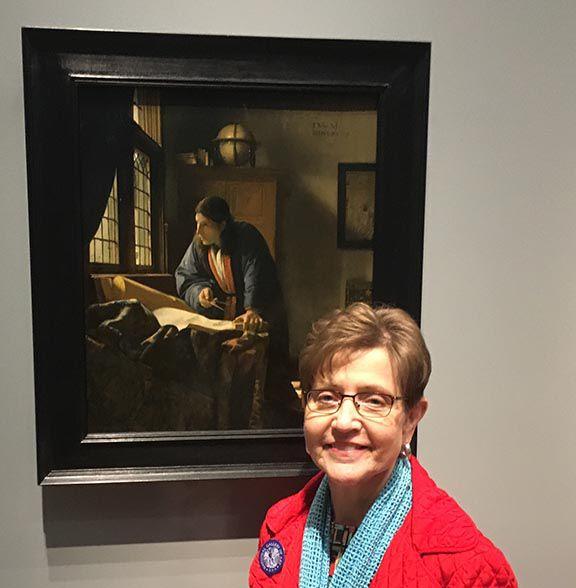 On a quest to see all the Vermeers
I am passionate about the Dutch Golden Age artist Johannes Vermeer and hope to see all of his paintings before I die. My husband, Jerry, is enabling this adventure, which started in 2004 in Jackson, Miss.
We had traveled to see the exhibit "The Glory of Baroque Dresden" at the Mississippi Arts Pavilion. Among "Dresden's" riches were 20 Old Masters' paintings. When I spotted Vermeer's "The Procuress," that was it. My torch was lit.
His only risqué painting, the vibrant red of the handsome soldier's jacket and the buttery yellow of the rosy-cheeked "lady" grabbed my psyche in a way that only the artist Georgia O'Keeffe's work had done. "The Procuress" is still in the top three on my Vermeer list.
To compare output, Van Gogh died at 37 but created over 900 paintings in the last decade of his life. Vermeer died at 43, but only 36 of his works are known to exist. And he signed only three of those.
In addition to being a painter, Vermeer was a busy innkeeper and art dealer. Plus he sired 15 children, 11 of whom lived. No wonder he painted slowly.
Not until 2011 did Jerry and I start opting for vacations that included places showcasing Vermeer's artwork. We saw his largest painting, "Christ in the House of Mary & Martha" in Dublin, Ireland. At the Rijksmuseum in Amsterdam, Netherlands, we saw three more, including "The Milkmaid" —  which speaks to my soul, and is another pick in my personal trilogy.
Often called the "Dutch Mona Lisa," Vermeer's "Girl with the Pearl Earring" has my top spot locked up. An incredibly beautiful, haunting work, I met her at the High Museum in Atlanta in 2013. Since this word-famous painting was hung in a gallery by itself, I could examine it closely. Then I simply sat down and just experienced the wonder of her for almost 20 minutes.
In the spring of 2015, the traveling exhibit "Small Treasures," which boasted some Vermeers from the National Gallery of Art, enticed us to the Birmingham Museum of Art. His "Girl with a Red Hat" stole my heart because she looks so much like my mother.
Jerry and I have notched 26 out of the Dutch Master's 36 paintings. Since one was stolen and another is in a private collection, I am now in hot pursuit of the final eight!