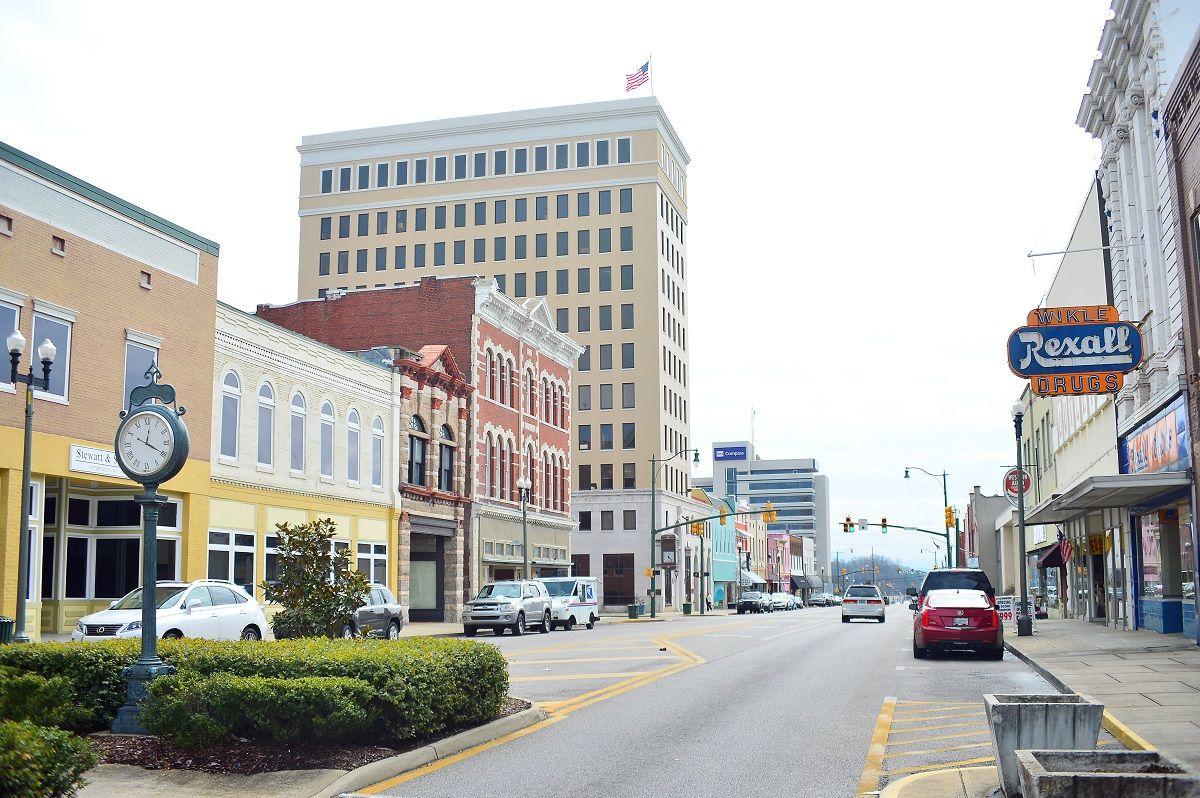 Positive vibes and downtown Anniston's 'resurgence'
This is a tale about an Alabama city whose downtown carries scars of decay and glimmers of hope. There, decay comes easy and hope requires money and civic types believe better days are ahead.
There's an organization — a redevelopment authority, it's called — that harbors grandiose visions. Here's one: In 2029, that place will be the most beautiful, livable city in Alabama, it says.
A hint: This city isn't on Interstate 65. So keep guessing.
The redevelopment authority gets $200,000 a year from city government. Last year, for instance, it agreed to turn a vacant hardware store into a downtown visitors center and began The Hub, a downtown cooperative workplace.
Now, close your eyes (figuratively) and read these passages from a story this week in that city's newspaper.
"Several (authority) members mentioned dilapidated, vacant buildings, poor landscaping and/or overgrown lots … as a major challenge to downtown revitalization momentum ...
"Members said Wednesday they would like to see the acquisition of more properties to market to investors, the exploration of a major attraction downtown and the beautification of major gateways into downtown ...
"Solutions discussed included code enforcement or revision, pressure on negligent property owners and small beautification projects in some of the areas owned by the city or (the authority) ...
"While members said Wednesday that they did not expect construction of a downtown major attraction within the year, they did hope to be able to coalesce around a project and see forward movement …"
And the punchline, courtesy of the authority's chairman, Pat Thomas: "It's time to put a lot of this together and move on some of the things we have been talking about for what seems like dog years."
It's Dothan.
It could be Anniston.
Anniston's maligned downtown has been under varying forms of revitalization, real or imagined, for five decades. It's the city's never-ending quest: What should we do with Noble Street and Quintard Avenue? Think that's hyperbole? Well, in 1966, the city held a "downtown improvement meeting" and imported an expert who researched Anniston's plight. "The picture he painted of Anniston was not a pretty one," The Star reported the next afternoon.
Darn right. Oxford's Quintard Mall opened four years later and sucked away businesses and customers. Downtown shoppers fled Anniston's core for other locales — Golden Springs, Oxford, Saks, Jacksonville. And the city's ability to prop up a declining corridor rose and fell, sporadic successes and recurring disappointments. At least the city trashed those blasted monkey-bar beams that at one point crisscrossed Noble Street and were considered a modern improvement, though I'm not sure how.
Today, downtown Anniston is hipper than it's been in years, with more options to eat, drink, shop and hear live music than at any time in my nearly 30 years in Calhoun County. There's even a burgeoning scene for loft apartments. It's a testament to persistence. But only a rose-tinted homer would say downtown is altogether swell, because it's not.
In other words, Anniston — like Dothan — still suffers from blight and vacant buildings and unused office space and missed opportunities. Public opinion is a family reunion gone bad: Downtown Anniston is either a happening place with a bright future, or it's a hopeless cause. Fence-sitters are absent. And Anniston is hardly alone in this infernal civic ailment, if that makes you feel better.
Mayor Jack Draper even had the temerity this week to suggest there is a "resurgence" brewing downtown, which downtown's critics surely say is boosterism. Or a lie. I get that.
But in the span of a few weeks, the city has announced two major downtown projects: (1.) a $6 million development between Ninth and 10th streets and Quintard and Wilmer avenues that will feature national restaurant and retail chains, and (2.) a $10 million, four-story hotel and retail project for Noble Street.
Is that a resurgence?
No. In Anniston's case, a resurgence requires these projects to lure customers, increase the city's sales-tax revenues and create a buzz critics can't ignore. I hate to be Mr. Negative here, but consider what's happening near Interstate 20, where the long-delayed Oxford Commons development is literally stuck in the mud over contractor payment issues. Until it's built, it's not built.
Even if you think Anniston's downtown is hopeless or the idea of a Noble Street hotel is silly, let's call this what it is: Positive vibes for a downtown that too often is told game-changing opportunities are unobtainable.