Phillip Tutor: Why Alabama teachers aren't going on strike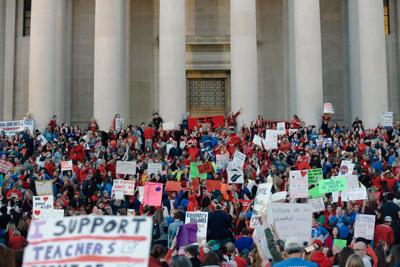 America's teachers are in open rebellion. They're walking out of schools, marching on state Capitols, disrupting school calendars and demanding change. It is an astonishing sight. And it is glorious.
In West Virginia, teachers this winter rebelled against meager pay increases and rising health-insurance costs. Average teacher salaries in that state rank 48th nationally. Teachers there hadn't had raises since 2014. The strike lasted nearly two weeks and closed every public school for nine days. The strike ended when that state's Legislature approved a 5 percent raise and other concessions.
In Oklahoma, a nine-day teacher walkout this month ended when lawmakers OK'd $479 million in teacher and support-staff raises and boosted school funding.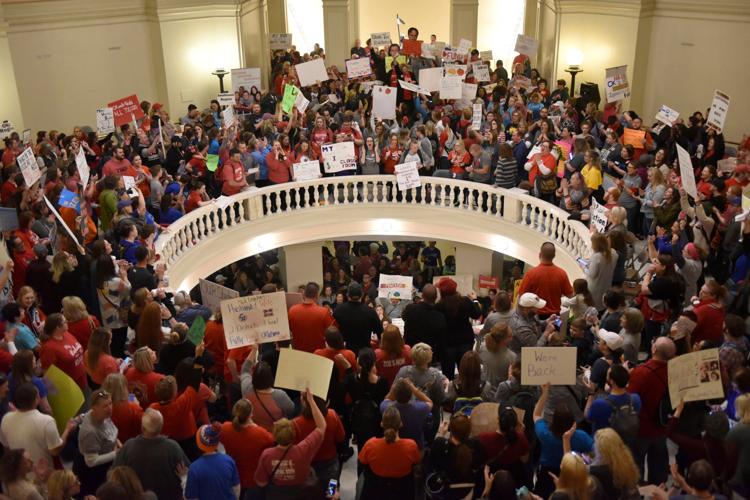 In Kentucky, teachers held a one-day walkout last Friday because of similar concerns. Their average salary had dropped more than 2 percent in the last decade, even though Kentucky's per-pupil expenditures had risen 14 percent over that same period.
In Colorado, teachers gathered Monday at the state Capitol and in district meetings to address their salaries, whose average ranks 46th nationally.
In Arizona, teachers are expected to stage a wage-and-benefits walkout Friday.
And in Alabama?
Crickets.
Alabama's teachers are at work. Schools are in session. There have been no walkouts, no protests. Spring commencements are a go. But had state lawmakers not approved a 2.5 percent wage increase in this year's legislative session, Alabama's teachers might have joined hands with their colleagues in West Virginia and Oklahoma, pitchforks optional.
"They would have marched on the Capitol, they would," Amy Marlowe, an assistant executive director of the Alabama Education Association, said Thursday. "AEA would have led them up Dexter Avenue."
What's more, lawmakers gave the AEA and Alabama's teachers a verbal reassurance that another increase would be included in fiscal 2020 based on projections from the state's rolling-reserve budgeting method for education, Marlowe said. The AEA had lobbied for a 7 percent increase and got less than half of that. This upcoming small hike and the 2020 expectation forged a fragile labor peace.
"With those assurances," Marlowe said, "we were able to hold people at bay."
A couple of things: first, Alabama is a right-to-work state, and even with the AEA's influence, walkouts aren't commonplace; second, the AEA has workarounds that would still fill Dexter Avenue with teachers; and third, there are no direct apple-to-apple comparisons.
Some states are union-friendly; others aren't. Some states adequately fund teacher-retirement funds; others don't. So for every West Virginia — a traditional labor-union state — there's modern-day Alabama, where unions are rarely popular, be it by workers, employers or politicians.
That said, the similarities aren't irrelevant.
In varying fashions, teachers this spring are walking out in Republican-red states, Colorado being the Democratic outlier. Oklahoma is the Southwest's Alabama. West Virginia often resides alongside Alabama among demographic metrics. Kentucky's rural regions are as GOP-friendly as any Republican county in Alabama. Even these states' average teacher salaries are close enough to share a toothbrush.
South Dakota, at $42,025, brandishes the nation's lowest average teacher salary, the National Education Association says. The next five are Mississippi, Oklahoma, West Virginia, Idaho and Colorado — that's three teacher-revolt states out of the bottom six. Alabama teachers' average salary was $48,518 in 2016, per the NEA, or 37th nationally. That's well above South Dakota but nearly $10K below the national average. With numbers, it's how you spin them and where you sit. Mississippi teachers would love to have Alabama teachers' average pay. But California teachers? Not so much.
And here's the other issue. "In many cases (in these states), it's not the salary that seems to be the sticking point, it's the working conditions," Alabama Board of Education member Cynthia McCarty said Thursday. Bluntly, it's not all about the check. Teachers legitimately fret about class sizes, classroom expenses, health-insurance costs, retirement plans and classroom technology. Any of those reasons, or all of them, could persuade educators to march on the state Capitol.
For what it's worth, Marlowe says Alabama teachers raise the roof to the AEA more about increases in health-insurance premiums than they do salaries. (Though, let's be real. If Alabama teachers paid what we private-sector deadbeats fork out, they'd riot.) Yet, without this year's $2.5 percent lift, they'd likely have shut down traffic around the Statehouse in Montgomery.
I asked McCarty, a Jacksonville State University professor, why Alabama teachers hadn't taken to the streets. "My bottom line," she said, "is they believe (lawmakers) are being fiscally responsible and when there is extra money, we will use it."
The stage, then, is set. The AEA is ready. Teachers are ready. Lawmakers are aware. There might be a throwdown on Dexter Avenue next spring. See you there.