WHITE PLAINS — About three miles from Andy Ward's office at White Plains High School is a quaint hill ringed with pine trees and blessed with drop-dead views of the Appalachian foothills. It's the type of place that deserves a cabin and a hammock. It sits on private property, behind a locked gate and at the end of a winding incline adjacent to Bert's Lake, an old fishing spot not far from Alabama 9.
Atop the hill is Hudson Cemetery, a largely forgotten Calhoun County burial place. It contains 13 graves, perhaps more. One of them is Ward's great-great-great-great-grandmother.
"I think the lady's name is Susan," said Ward, White Plains' principal.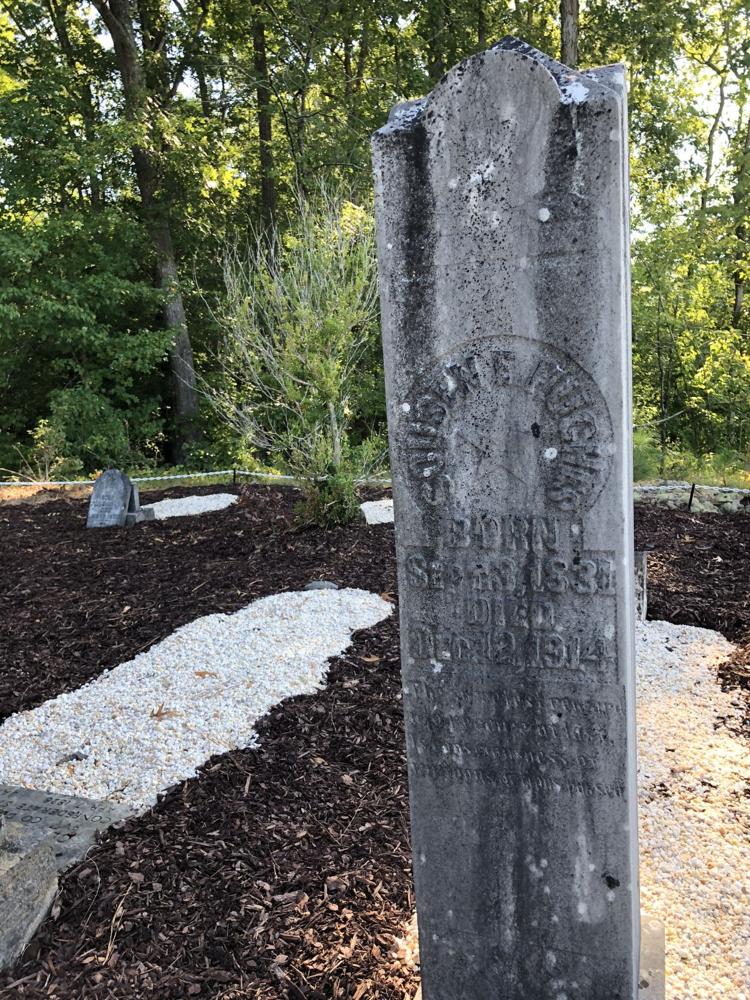 Actually, it's Sousen E. Hughes, or at least that's what her headstone says. Her full name is Sousen Elizabeth Thompson Pollock Hughes, which is far too unwieldy to explain here.
In fairness to Ward, genealogy isn't his thing. He's more interested in his students, especially since they and their teachers are why he knows about Sousen Hughes and that cemetery in the first place.
Consider this a story of the impossible. It's a story of a principal who works near a hidden cemetery that contains the grave of one of his relatives — and he knew nothing about it.
"Not a single person I've talked to knew it was there," Ward said. "Not one, not a one." Not even his dad, Larry.
It's also a story of the possible. It's a story of how current and former members of Ward's staff and a small group of history-buff students have repaired an overgrown cemetery that's 181 years old, ignited a community conversation and (hopefully) earned a prestigious award from the Alabama Bicentennial Commission that will be announced later this year.
"Don't get me wrong, it's interesting; it's great to know," Ward said. "But the best part for me is, I have been able to see some of our students who typically are not involved in marching band or sports or choir, and they are becoming more involved because of this."
None of this would have happened had Gov. Kay Ivey last summer not announced an initiative — Alabama Bicentennial Schools — that would award 200 public schools with $2,000 grants for projects related to the state's history and 200th birthday celebration. Three Calhoun County schools are among the 200: White Plains, Wellborn and Ohatchee. Likewise, none of this would have happened without the work of former White Plains employee Keitha Kirk, who learned of the cemetery, and media specialist Deirdre Giddy, sponsor of the school's history club.
In 12 months, White Plains students, Giddy and Kirk found the cemetery (on the third try); cleared it of weeds, stumps and trees; hauled and trucked 100 bags of mulch and 100 bags of pea gravel up to the site (with the help of the football team and Giddy's husband, Shawn); manicured the graves with mulch and gravel; and created a sign and marker for the cemetery. Giddy has also researched the lives of the deceased.
One of the first days they worked on site came in late winter, just a handful of students in hoodies and two women on a secluded hill that "looked horrible," said Samantha Jimenez, a White Plains senior. "It just looked like a bunch of rocks out there. I was really shocked that it had been left like that … I've lived in this area forever and I never knew it was out there."
Giddy created a schematic of the cemetery that plots the 13 graves, including the four that are unmarked. The cemetery is roughly 25 feet by 35 feet, with one family's graves surrounded by a rectangular curb.
The oldest grave belongs to Col. William Hudson, a War of 1812 veteran who died Sept. 27, 1838. A statewide survey of cemeteries archived at the University of Alabama identifies Hudson as the first internment, Giddy said, though there is no headstone on site with his name. 
The newest grave is that of Thomas H. Wells, who died Feb. 4, 1923. He was 14 days old.
The newest headstone belongs to Lucretia Hudson Glosson, a widowed homemaker who died Jan. 16, 1914, and whose grave is marked by a modern slab that's nowhere near a century old. There's a story with that, too, I suppose.
Four Hudsons are buried on the hill, including George Hudson, a Confederate infantryman, as are four Palmers, including George Hamilton Palmer, a business education teacher who also taught penmanship at a school in South Carolina. 
Little Thomas Well's headstone is the oddest, with carved letters fitting into a grid of squares like a laptop keyboard; Sousen Hughes' is the tallest.
And if you're curious why Hudson Cemetery fell into such disrepair, well, join the crowd. Its last mentions in The Star came in 1988 (in a listing of Choccolocco Valley historical sites) and 1971 (in a story about cemetery visitation days). The cemetery sits today not far from White Plains Elementary School, though it is inaccessible to the public and surrounded by private landowners along Rainbow Drive.
Ward, the White Plains High School principal, sees Hudson Cemetery as a testament to the students and their guides, a wooded clearing that is as much classroom as it is a final resting place.
And Giddy? 
"I'm not from here; I don't have a dog in this fight," she says. But she thinks of the deceased, how weeds and trees had shrouded their graves. She mentions honor and respect, what the dead deserve. That's why hauling pea gravel and researching their histories was worth it.
"I felt like I needed to do more," Giddy said. "I felt like I owed them something. I needed to know."
Email: ptutor@annistonstar.com