Phillip Tutor: Want to talk to Rep. Rogers? Good luck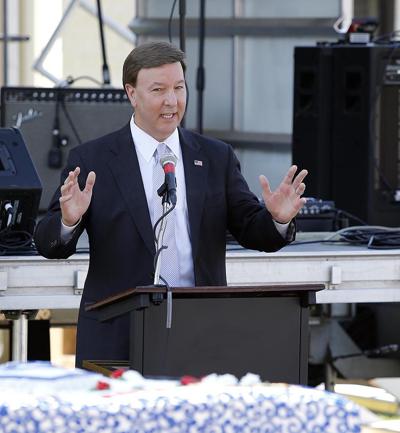 Hey, Rep. Mike Rogers, where are you?
You were in the 3rd congressional district earlier this week. If you were trying to stay incognito, an Instagram picture that morning blew your cover. "Enjoyed touring UPS in Oxford today! Thank you for having me!" you wrote.
But no, really, where are you? Are you hiding?
People want to know — and by people, I don't mean those here in Calhoun County, your home. I mean the 3rd district. All of it. The Alabamians you represent. A majority of them are Republicans, a few are Democrats. The stragglers fall somewhere outside party lines. But they're all your people, or should be, at least.
Debra Armstrong-Wright is one of them. For months, a grassroots, nonpartisan group in Lee County — Alabama Together — has sought an audience with their congressman. Its members wrote polite letters. They sent emails. They made calls and left messages. They suggested five meeting-date options during the spring recess. They even offered to send the questions beforehand.
They didn't want a town hall. That sounded too confrontational, too impolite. They had no intentions to protest. Yes, the results of the 2016 elections bothered them, but all they wanted was a civil, courteous discussion. That's it. Just democracy.
They got crickets.
"Well, he didn't even reply," says Armstrong-Wright, who teaches health law in the political science department at Auburn University. "We're very frustrated. I just feel he missed a true opportunity with us."
So they held their meeting in Opelika earlier this month, a party minus the guest of honor. The room was full. They videotaped the questions in their "Ask Mike" session so the congressman could see them, if he cares. A common thread throughout the room, organizers say, is Rogers' disinterest in meeting with 3rd district voters unless it's in a scripted, choreographed photo-op.
Want a personal response to a letter? Good luck, apparently. Form letters and canned replies are the norm.
Said Roberta Jackel, an Alabama Together member in Auburn, "We don't feel like we are being represented if he does not even give us the courtesy of meeting with constituents."
Rebecca Seung-Bickley is another of Rogers' people in the 3rd district. She helped organize a town-hall meeting with Montgomery's three members of Congress last week, though neither Rep. Martha Roby, R-Montgomery, Rep. Terri Sewell, D-Birmingham, nor Rogers, R-Saks, showed up. Apathy is bipartisan, apparently.
"People are very bothered by the lack of face-to-face time with our representatives," Seung-Bickley wrote in an email. "This isn't just a gimmick or a publicity stunt. We have legitimate questions, and even though we may be in a minority since most of us (not all) are Democrats, we still are constituents. They were elected to serve all the people, and if they can't handle dissenting opinions, then politics isn't really the place for them."
The mistake I've made this spring is assuming that Rogers' refusal to meet with voters was a virus only afflicting Calhoun County. Criticism cuts deeper when it comes from family and friends. In January and April, a small band of critics protested outside Rogers' Anniston office. In March, they held a town hall that featured a Rogers effigy.
My assumption was wrong, obviously.
This spring, Rogers has been as unresponsive and inaccessible in other key 3rd district areas as he has been at home, voter say. The stories are astonishingly similar: Letters unanswered, phone calls unreturned, invitations to meetings ignored. To meet with the congressman — a Republican in a stone-cold red state — you have to be in the cool club, which must include the UPS facility in Oxford. The stock answer from Rogers' office is that he's too busy pushing President Trump's agenda and working on other issues to hold public get-togethers.
That's cool. Glad he's not a freeloader. But Rogers can't hide from the fact that the political baggage from Trump's improbable election has made district visits uncomfortable for GOP congressmen who've gone all in with Team Trump. YouTube is full of examples. Rogers has held town halls in years past, but it'd be better if he'd say he's not doing them this spring because he doesn't want to swim in the potential mess.
That's what Rep. Mo Brooks, R-Huntsville, has said. He blames the threat of violence from alleged Democratic Party agitators. (Distant cousins of Tea Party agitators, I guess. Blue or red, all's fair.) Only private meetings with hand-selected nice people for Rep. Brooks.
The same goes for Rep. Robert Aderholt, R-Haleyville. (Sewell has had a recent death in her family.) But Rep. Gary Palmer, R-Birmingham, has held town halls in Chelsea, Hoover and Gardendale this spring, and Rep. Bradley Byrne, R-Mobile, scheduled 11 over four days this month.
That's where Rogers' "I'm too busy" argument fails. It's a sham. All members of Congress are busy, and no one enjoys ducking rotten tomatoes. But from Auburn to Montgomery to Anniston, this spring is proving which members of Alabama's U.S. House delegation understand the importance of open, and sometimes argumentative, democracy.
I suggest we all meet later at the local UPS. Maybe Rep. Rogers will return and give voters a few minutes of his time.