Phillip Tutor: Waiting on God to fix a lost election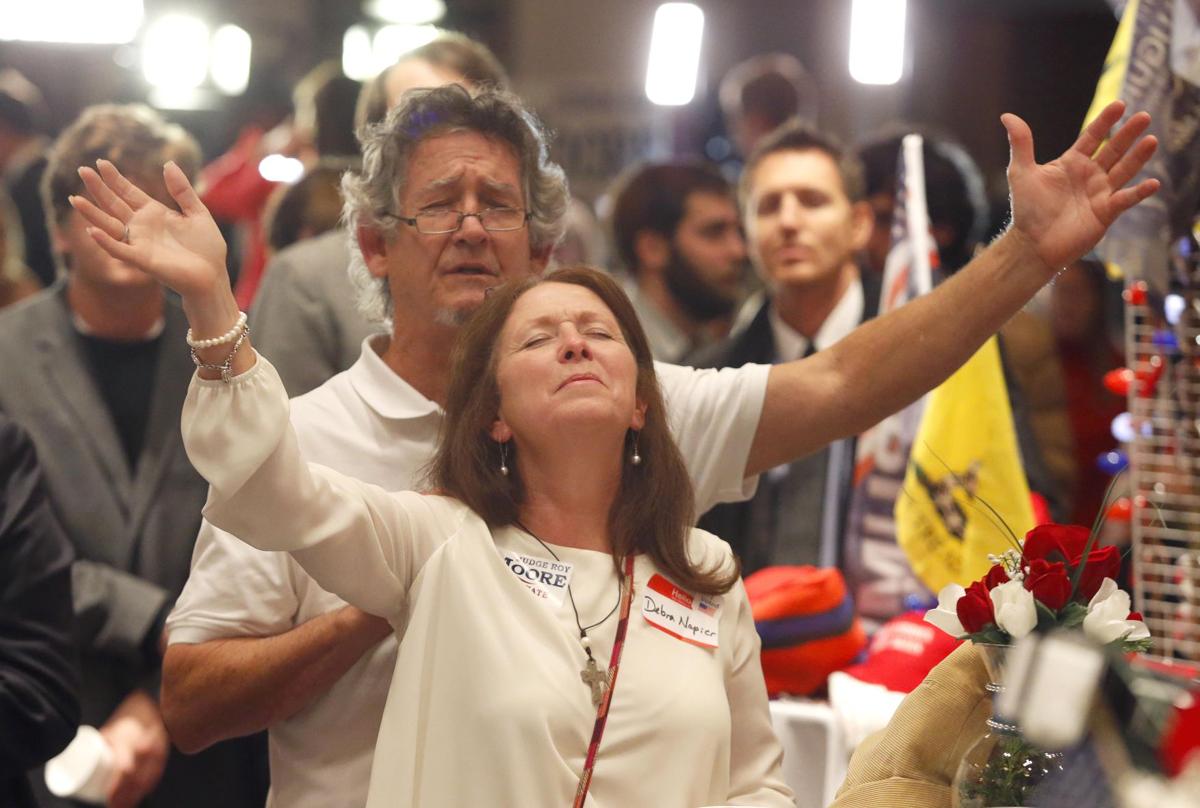 Roy Moore, defeated but buoyed by the words in Psalms 40, has spoken.
"That's what we've got to do is wait on God."
He's also released a video, a faux-sermon of theocratic ramblings delivered as if from a hill overlooking his Gallant home.
"We are indeed in a struggle to preserve our republic, our civilization and our religion and to set free a suffering humanity."
His punchline is predictable.
"Immorality," he says, "sweeps over our land."
His version of immorality, that is.
God wasn't on Tuesday's ballot. Not on mine, at least. And if Moore and those who lap up his condemnations of American decency think Doug Jones' unlikely election victory will be overturned in some sort of patient repairing from the heavens, well, they'd better pull up a chair. Their wait will be eternal.
Like Donald Trump, Alabama's Ten Commandments judge isn't a politician. Never was. America had no choice but to view this twice-defrocked state Supreme Court chief justice as a GOP Senate candidate because the campaign required it. But he is no more a Republican or politician than Trump is a devout Christian or truth-teller. How ironic it is that Trump and Moore's pasts are both littered with credible examples of sexual misconduct.
Moore is a misguided Southern theocrat with bigoted views and disjointed theories about U.S. law and the Constitution. Alabamians have long known this — reasonable ones, at least — and twice have emphatically refused to elect him governor. He's terminally unfit for political office because he imagines his would-be elected role as a modern-day Moses, a Godly surrogate saving souls and serving as a liaison between the Almighty and Alabama's voters. Even his facts fail him.
Earlier this week, Moore acolyte Ted Crockett, a former Shelby County commissioner, explained Moore's discriminatory belief that Muslims can't serve in Congress to CNN's Jake Tapper. Moore's "logic" is that members must place their hands on a Christian Bible when sworn in. The Quran isn't allowed.
Except, that it is. In fact, U.S. law doesn't specify what, if anything, a candidate uses during their swearing-in ceremony. You can place your hand atop anything, or nothing. (I'd choose something written by Roger Angell or Howard Zinn, but that's besides the point.)
When Tapper corrected him, Crockett froze. On live TV. Mouth agape.
Boom!
America saw what Alabama has long known. As a politician, as a constitutional expert, as a candidate for elected office, Moore is a sham wrapped in a theocrat's robe and protected by far-right fervor that devalues equality and discriminates against those deemed humanly unworthy. He can't talk policy unless in biblical terms. He can't effectually argue Republican Party talking points because he obsesses about abortion, gay rights and transgenders in the military. What's his stance on congressional Republicans' tax plan? What Senate committees would he serve on? Would he verbally attack U.S. Reps. Keith Ellison, D-Minn., and Andre Carson, D-Ind., Congress' only Muslim members, or the seven openly-LGBT members on Capitol Hill?
Richard Shelby, Alabama's senior senator, said the obvious: No Moore.
Moore's tiring vision of America illustrates a failing nation turned from God and suffering from His wrath. He wants us to believe today's America is so morally bankrupt, so inherently godless, that its salvation is only through national repentance, not elected leadership or humanity. So much for the mortal legacy of Washington, Lincoln and FDR. "Today, we no longer recognize the universal truth that God is the author of our life and liberty," Moore said in his faux-sermon. "Abortion, sodomy and materialism have taken the place of life, liberty and the pursuit of happiness." Happy guy, Moore is.
America's demise has long been rumored from within, by ourselves. The Founders lived it, and somehow survived. The British burned D.C. and could have ended our whole democratic experiment. Faithful Americans during the Second Great Awakening feared for our heathen nation's existence. America's teetotalers campaigned against the evils of drink and vice. We enslaved, oppressed, disenfranchised, lynched and discriminated, stealing Native American land, turning away fleeing Jews from war-torn Europe, telling black Americans they weren't worthy of much.
And yet, Moore wants us to agree that today is an American moral lowpoint, all because of his errant belief that the separation of church and state — a cornerstone of American existence — is rotting the United States and causing its self-inflicted wounds.
"I waited patiently for the Lord," Psalms 40 reads, a passage Moore this week has made his political epitaph, a rallying cry for his failed attempt to import a discriminatory and offensive theocracy to the U.S. Senate.
At least the nation now fully understands who, and what, Moore is.