If I could, I'd gather two Anniston pastors — James Henry Eason and Ben Little — in a room, lock the door and take notes. It would be fascinating.
Everyone knows the Rev. Little, the unrelenting force on the Anniston City Council.
Few probably know the Rev. Eason. He's been dead since 1939. And, truth be told, he and Little share few traits other than race and profession.
Little is tall, impressive, a former Army drill sergeant. Eason was slight, just 5-foot-5, Little's antithesis. But their link is their individual quests for fairness and equitable government for Anniston's black residents.
Their approaches couldn't be more disparate.
Little is litigious, determined and overly accusatory. His pulpit, not the one on Sundays, is rarely wasted.
Eason didn't waste his opportunities, either. A native Alabamian, born in Sumpter County just after the Civil War, son of a Baptist church deacon, he graduated from Selma University, trained in theology at Virginia Union University and was named pastor of a Marion church. He came to Anniston in the 1890s to pastor Eleventh Street Baptist Church.
That decade's version of Anniston was different than the previous. Alabama, hard still on Confederate sentiment, had been politically "redeemed" by white supremacists — a process codified by the racist 1901 state Constitution that Anniston attorney John B. Knox oversaw. Anniston's nearly 10,000 residents were steeply segregated, with black Annistonians relegated to mill villages and the hilly land to the northwest.
No African-American would serve on Anniston's City Council until 1969, and Anniston still has never had a black mayor or black police chief. Steven Folks became Anniston's first black city manager — in 2019.
Eason, pastor and journalist, saw this coming, I suspect.
He edited the Baptist Leader and the Union Leader, Anniston newspapers that served the city's black residents. Their pages brimmed with sermons, faith-based pleas for black rights and admonitions against white Annistonians who, like Knox, thought freedmen and their children weren't worthy of the vote. Those Alabama newspapers, historian Glenn Feldman writes, were among those that "questioned the Christianity of white religious papers that endorsed black disenfranchisement."
Eason urged blacks to shun The Hot Blast, an early Anniston newspaper, and buy The Evening Star.
"What paper in Anniston knows all the colored preachers' names? It is the Evening Star, that is the reason the colored people are going to subscribe for it," he wrote.
Eason explained why. 
"The Evening Star of Anniston, Alabama, is growing popular with the negroes of this city because it says respectable things about the negro in a respectable manner." 
When white Annistonians shamefully led a crusade to prevent the founding of a black university — it went to Birmingham — Eason laid bare the potential consequences. 
"If the white folks who opposed the negro university coming to Anniston had in mind the driving (of) all self-respecting negroes from this city, they made a good move for it."
Eason praised the few white Annistonians who supported a black university in the city.
"We are told that Hon. W. H. Zinn (namesake of Zinn Park) and J. C. Sproull (of Anniston Hardware Co.) made a noble and manly fight for the Negro University to come to Anniston; for this, the negroes of the city are grateful — The negroes who are thinking of leaving Anniston would do well to decide to stay from this evidence of friendship as well as to go because things of interest to them are opposed ... Let us stay here and fight for the progress of 'beautiful' Anniston."
Eason then got real.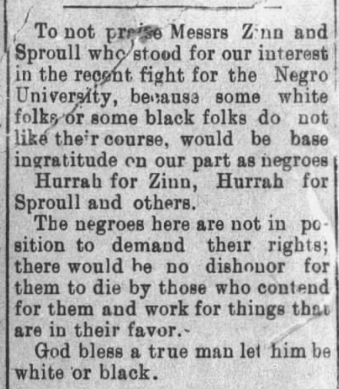 "To not praise Messrs Zinn and Sproull ... because some white folks or some black folks do not like their course would be base ingratitude on our part as negroes. Hurrah for Zinn, Hurrah for Sproull and others ... God bless a true man, let him be black or white."
That was journalism. This was activism: While increasing the membership at Eleventh Street — from 85 to 700 — Eason organized the Mercantile Investment Co., "whose efforts have resulted in hundreds of colored people owning their own homes in this city," wrote the editor of The National Cyclopedia of the Colored Race in 1919.
The conversation I'd love for the Revs. Eason and Little to have, if they could, would be less a comparison of divergent approaches and more a collaboration of ideas for a city where divisions of race and economic opportunities linger still.
Email: ptutor@annistonstar.com