Phillip Tutor: Tua's prayers for peace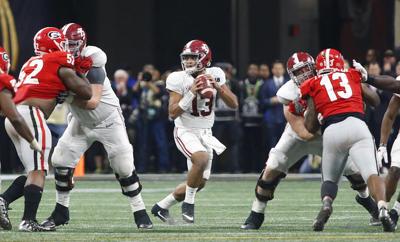 With one touchdown pass and a heartfelt comment on national TV, Tua Tagovailoa has ascended to a lofty spot among evangelical Christians, Alabamians, football fans and social media pundits. I suspect even some Georgians like what they see.
Tua is the hot new thing: Handsome and Hawaiian. Polite and baby-faced. Immensely talented and unabashedly proud of his Christian faith.
Sunday morning from the pulpit, you may hear his name, if not before.
"Tua Tagovailoa," evangelist Franklin Graham has written this week on Facebook, "used his moment in the spotlight to testify to the glory of God. It's great to see a young athlete like this use his platform to acknowledge what God has done in his life, in front of millions of people. That's a win-win."
Football, Alabama's unofficial religion, is only one chapter of Tagovailoa's story. Without him, the Crimson Tide wouldn't have eeked by Georgia for the national championship. If he never plays another down — an insane thought — he'll nevertheless sit alongside Van Tiffin and Barry Krauss and other Alabama greats who won Iron Bowls and Sugar Bowls and national titles with fourth-quarter moxie. No. 13's pedestal awaits.
None of that has anything to do with his Christianity.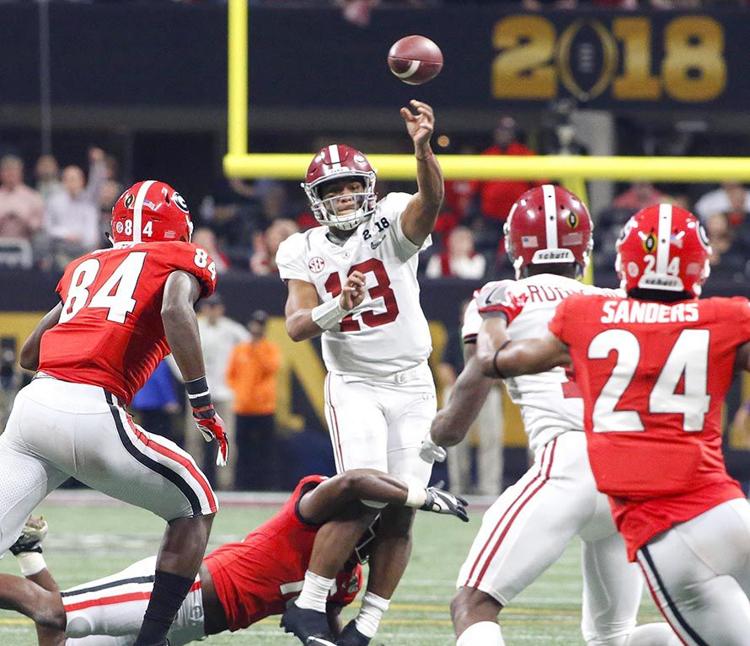 But his Christian faith is the story, perhaps as much, if not more, than his on-field heroics. Not because he is a Christian, but because of how he stopped his postgame TV interview about his game-winning touchdown pass and said this:
"But, excuse me, first and foremost, I'd just like to thank my Lord and savior Jesus Christ. With him all things are possible, and that's what happened tonight."
As if on script, he later told reporters he was praying between possessions and speaking in tongues during the second half because it kept him calm. Remember, this is a 19-year-old freshman playing before a national TV audience on America's largest college stage. It's a movie in the making. Notre Dame has Rudy. Alabama has Tua.
"I would say my poise comes from my faith," Tagovailoa said. "I just pray for peace."
And always has, apparently. He could have played anywhere, perhaps for West Coast schools like USC, his childhood favorite, or maybe for teams with offenses more attractive to his magic left arm. But Alabama — the state and its people — won him over.
"First and foremost it was their belief in God," he said after committing to an Alabama scholarship. "Their belief in God was one of the biggest things that kind of struck me, and that kind of lines up with everything in my life."
Tagovailoa is too young to grasp how far he's innocently drifted into the deepness of today's Alabama, one of America's most evangelical and politically conservative states. This fall, the nation cringed as Alabamians nearly elected a credibly accused sexual abuser, faux-preacher extraordinaire Roy Moore, to the U.S. Senate. Democratic victor Doug Jones has taken punches from Republicans over his stance on abortion rights. In 2016, Alabama went strong for Donald Trump — a thrice-married presidential candidate with a potty mouth and a Moore-like list of women accusing him of sexual misconduct. In the last decade, lawmakers in the Tagovailoa family's adopted state have passed inhumane laws against illegal immigrants and fought the nation's growing acceptable of gay marriage. Plus, its previous governor had an affair with a female staffer and resigned in disgrace and its former House speaker has been sentenced to prison for corruption and is out on appeal awaiting a court ruling.
Modern-day Alabama is a contradiction that befuddles outsiders and empowers critics who see the state's Trump-supporting, Moore-backing evangelicals as churchly hypocrites who pick and choose which part of their faith is most convenient. The national reaction to Moore's campaign proved it. How could a state with Christian churches on every street corner consider a Senate candidate with such deviant behavior?
Those critics are right, by the way.
What makes Tagovailoa so attractive, and hopefully so apolitical, is the sincerity and innocence about this faith. Wrong it would be to compare him to Tim Tebow, the former Florida and NFL QB (and current baseball minor-leaguer) whose Christian beliefs overshadow his athleticism. He was, and is, a more relevant Christian spokesman than sports figure or TV analyst. Unintended or not, Tebow's faith markets him as much as it defines him. That's a decision Tebow made long ago, to elevate his faith to such a public place.
Tagovailoa isn't the mini-Tebow, or the next one. He is just Tua, a young man whose beliefs are sincere and, by answering a simple question on TV, unintentionally became a paragon for those who cheer when Christianity seeps into secular places.
Editor's note: This column has been corrected. Former House Speaker Mike Hubbard is out on appeal following his conviction on corruption charges.