Phillip Tutor: The Roy Moore effect at an Anniston church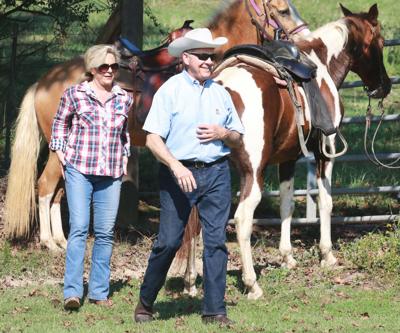 Right now, everything in Alabama is seen through the prism of Roy Moore's toxic U.S. Senate campaign. He's like Chernobyl fallout, drifting and settling and infecting. You have to choose: Are his accusers attention-seeking liars? Will you vote for an accused pedophile? Are his Christian beliefs under siege?
It's exhausting, more and more and more Moore.
So you can imagine the reaction of Tim Kendrick, pastor of Anniston's St. Mark United Methodist Church in Golden Springs, when a TV crew from The Daily Show With Trevor Noah showed up in his parking lot a few days ago.
"Well, I was furious," he says.
To be accurate, Kendrick's fury over the blindside hit was delayed. Neither he nor the church staff knew anything about it at first. A Facebook post finally clued him in that The Daily Show had aired a comedic report on Alabamians' support for Moore that was partially filmed in front of his church.
Michael Kosta, The Daily Show correspondent, interviewed three women and two men. None were identified. All were supportive of Moore's candidacy. None were members or employees of St. Mark, Kendrick said. Most of the interviews were done in what appears to be the parking lot of the Oxford Walmart. But an interview with one of the men was filmed at St. Mark, seen clearly while Kosta's voice says this: "With it seeming like the whole state is against them, what these alleged victims need is a man of fate to defend them." And the implication, intended or not, is that this small, apolitical Methodist church and its congregation are in lock-step with the embattled and accused Senate candidate.
The interview starts.
"I'm an ordained minister myself," the man said.
Kosta, more comedian than journalist, played along.
"You wanna pray for the alleged victims of Roy Moore?"
And the man did, standing in front of a church he doesn't attend. "Heavenly father, watch over Roy Moore as he goes through these difficult times," the man said.
Kosta then signed off. "Not exactly what I meant, but good luck, Alabama." The Daily Show left Calhoun County with what it wanted — a satirical, jocular report that makes all Alabamians appear to be dismissive, if not approving, of sexual assault. We are the nation's punch line.
The fallout was quick.
A former director of the church's pre-K program took a phone call from a student's family who had seen the report. "They asked, 'Isn't that your church?'" Kendrick said. "They were concerned that was people in our church and our pastor." The current pre-K director received similar calls, too.
Hence, the aforementioned fury. A 2 ½-minute comedy sketch on late-night TV had forced an Anniston pastor into a stance of damage control. On the church's Facebook page, Kendrick vented and explained that St. Mark had not given permission for Kosta to film in its parking lot. He also reached out to Noah and the show for an apology. He doesn't expect one, and he shouldn't. (Full disclosure: I am a former member of St. Mark but left before Kendrick's arrival.)
As much as Kendrick might wish this would just go away, it's a small church. Sunday morning will be, let's say, interesting.
"I expect people to talk about it," he said. "I will not talk about it from the pulpit. We do not address political questions from the pulpit, period."
This is the quintessential example of how Moore's polarizing campaign is damaging our state, a cancer among us. Moore's a chameleon — theologian, politician, Vietnam veteran, attorney, candidate, judge, West Point graduate, defrocked state Supreme Court justice, trained kickboxer, lawbreaker, Republican and accused child molester. Churches are ground zero for this bitter debate, people of God who share similar beliefs about faith but are being asked to cherry-pick from Moore's tainted resume, as if you can ignore the nasty parts and simply say he's a Godly man, and that's enough.
Churches resemble the neighborhoods around them, or should. Even if they're advertised as such, congregations aren't collective bodies with robotic beliefs. Churchgoers harbor individual thoughts, they question and deviate. We all do. And even in conservative, Protestant, God-fearing Alabama, pews are filled with Republicans and Democrats worshipping side by side.
And at St. Mark, "We definitely have numbers of both," Kendrick said.
Thanks to Roy Moore, much of the world is seeing Alabamians — you and me — as uneducated, wayward Americans who may sell our souls and choose politics over humanity, who'll prefer a candidate who is staunchly anti-abortion but is credibly accused of molesting a 14-year-old girl and pursuing teenagers as an adult. Don't think for a minute this isn't our shared embarrassment, because it is. It may show up in your driveway next.