Phillip Tutor: The 'one big joke' about Moore and Alabama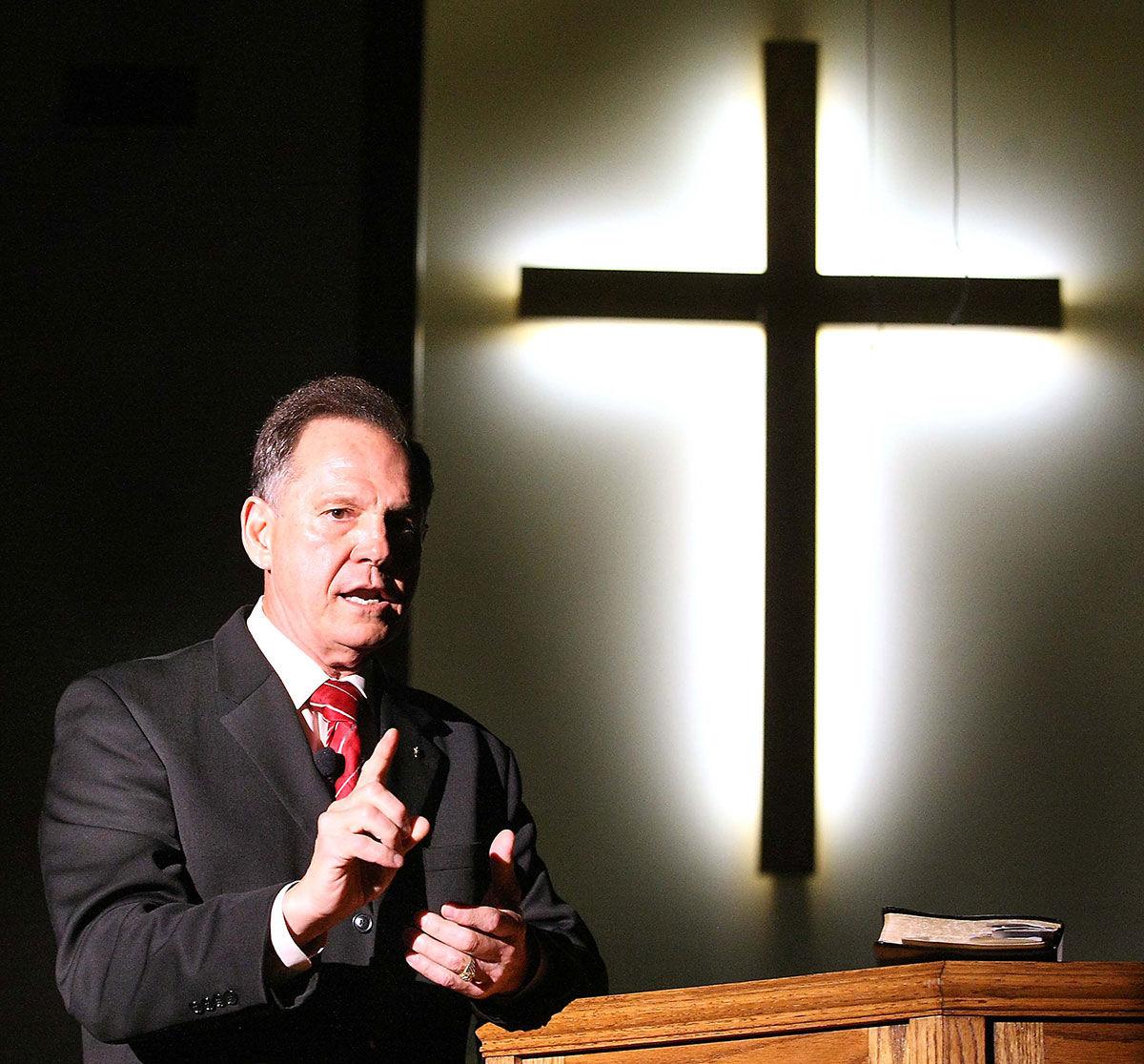 Roy Moore says he's under attack — from the media, from Democrats, from "establishment" Republicans, from the ungodly.
That's a crock.
The only thing attacking Moore are secrets of his past.
But Alabama is suffering. Moore's creepiness, and worse, has become our collective sin. We've enabled him, protected him, elected him, defended him, ignored him, disciplined him, nominated him, believed him, and elected him again and again.
And this is what we get.
Ridicule. Disgust. Disdain. Sarcasm.
Nine women have come forward with allegations of sexual misconduct against Moore, Republicans' candidate in the Dec. 12 Senate election against Democrat Doug Jones. Nine women. Their stories are credible and believable, strengthened by multiple confirmations from people in Etowah County that Moore's reputation for pursuing teenage girls was a well-known fact. The ick factor is off the charts.
And, still, the Alabama Republican Party won't disqualify him.
We are Alabama.
Stained by the wretchedness of Roy Moore.
Stained by the political depths of former White House operative Steve Bannon, who doesn't care if Alabama implodes as long as he gets the destruction he seeks in Washington.
Stained by late-night jokes and editorialists who no longer see Alabama as merely a conservative Deep South state with a love for Donald Trump and America's best college football team.
It's not only The Washington Post and The New York Times — the right's favorite media targets — calling us out, and rightly so. It's a national movement.
"Far be it from us to tell Alabamians what to do, but if they're thinking of making Roy Moore their next U.S. senator, that would say a lot about Alabama, none of it flattering," writes the editorial board of the Peoria (Ill.) Journal Star.
"If you are following the news or if you're not following the news, if I'm the one breaking this news to you, I want to brace yourself, Alabama lovers …" talk-show host Stephen Colbert joked this week.
"Given some of the things some Alabamians have endorsed throughout American history, we may not want to" know if they have any decency, wrote Ed Burmila in Rolling Stone.
"Inside the Beltway and across most of America, the allegations against Roy Moore seem obvious and viscerally wrong. If those all are true, they should disqualify him from ever serving in public office again. But there's still a chance Roy Moore could be the next senator from Alabama because some folks here see those all a little bit differently," Alexandra Jaffe, documentarian for Vice.com, said during a report from our state.
(As for The Post, it did offer this particularly damning headline: "SNL's Roy Moore sketch is one big joke about Alabama being backward.")
It's an international movement, too.
"The details of Moore's alleged attack on (Beverly Young Nelson) are brutal," writes the editorial board of The Toronto Star.
"I don't know what you have to do, exactly, to get banned from a shopping mall in Alabama, but I'd wager it's pretty bad. If Moore did even a fraction of the things he is accused of, then one might wonder how he has the gall to call himself a Christian. But, to be fair to him, nowhere in the Ten Commandments does it say 'thou shalt not assault thy neighbor's teenage daughter,'" writes Arwa Mahdawi, a columnist in Britain's The Guardian.
There you are. Proof that Alabama's — and Alabamians' — reputation is suffering.
Too few of us understand the global reach of this story, and that people are asking if we have a soul. They're perplexed and confused. They wonder if all the stereotypes are true, tales of dumb Southern hicks who don't know any better. They know we're dipped in Republican colors and awash in our Christian beliefs. But they simply can't fathom that Alabama is willing to send a man as flawed as Roy Moore — twice booted from elected office and now accused of multiple episodes of sexual misconduct — to the nation's highest elected body.
Truth repeatedly kicks Alabama in the shin, boot to bone. Our demagogues have always hurt and haunted us. We snickered at Big Jim Folsom's womanizing. We repeatedly elected America's top race-baiter, George Wallace. Guy Hunt was a Godly man, but he was run out of office. Robert Bentley, too. Birmingham was Bombingham, and the nation watched Selma live on TV. Decades have been spent rehabilitating Alabama's reputation into something worth defending, a place slowly opening to equality and progress, into something far greater than its checkered history.
And then this happens.
Alabama Republicans chose Roy Moore over Luther Strange. Brave women from Moore's past — nine brave women — summoned the courage to describe what allegedly happened to them. And the world waits to see what Alabama is, and what we will do.
Phillip Tutor is The Star's commentary editor. Email: ptutor@annistonstar.com