Kent Davis didn't leave Anniston in a huff or on a whim. Retired U.S. Navy rear admirals don't go off half-cocked; not the good ones, at least.
Davis resigned almost two years ago as Anniston's city manager because of life twists and job choices. He agonized over the decision, he's told me more than once. But a Department of Defense opportunity in Montgomery was too juicy to decline, even if it removed his family from a city he adores.
Today, he's commissioner of the Alabama Department of Veterans Affairs, hand-selected by Gov. Kay Ivey. High on his to-do list is a campaign to reduce our state's awful number of veteran suicides — the nation's 15th highest rate. The state Legislature has created a veterans suicide task force, and Davis has selected Paulette Risher, a retired U.S. Army general with expertise in psychology, as its chairwoman.
The national rate of veteran suicides in 2016 was 30.1 per 100,000 people, VA records say. Alabama's rate that year was 34.2. This is nothing if not a full-blown health crisis in our state.
"I am so thankful to Governor Ivey and our Legislature for recognizing the importance and urgency of addressing Veteran suicides among Alabama's large Veteran population," Risher said in a press release last week. "It is heartbreaking to think that a service member can risk their life in service to the nation only to come home and take their own life." 
Just as important, there is every reason to believe the state's oft-criticized VA is sincere about helping Alabama's sizable roster of veterans. 
This is leadership, without drama, minus hubris, free of personal or political agendas.
Anniston, take note.
Anniston has good people. Anniston's City Hall and city staff have good people. Davis was one of them. So was former Mayor Vaughn Stewart. And former City Manager Brian Johnson. And former City Manager Jay Johnson. All gone, for a variety of reasons. If anything, Steven Folks, the Parks and Recreation Department director now serving as interim city manager, exemplifies everything good about this city.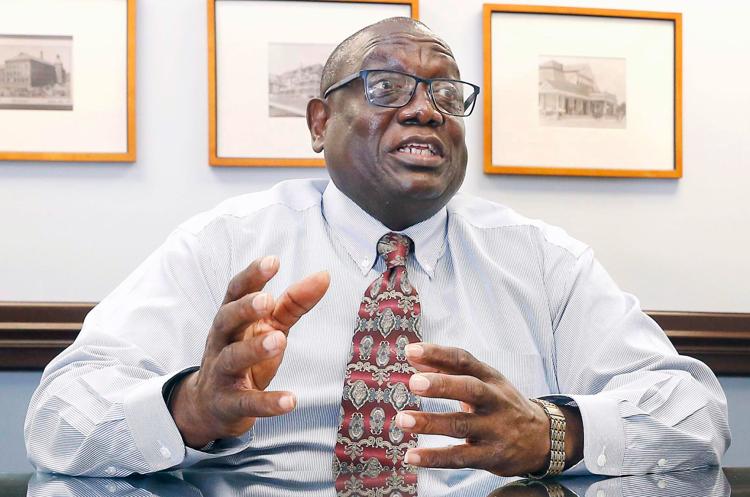 In a sense, he is a Davis clone: retired military — Army drill sergeant — professional and calm, smart and dedicated, a humble civil servant instead of a seeker of headlines and collector of agendas.
"I'm not easily distracted. I don't let noise or things distract me," Folks told The Star a few weeks ago. Those, by the way, are the best 12 words heard at City Hall in ages. 
Some of that "noise" may arise because he is Anniston's first black city manager — a significant fact given the city's demographics and its racially divided council. 
"It's not about doing what's black, doing what's white," Folks told The Star. "It's doing what's right." 
Anniston treats these good people poorly. It chews some of them up. It shades their accomplishments and clouds their efforts. It drives some of them away, people who tire of what it means to work on Gurnee Avenue or serve the city's residents. It allows a handful of local demagogues to dominate proceedings and thwart development and promote a litigious atmosphere that's unnecessary and detrimental. It's one of the demoralizing realities of today's Model City.
Anniston must be better than this.
It will be, one day. I believe this. Not simply because of next year's electoral results — yes, there's a city election in 2020 — but because of Anniston's good people. Not black, not white, as Folks said, but right.
In Montgomery, Davis' ascension illustrates what happens when competent people are hired and arrogance doesn't prevail on Election Day. Good people move the needle. Good people value camaraderie and teamwork. Good people are selfless, not selfish. Good people uplift instead of put down. Good people understand small-town government isn't about pummeling rivals and holding City Hall press conferences. 
It is, as Folks said, about doing what's right, for all. 
Email: ptutor@annistonstar.com