Goodloe Sutton publishes a small-town newspaper in Linden, a tiny place in Marengo County between Montgomery and Meridian. He admires the Ku Klux Klan. When NFL players began protesting racial injustice, he wrote, "that's what black folks were taught to do two hundred years ago, kneel before a white man. … Let them kneel!" He's opined that drug dealers should be "hung on the courthouse lawn," that "slavery was a good lesson for Jews," and that "(T)here are stories which publishing companies won't print about how the black people were banished into the wilderness of Africa because God hated them."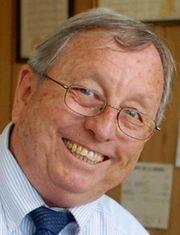 Goodloe Sutton isn't Alabama.
We know that because we live here. We know there are more Rose Munfords -- the Anniston art teacher honored this winter as The Star's Citizen of the Year -- in Alabama than there are Goodloe Suttons. Absolutely, undoubtedly. But racism and hatred collect headlines; good deeds do not. And today, the 79-year-old longtime publisher of The Democrat-Reporter with abominable views on race, sexual equality and religious minorities is enjoying his 15 minutes of fame and subjecting our state to a maelstrom of negative publicity. Doom surely awaits his publishing career.
That's a painful sentence to write. America needs its newspapers, now more than ever. Linden needs its newspaper. Never would I suggest a newspaper -- particularly a community newspaper that provides information readers can't get anywhere else -- deserves to close because of a single editorialist's sins. I want the Democrat-Reporter to survive. Thrive, even.
And, yes, the First Amendment protects Goodloe Sutton, as it should. He can publish an editorial, as he did Feb. 14, that says it's "time for the Ku Klux Klan to night ride again" against Democrats. He can editorialize that "slaves, just freed after the Civil War, were not stupid. At times, they borrowed their masters' robes and horses and rode through the night to frighten some evil doer. Sometimes they had to kill one or two of them, but so what." He can write that it "seems like the Klan would be welcome to raid the gated communities up there (in Washington, D.C). They call them compounds now."
He can peddle his reprehensible opinions because the First Amendment gives him that right, though with that comes a journalistic responsibility he abandoned long ago.
It's the same First Amendment that allows The Star's editorial board to advocate against the death penalty and for women's rights to make decisions about their own bodies.
It's the same First Amendment that allows editorialists to criticize President Trump's abhorrent behavior, to condemn President George W. Bush's terrible decision to invade Iraq in 2003, to call out xenophobic immigration policies, to urge the resignations of wayward governors (think: Robert Bentley, the Luv Gov), unethical state Supreme Court chiefs (think: Roy Moore) and crooked legislators (think: Mike Hubbard).
Goodloe Sutton exists because the First Amendment allows it and Linden residents haven't walked away with their subscription or advertising dollars. That may change, of course. The University of Southern Mississippi acted swiftly this week and banished him from its School of Communication Hall of Fame. Auburn University's Journalism Advisory Council voted Tuesday to take away his community journalism award. U.S. Sen. Doug Jones, D-Birmingham, and U.S. Rep. Terri Sewell, D-Birmingham, have called for his resignation. The First Amendment protects Sutton's right to advocate for white supremacy, but it doesn't mean anyone else has to get down in the muck with him.
Goodloe Sutton is a relic of the South's past, sad and embarrassing. His daddy owned the Democrat-Reporter; Sutton's worked there since 1964. Linden is a speck on Alabama's map deep in the heart of sparsely populated west Alabama. Now nearing 80, Sutton is one of those aging Southerners who still view politics and societal changes through overly staunch Old Testament readings and the dark days of segregation. Except, I suspect, Sutton doesn't remember segregation as a bad thing. Glory years, he may call them. The Civil War and slavery permeate these people's thoughts, as if they, too, remember when slaves became freedmen and the South's whitewashed society was forced to accept black Americans as people, not possessions. Sutton and his kind forget, or perhaps lament, that it's 2019.
Alabama's Legislature can ameliorate this sad tale. On the first day of the spring session, lawmakers should unanimously pass a resolution condemning Goodloe Sutton's editorial and protect the state's good name. The people of Linden would surely appreciate it.