Phillip Tutor: The Dog Guy of Capitol Hill
Dogs are better than people, and people who don't like dogs are rarely worth having around, anyway. President Trump, an admitted germophobe who allows no White House pets, hates dogs. I assume U.S. Rep. Mike Rogers loves them.
He'd better. He's been talking about them since his earliest days in Congress — not just dogs, but high-dollar, highly trained bomb-sniffing dogs and drug-sniffing dogs. Forget his nutty Trumper suggestion that the United States should withdraw from the United Nations or his not-so-nutty obsession with an American Space Force, or even his allergy to Alabamians whose opinions are different than his. Rogers is The Dog Guy of Capitol Hill.
As proof, the American Kennel Club this week named Rogers the 2018 AKC Legislator of the Year at a dog-detection conference in Durham, N.C. And I'm not kidding.
Like a champion Schnauzer, Rogers has papers.
Not really. He just has a ribbon. The AKC gave the Saks Republican, who faces Democrat Mallory Hagan in November's election, a framed rosette similar to those awarded to Westminster's Best in Show winners. It'll look spiffy on his office wall.
"Congressman Rogers is a leading voice in Congress on the Committee on Homeland Security and consistently addresses the need for more domestically-bred service dogs," AKC spokeswoman Sheila Goffe said. "An example of this leadership is his diligence in bringing together the knowledge and resources of top dog breeders, trainers, researchers and handlers to establish working dog standards for excellence to help ensure a future source of high-quality explosives detection dogs that can protect our national and public security."
By the way, The Dog Guy of Capitol Hill isn't a pejorative moniker. It's anything but that. The training of bomb- and drug-sniffing dogs is big business in Alabama's 3rd Congressional District, and Rogers has rightly made this a cornerstone of his time in the U.S. House. It's a solid example of how members of Alabama's delegation should operate. Incessant kissing of the president's golden man-ring is as demeaning as it is unproductive to the folks back home.
Thirteen years ago, a much younger Rogers chaired a Homeland Security subcommittee meeting — "Sniffing Out Terrorism: The Use of Dogs In Homeland Security" — that included representatives from Auburn University, the Metropolitan Atlanta Rapid Transit Authority, U.S. Customs and Border Protection and the Transportation Security Administration.
"Dogs," the congressman said, "may be considered not only man's best friend but also one of our best defenses against terrorism." He then mentioned olfactory cells in dogs' noses, canine rescue work after hurricanes Katrina and Rita and the terrorist bombing in London.
"Dogs," the congressman said, "are also an important complement to the explosive detection technologies that may be too cumbersome, less mobile and more costly to use … Dogs, however, have inherent limitations, most of which were explored during our closed hearing. While it is important to expand the use of dogs where appropriate, it is not the panacea that some have suggested for protecting our subway systems or detecting concealed weapons."
That was in September 2005, and since then The Dog Guy of Capitol Hill hasn't slowed, with The Congressional Record illustrating Rogers' long-standing desire to urge better coordination of U.S. breeding and training of security dogs.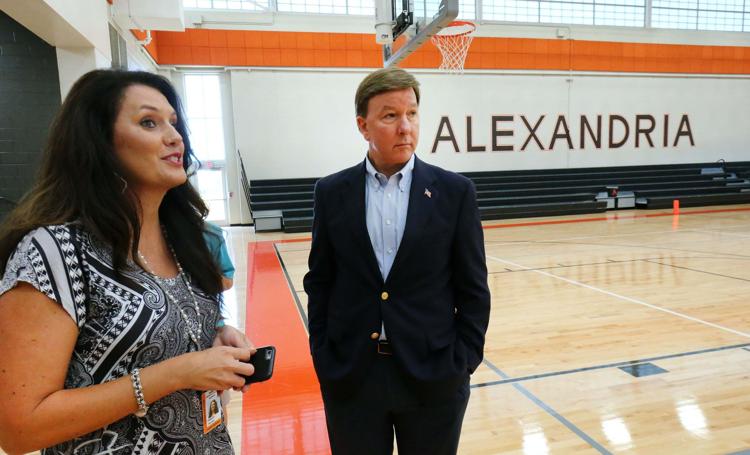 Last October in a Subcommittee on Intergovernmental Affairs meeting, Rogers addressed a representative from the University of Pennsylvania School of Veterinary Medicine. "Ten years ago …," he said, "I wanted to try to get the canine community, breeding community and training community to agree on working together to develop a standard of physical capability but also training that the government could rely on for purchasing, whether it's for the military or for Homeland Security. It was impossible to get these folks to work together and agree. Everybody felt their way of training was superior to everybody else."
Two months later, Rogers sponsored HB4577 — the Domestic Explosives Detection Canine Capacity Building Act — with a goal of centralizing breeding and training of dogs fit for security work. Considering Rogers' place on the House Committee on Homeland Security and the significance of Auburn's dog-training facility at McClellan, there may be few congressional items more important on Rogers' resume.
And, yet, The Dog Guy of Capitol Hill won't talk about it.
He mentioned his award on Instagram, as the AKC did on its website. But Rogers' media strategy is as archaic as an outhouse. His office doesn't return emails and his spokeswoman doesn't return calls. Thursday morning, when The Star's Tim Lockette spotted Rogers at an Alexandria Middle School event, the congressman barked, "I'm not giving an interview," before offering a few Wikipedia responses to Lockette's questions and driving away.
There went The Dog Guy of Capitol Hill, taking a story worth telling along with him.