Molly has a story to tell.
She's 10. Or 12. Maybe more. We're not sure. We know she spent most of her younger years pregnant and stuffed in a cage. That's why she existed -- to provide dachshund puppies for sale. At some point, her usefulness fizzled. Maybe her litters weren't big enough, or perhaps she didn't get pregnant as often as the humans who kept her locked up wanted. We'll never really know.
She became discarded trash, unwanted and useless, and wound up at the animal shelter in Pell City.
When we adopted Molly, she was emaciated and tentative. She picked on our other dachshund, Zelda. If she walked into a room -- the kitchen, the bathroom -- she didn't know how to get out. She got stuck in corners, under the kitchen table, at the end of the hallway, because she'd spent her entire life in cages and didn't know how to retreat or turn around, so she froze, catatonic, a statue disguised in dappled fur.
To this day, she loathes cages. No cage can hold her. She destroys them. She hates being left in rooms if the doors are closed. She's fearful of not being fed, even after all these years, so she attacks her food bowl each morning like a piranha snapping at shrimp tossed in the tank.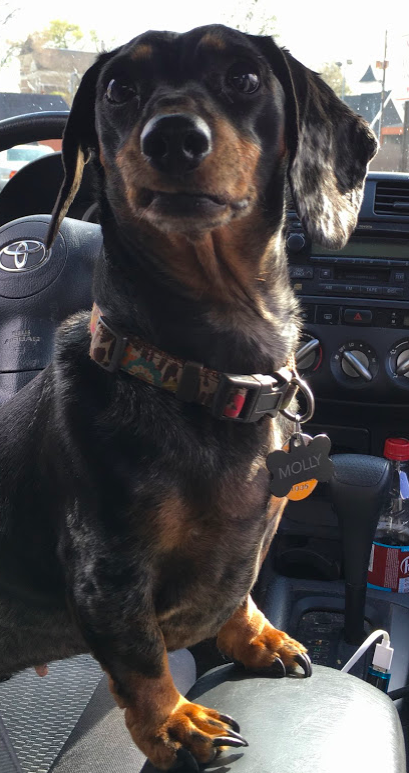 She snores and chases the cat and poops on the floor (sometimes) and panics when it thunders (always). Most of her teeth have fallen out. A cataract clouds her left eye. Her shoulders are arthritic. She's had a tummy tuck. We think she has canine dementia, if that's a thing.
She is perfect. In every sense, in every way. My family is better because she's in it.
That's a long lead-in to this: Rescue dogs rock. Not every dog breeder is lowlife scum, and not every pet store that sells dogs bought from breeders is irresponsible. Good people aren't extinct -- yet. But Alabama's chronic ailment of stray dogs and puppy mills makes it the perfect candidate to follow California's lead and slow the number of puppy-mill dogs sold at pet stores.
Puppy mills are the pet version of drug dealers; as long as there is demand, there will be supply. But in California, a law that went into effect this month now makes it illegal for pet stores to sell dogs, cats or rabbits unless they come from animal shelters or rescue groups.  No other state has taken this bold and brave step.
By the way, the American Kennel Club abhors the law. So do business-friendly politicians. But they're both wrong, because California's law doesn't stop pet owners from buying dogs from respectable breeders and doesn't stop respectable breeders from making a living. It just means you can't get one of those dogs at a pet store. And that hits puppy mills where it hurts, which is the point. Without retail outlets for their often-abused, sick and under-fed dogs, puppy-millers will have to find another way to stay in business, or not.
Puppy mills often exist in the shadows, murky and hidden, but can be anywhere. Two weeks ago, authorities raided a puppy mill in a Walker County home and found 27 caged dogs. Last July, a puppy-mill raid in Trussville rescued 83 dogs. Those are just two of Alabama's numerous examples.
Animal-protection laws in most Alabama cities require leashes and registrations and criminalize cruelty. Just as important are the pet stores that already refuse to sell dogs from puppy mills. God bless them. To her credit, City Councilwoman Millie Harris has led the effort to strengthen Anniston's pet ordinances and preach the need for consistent spay/neuter practices.
Stray dogs, however, remain one of Calhoun County's incurable illnesses. Plus, the County Commission's decision to reclaim operation of its animal shelter has been met with skepticism from those fearful that change will lower the quality of the shelter's services and raise the number of euthanizations. Those fears aren't unfounded.
All of that points Alabama toward the California model. It's right, it's humane and it's fair.
Puppy mills endanger dogs, are risky for owners who want healthy pets and damage the reputations of stores who contract with shady breeders. They don't lower the number of stray animals or reduce euthanizations. They're evil, like payday lenders and scam artists and televangelists who purport to save souls for cash.
Molly lives today not because my family rescued her, but because she was discarded by a puppy mill and sold as a rescue at a local pet store. If she could, she'd happily serve as the face for an anti-puppy mill campaign in Alabama. Make it happen, she says.